It's about that time of year again when we start getting bombarded with articles like, "How To Get Your Body Ready For Beach Season" or "How To Get A Bikini Bod," adding to the message that there is only one way a body should look.
However, women like Gabi Gregg (a.k.a. GabiFresh) — who started the "fatkini" revolution — are proving that you can rock any swimsuit (yes, even a bikini), regardless of your shape or size. Gabi has been so influential in the movement, in fact, that she even became a swimsuit designer for sizes 12 through 24.
I have been so inspired by Gabi and all of the other women who are not afraid to show off their bikini bods. So for the first time, I decided to go bikini shopping and was blown away by the experience. All my years of wearing swimsuits have been a delicate balance of finding one that I liked and that had enough coverage. Skirted bottoms, tankinis, shorts and T-shirt covers have all been part of my previous beachwear collections. The thought of wearing a bikini never once crossed my mind.
If someone would have told me that I would not only be wearing a bikini, but also sharing a photo of myself wearing it on social media, I never would have believed it! However, when I did, something incredible happened. I felt beautiful, powerful and encouraged by an amazing body positive community. The photo has gotten more likes and comments than any of my other posts to date, and all of the comments were positive messages from people of all sizes who were inspired and moved to hopefully reclaim their bodies and feel confident wearing whatever they chose to.
Here are some of the most inspiring women sharing their beautiful bikini bods:
Crystal celebrated a whole "Swim Week" dedicated to incredible bathing suits.
Simone writes: "My body will never stop me from wearing a swimsuit AND looking good in it too."
Alyssa shares her favourite bikini from her vacation.
Priscilla, who is a self-proclaimed "accidental" model, hit a milestone when she shared her bikini pic.
Stacey channelling all of our #mermaidgoals in this bikini from Chubby Cartwheels.
Sarah wore this adorable watermelon bikini and shared her thoughts: "I stopped being so critical of my body, and I started loving it, and thus taking better care of it."
Liz spoke up to let a retailer know that she was, "tired of oversized floral, unsupportive, sad swimdresses," and Swimsuitsforall, a swimwear company, clearly listened!
Nicole shared her beautiful green two-piece.
Essie is killing it in this fringed bikini.
Cynthia shares her beautiful bikini and "didn't let the body shaming win!"
Corissa asks: "Do you know how many years I spent thinking I wasn't allowed to wear cute bikinis?! I'm never going back there."
Amina and her love for all things pastel is looking pretty in this pink bikini.
Autumn says: "I know [people] mean well when they tell me, 'I wish I could be that confident,' but really it's just reaffirming the societal notion that fat bodied are not supposed to [be] visible or shown off."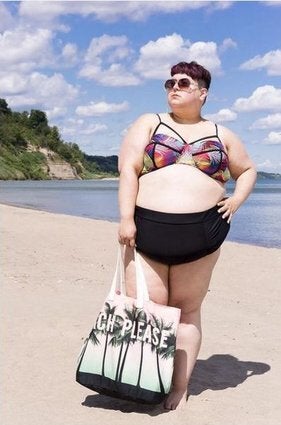 Body Positivity: 16 Inspiring Women Leading The Movement
Popular in the Community