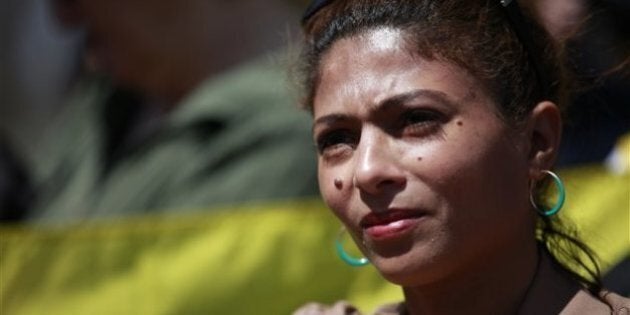 Ensaf Haidar, wife of Raif Badawi, and president and co-founder of the Raif Badawi Freedom Foundation, was a guest of honour at the Banquet of Justice organised by the Clinique juridique Juripop, on Wednesday, Dec. 9, 2015, where she delivered the following speech on freedom of speech along with a message addressed to her husband.
Freedom of expression has cost my husband, Raif Badawi, his own freedom.
As we speak, he is locked inside a small cell in a remote prison in Saudi Arabia; a country where censorship prevails. A country, my country, which views women as second class citizens. A country, my husband's country, that he so loves -- all of its land, its women and men, his love of his country, which extends right up to the doors of Shura, which is set on ruining the aspirations of an entire people. A country where the young are choking in a whisper that should be a scream.
Raif only wrote the words that we speak everyday. Words that are full of the principles and values of freedom. He stands for all the represents humanitarian values.
Raif's is a spirit that will always speak out for freedom for all, and for all to live free from coercion. Raif is a visionary and his cause has been to speak about the beauty of a world emancipated from dictators, a world that promotes and values unity in diversity. His voice represents all voices, especially voices that go unheard from those who no longer believe in anything. He is sensitive to the cries of all those encumbered by oppression.
My husband has been accused of "insulting Islam."
Imagine a thousand lashes.
A thousand lashes. For who? For what purpose?
A thousand lashes for a blog?
This notion of "insult" can exist only within the hearts of the broken, those filled with hatred, and in an entrenched system of dogmatism that remains indifferent to what is humane and instead upholds the rigid and unreasoned principles of Saudi law. My husband wrote only what would be discussed here, at a table, around a glass of wine, with friends or opponents, always in peace and respect.
We have three wonderful children who have the chance to taste the fresh air, freedom and simple joys of being a child. I thank the world that they at least are spared from the fools of Allah.
I see Terad, Najwa and Miriyam, our cherished children, with all this freedom around them and how they are able to enjoy this sweet normality. They experience the normal things, of course, but they are well aware of where their father lives. They do not understand why these people want to treat their father like this, and I must admit I'm confused, too. My heart is a shipwreck -- where lies the ship on which I wanted to sail with you, Raif, our ship in life, torpedoed by the politics of evil dictators.
I wish to tell you that all this is only temporary and that all those who want evil -- like those you see in your favorite movies -- will soon be punished, and how this history will end as the soft summer sun makes way for the autumn leaves under a cool wind. I do not lose hope -- well, maybe sometimes, for I am tired.
I am tired of a sense of impotence and the fatigue of a struggle that sometimes seems illusory. I am tired of seeing the majority of leaders of countries wrapping themselves in the virtues of freedom and prosperity while, at the same time, underground and hidden from light, torture, injury and destruction reign upon those accused of being "opponents" because they speak of beauty, peace and harmony for an entire society. I am tired of the complacency of such so-called leaders. And I am tired of giving and receiving embraces and shaking the hands of "democratic" leaders who, behind closed doors, embrace dictatorship.
And here I am, a woman free to drive a car. One day, women will drive in our home country. All is not lost. Every voice that is raised creates an echo that marks and shapes the rocks of the mountains and reaches the hearts of those who still listen -- many of those in silent solidarity.
This trip I dedicate to you, Raif, for this privilege of freedom I now experience is the natural born right of all men and women.
For now, my love, you live there in our country and I am here in our new country. It is winter. I carry you always in my heart, and in your name I stand proud.
Since translating this message, news has come to me that my husband has been transferred to a notorious and isolated prison where prisoners are sent whose sentences have been established as final, with no further recourse for appeal. As a response, Raif began a hunger strike on December 8.
His only hope of freedom now is a royal pardon. I would ask you to please support me in achieving this by joining the Free Raif Campaign. I thank you in advance. I need you. Raif needs you.
«Written with the collaboration of Julien D. Pelletier, executive director of Juripop.»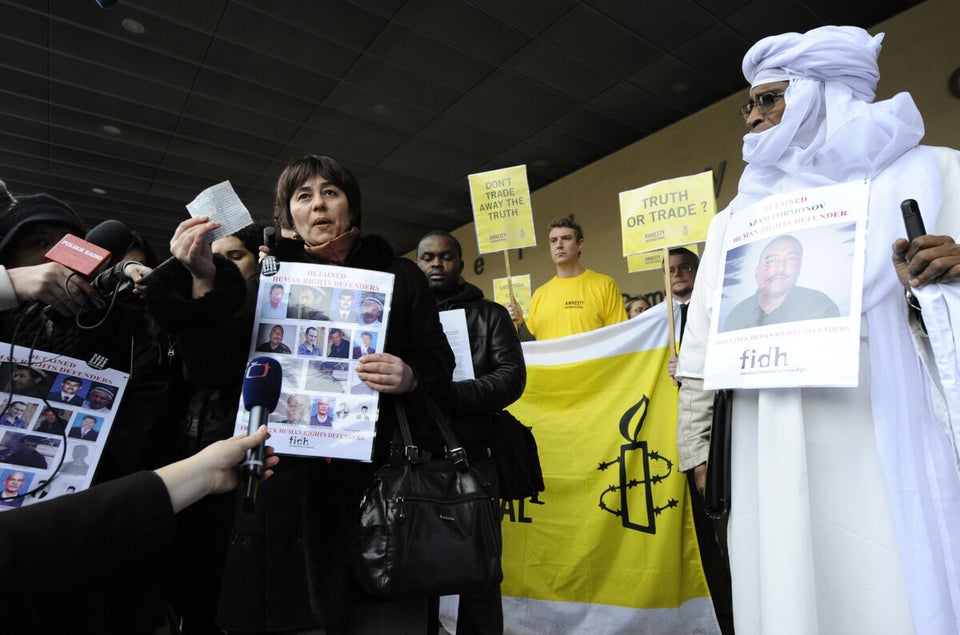 Countries with most imprisoned journalists