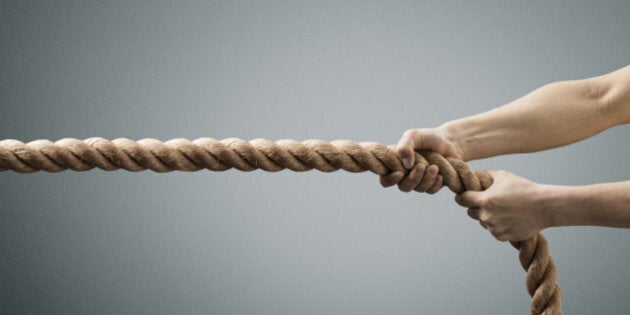 We always ask our members when they join our fitness community why they want to train. As you can imagine there are a lot of amazing reasons: to be healthy, to feel better, to look better, to decrease pain or perhaps just to feel more confident on the beach in a bathing suit.
Whatever the reason may be, I can promise you that fitness will make your life better. It will make you stronger, and help you feel empowered in so many facets of life. I am incredibly passionate about fitness because it has completely changed my life and I encourage anyone who will listen to read on to understand why it needs to become a priority.
As an overweight kid who discovered the transformational power of fitness as a teenager, training to improve my fitness and my physique has always been a huge motivator. For many years it was why I trained.
Although this newfound confidence had always been my guiding light it wasn't until a recent illness in my family that I realized the incredible power of fitness.
Two years ago my father, who I greatly looked up to, was diagnosed with a brain tumor. In the span of less than a year a tumor had grown on a part of his brain called the thalamus. What we had originally thought was muscle soreness from a recent home renovation was in fact the early signs of this aggressive tumor reeking havoc on his ability to move.
It was not until my father became ill that I truly realized the insurmountable power of fitness. This has now (even more so than before) attributed to the formulation of my life's passion to encourage others to discover the capability we all have to claim that same power.
When someone you love so dearly is sick, all you want to do is take care of them. It's the best way you can show them how much you love them. As his cancer quickly attacked this gentle man, my strength from my years of training became a huge factor in my ability to become the caregiver I so desperately wanted to be. In my perspective, I had owed him many a bath time, help with walking and assistance with getting dressed, it was now my time to take care of him.
My strength from training surprised me and those around me, on a daily basis. Many times throughout his battle, nurses and doctors would come in and I could see the look of confusion on their face trying to figure out how 'little me' was able to assist him. Whether it was a shower, or a walk or simply helping him get dressed in the morning, it didn't matter that my 5'2 frame made me look like I wasn't very strong, because I was.
My physical strength to be able to help Dad made me realize that every set and every rep in all my years of training, had given me the incredible gift of strength.
During my walks back and forth from the hospital, my nights sleeping in a chair or cot in his room, I thought a lot about not only my physical strength, but also my inner strength. It wasn't just about being physically able to help him, but also being able to share a laugh, keep his spirits high and focus on the positive.
I was so incredibly blessed to have spent the last few hours with Dad. We laughed, we joked and we shared so many special moments. That time, that ability to be there, that strength I had from the inside out, was 100% due to my training and my fitness.
Without even realizing it, training had made me a stronger person both inside and out.
On the darkest days in which I had anger for why such an incredible man had to be taken so soon, it was my training that also led me to handle this anger, this frustration and this pain. The weights at the gym became my therapy and continue to be, as it is for so many in our fitness community.
There isn't a day that goes by that I don't think about the incredible gifts that my fitness and training has given me. Although there will always be days that getting to the gym will be tougher than others I can not express how much being fit and healthy can transform your life. I have experienced this and witness this on a daily basis.
Perhaps one day you might be called on to help a loved one. Perhaps you might need the strength to fight your own health battle. Perhaps you might have some dark days that await you and you need all your strength to carry on.
There will always an excuse, there will always be a busy day but no matter what, I promise you, the weights you lift in the gym will help you become stronger every day both inside and out.
Popular in the Community