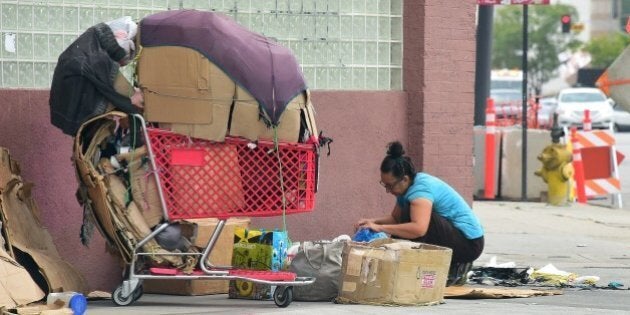 The author has requested we omit her last name to protect her privacy.
"It's a lot of men. It's a lot of anger. Keep your head down!" This was the advice given to me by a nurse at a drop-in shortly after I ended up on the streets in 2014.
I had already picked up on that fact. Most times at shelters you can find me reading a book or attending art class. It's not just that I have no place to call home. It's the things I am exposed to and the challenges I have to face that make being homeless exceptionally difficult.
My road to homelessness is painful to talk about. It's simple math though: Prolonged unemployment + exhausted unemployment insurance + exhausted savings + an inability to get an apartment on welfare = my homelessness. I had quit my sales job in Toronto for health reasons. I desperately looked for another job and even enrolled in the government's Second Career program. But nothing could help and I lost my apartment of 17 years in 2012. I basically became a nomad moving from unpleasant rooming situations to ultimately the street.
The first real shock for me, as a homeless female, was that the majority of the homeless are men. Many are alcoholics and ex-cons (that goes for the women, too). I really thought that I would meet fellow homeless people who, like me, fell on bad times due to prolonged unemployment. Instead, I seemed to stand out. I was asked the following by homeless people and shelter staff:
"Are you undercover?" (Me: "No, I'm really homeless.")
"Have you been a bad girl?" (Me: "Why do you ask me that?")
"Why's a pretty girl like you homeless?" (Me: "Are only ugly girls homeless?")
One shelter staff member asked: "Are you having fun? Are you on an adventure?...You are not like the rest. You are clean!" I responded, "Do you think waiting in line for a bed in the freezing cold for over an hour with water seeping into my boots and my toes about to fall off is fun? Do you think sleeping on a mat in a different church/temple basement and being exposed to yelling and altercations, night after night, is an adventure? No, I'm truly homeless!"
A paramedic who took me to the hospital when I became ill at a shelter said: "Wow you are homeless and not an alcoholic! Breaks my heart!"
The second shock for me is the amount of anger and fighting at the shelters. Most times alcohol plays a major part. Most times the altercation is over something very minor. It's not unusual for three or four altercations to take place in one night. It's not unusual for the police to be called. I would often watch the altercations with shock, sadness and a lump in my throat. Sometimes I would say to myself "How far I have fallen! How far I have fallen!"
I once told a fellow homeless person, who had slept at a different location than me, that there were quite a few fights the night prior. He asked "Were their shirts off?" "Were they using their fists?" "Was there any blood?" I said "no" to all three questions. He said, "You ain't seen nothing yet!" So when the brawl broke out between a woman and man at a church I was sleeping at, I watched with shock and a lump in my throat, remembering what he had told me.
Another shocking and devastating moment for me was when I was banned from a shelter on a cold December night in 2014 for "talking to too many people." Yes, you read that right. I had walked across the floor that their ex-con worker was mopping. He shouted, "You ignorant bitch!" I said, "Don't call me that!" He told me to shut up. This was the third time in a week he had been verbally abusive to me. It was the first time I had responded to him. After I complained to the executive director, I was evicted and banned for telling the story to the shelter's art teacher. I lost my safety net and dignity that night. I walked around for hours with my stuff. I was forced to stay up all night. So I'm suing them and am representing myself.
A month after the shelter's eviction and banishment, I became ill and was hospitalized. Getting sick, one of my fears as a homeless person, was an eye-opening moment for me. I was let out of the shelter in the early morning, having spent the last two hours throwing up, and lay on the floor of a Loblaw's bathroom, sick at both ends, feeling desperate and alone. (Sorry Loblaw's! But don't worry, it wasn't your decadent chocolate chip cookies. I could never be sick of those!)
I went to emergency. I was diagnosed with pneumonia and gastroenteritis (I would end up at the hospital five times in two months). I became more depressed. "Are you there God? It's me Grace!" They asked me what to do if my heart stops. I replied "Pull the plug!" They asked, "Are you depressed?" I said, "What do you think? I am homeless AND sick AND in the hospital. It's not a good quality of life. Pull the plug!" They said that they would send a social worker to my room, and ask me again tomorrow. No social worker came. They repeated their question the next day. I replied, "Just as I told you, pull the plug!"
Even though I seemed not to fit in, the other homeless people still have become my community. No matter how each of us arrived at this status, we are homeless together. Like many of them, I too haven't had the greatest childhood or adulthood. Life has been a constant struggle.
I recently got a room in a transitional home for the homeless. I can stay up to a year so I am still technically homeless. One of the most difficult things for me is to say "I" and "homeless" in the same sentence. I have not even told my brother (love those out of town relatives!). One night at a church I often slept at, I recognized a volunteer from a former church we had both attended. I hid! Then I asked myself, "Girlfriend, where and how are you going to be able to hide all night?!" So, I bit the bullet. I greeted him, pulled him aside and confessed, "Jim, I'm homeless!" He replied, "What?! How are you going to get out of this?" I said, "If I knew that, this room would not be filled with homeless people."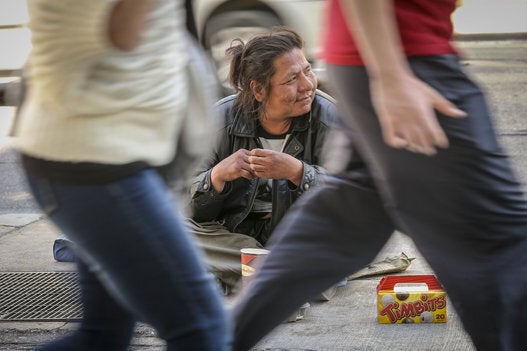 Canada's Homeless
Popular in the Community