It's all about perspective.
A coffeehouse in Grand Pre, N.S. flipped its sign earlier this week to nudge people to think deeper around the context of Canada's 150 birthday.
To do that, the folks at Just Us! Coffee placed "MI KMAKI 13000" under the words "CANADA 150" on their signboard.
They shared a photo of their message on their Facebook page, set against a cloudless blue sky.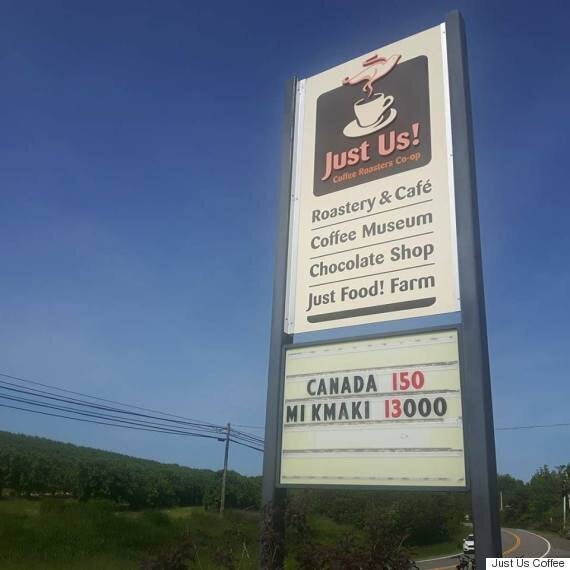 "We didn't mean it in any anti-Canada way," general manager Joey Pittoello told HuffPost Canada on Tuesday. "It was meant as we need to recognize multiple communities in our country and some of them get under-represented I think."
Canada became a nation in 1867, 150 years ago.
"It's a bit provocative, not intentionally," he said. "For us, it's about provoking some thought. You know, provoking some change in the way we think about things."
Pittoello credited the Canada 150 sign idea to an agronomist the company works with.
"We need to start re-thinking our place in this world as settlers, you know."
"It's important to acknowledge that the business operates on unceded Mi'kma'ki territory," Pittoello said, adding it's important to recognize it's the same land where most co-op members live.
So far, the response has been mostly positive from indigenous and non-indigenous people.
Though the sign has only been up for 48 hours, Pittoello said people have been calling to thank him for putting the message up, in big block letters for everyone to see.
"We need to start re-thinking our place in this world as settlers, you know."