"It's so hard to concentrate with Drake on," Aboulhosn admits as we sit down. She's grooving to "Know Yourself" and tells me seconds before I walked in she was taking selfies with the mannequins. I knew, sitting in front of me, was a blogger who not only worked hard but played hard.
Aboulhosn's journey in blogging and modelling began in 2010 as a way to express herself as she attended college in Florida. She also adored dressing up and taking photos -- it was an outlet that made her feel good. The 26-year-old landed her first modelling gig when Seventeen magazine reached out to see if she was interested in being part of a curvy section photo shoot. A $400 plane ticket to New York later, and the rest is history.
Since then, Aboulhosn, size 16, has gone on to become one of the most sought-after plus-size models, landing editorial campaigns with American Apparel, Complex magazine and Vogue Italia. Now, she can add designer to her impressive resume, thanks to her autumn collaboration with Addition Elle, which showed at New York Fashion Week this past season. Nadia designed everything from T-shirts to dresses for women sized 12-24 for the collection which she says was focused on pushing the limits.
"I'm all for plus-size woman having structured pieces on, but at the same time showing more skin," she tells me. "For so long, people were told to cover up. Not even be told, they didn't even feel comfortable enough to do it. The point is the push the envelope and bring something to the table that's not already there for plus-size people."
The fashion blogger describes her personal style as minimal and she uses that root for her designs. "I'm really inspired by Balmain," she explains. "I like strong features, details and structured pieces."
The term "plus-size" has been a widely discussed topic in the fashion industry as of late. Recently, retailer ModCloth decided to get rid of their "plus" section on their website and integrate it into the rest of the store. And models like Australia's Stefania Ferrario have called upon the modelling industry to #droptheplus. Tess Holliday, the largest plus-size model to sign a major modelling contract, has been activist for the term and has called upon others to "embrace" it, saying, "I'm plus-size. It's just a word. I think people that want separation from the word are focusing on the wrong thing."
I ask Aboulhosn her thoughts on the term.
"I don't like it. I cringe saying it," the model says. "But I get why companies use it."
Like well-known Sports Illustrated model, Ashley Graham, who doesn't believe in the term, Nadia is a believer that "fashion is fashion." When she first began blogging, Aboulhosn did not want to be labeled as "plus-size," feeling the term boxes individuals into one category.
"I feel plus-size is a way to divide people. I don't want anyone to feel like an outcast. The whole point of dressing up is to feel good about yourself and I don't like that separation because everybody wants to feel good in what they wear and in their skin," she continues. "I don't want to be known as a plus-size model, I just want to be know as a model or a designer. It sucks getting pinned into one thing and not being able to branch out to other people."
The model, who boasts an impressive 321,000 followers on Instagram, credits her relatability and sense of humour for her large social media following.
"My following is so strong because I am relatable, not just my body type, but I make it a point to show that I struggled with money, I got denied from college too, I have breakups. I'm still a human being and I think that's why people are nicer because a lot of these other bloggers are robots. They are what their agents tell them to be."
This idea of thought from Nadia comes before Essena O'Neill's "Social Media Is Not Real Life" video. And it seems like Aboulhosn is on the same page. "I make a joke of it that social media is all highlights of people's lives. I always feel like an outcast on social media. The whole point of it is to connect with people."
The model reveals there has been negative comments thrown her way about her weight, but she simply uses haters to build her character and to develop a stronger connection to her followers. And she says it's not only curvy women who are reaching out for support, but rather, women of all sizes. .
At the end of the day, Nadia is a blogger who wants everyone to feel a sense of belonging, without the pressures of labels or stereotypes.
"It doesn't matter what you look like. We all want something more, we all have insecurities, but we have to focus on what's positive. That's why I hate the term 'plus size.' People micromanage everything, but it's the bigger picture we have to be focused on."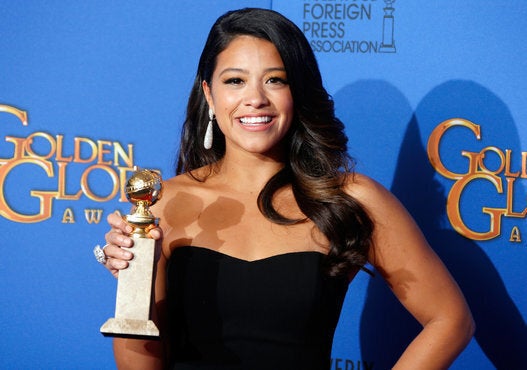 Meet Our Body Image Heroes
Popular in the Community