Nadia Aboulhosn, the blogger-turned-model who is becoming known mononymously as Nadia, has set the plus-size fashion world on fire.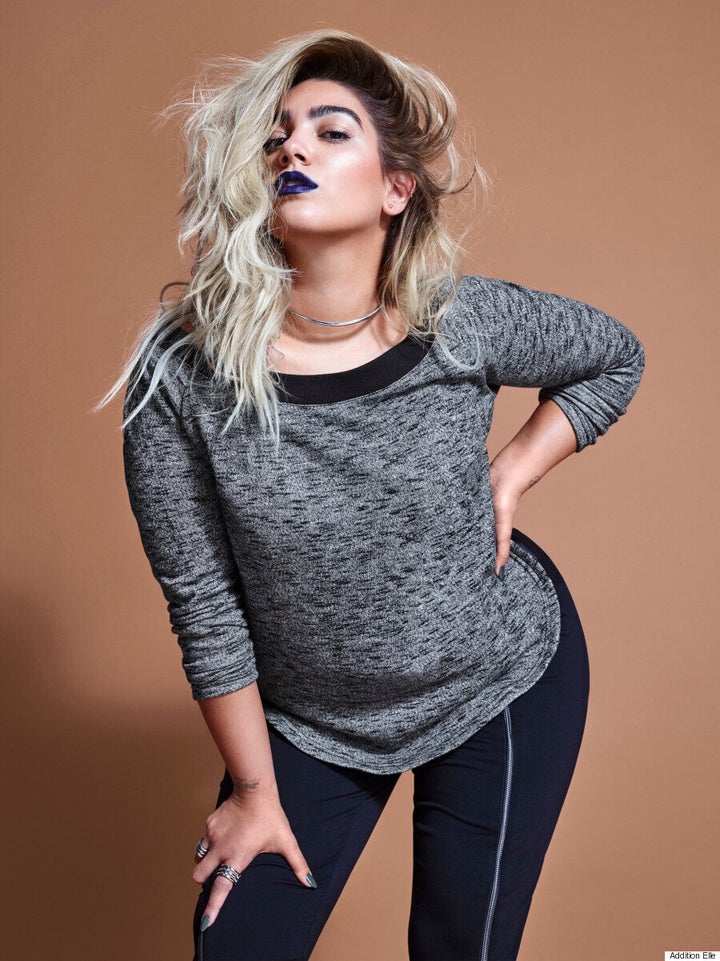 She has been blazing her own path in the industry with her edgy aesthetic and style, so much, in fact, that she was approached by leading Canadian plus-size retailer, Addition Elle, to design her first capsule collection last year.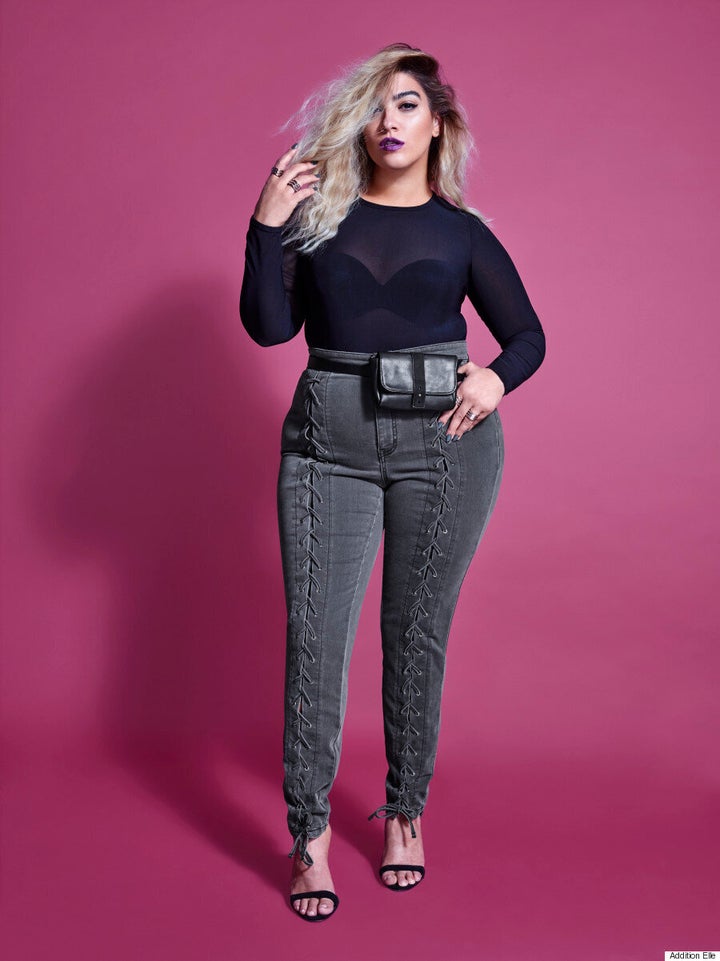 The pieces of the collection are filled with '90s influences and reflect Aboulhosn's flair for street style. Available in sizes 12 to 26, they include items such as bodysuits and leggings, each versatile enough to be dressed up or down with the ease of adding the right accessory or topper, such as a denim jacket.
I was thrilled to have the chance to speak with Nadia, to find out her inspiration for the collection, the story of her journey in the industry, as well as any advice she had for her younger self.
Keep reading for the interview.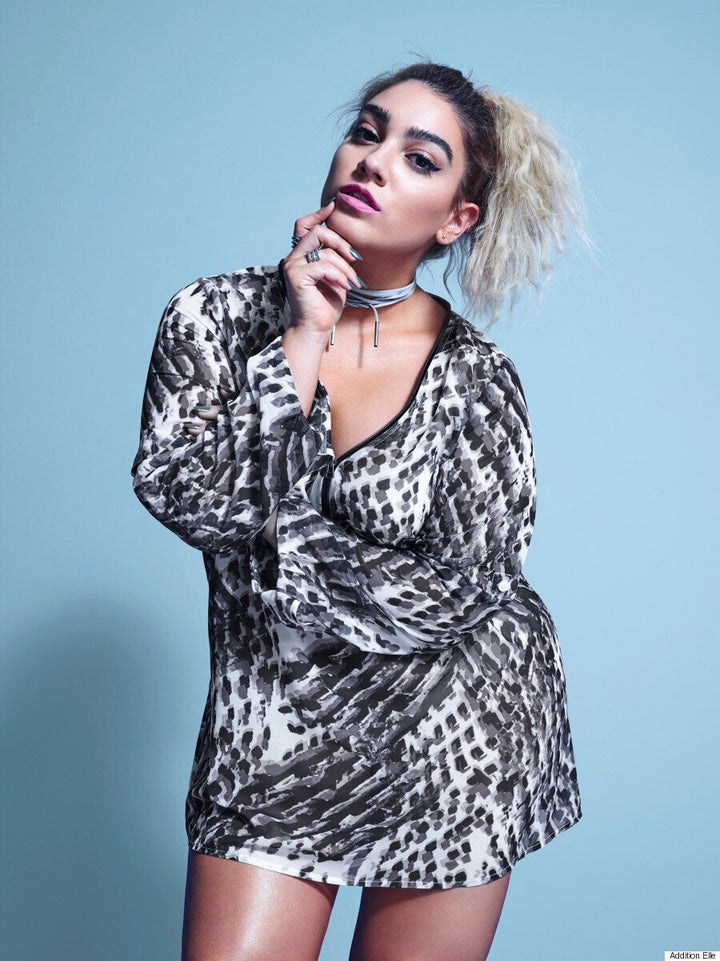 What is your earliest fashion memory?
My earliest fashion memory was getting wheat [Timberland boots] and wearing them to my eighth grade dance, because I wasn't fond of heels. Oh, how times have changed!
You knew you were going to be in fashion in one way or another. What was your initial plan? How did it change?
My initial plan was to be a journalist, but once I began blogging, I wanted to design. I wanted to go to FIT in New York to get a fashion degree, but they ended up denying me. As soon as they denied me and one door shut, it felt like another was opening. That's when American Apparel and Seventeen Magazine wanted me to model for them. I thankfully could acknowledge that something was happening and I needed to go for it.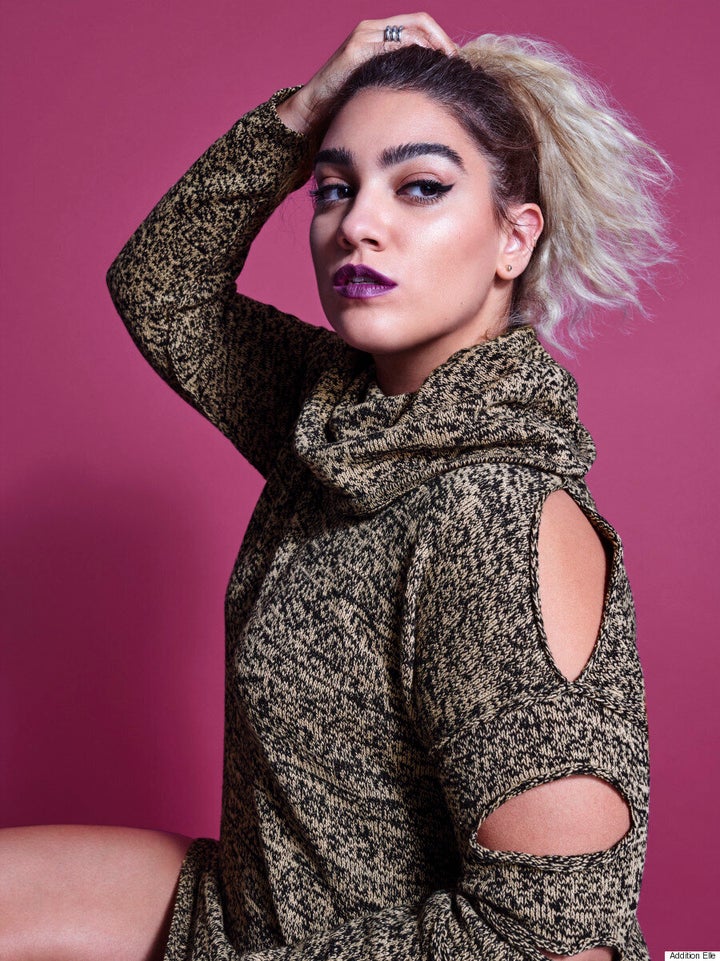 What was the moment that you knew everything had changed (on your path to becoming an influencer)?
The moment I knew everything changed was when I got spotted on the one train headed to my first job in New York. Back then, no one would really approach me. They'd just write me on social media, "Hey, I saw you here, but was too shy to come up to you."
Why did you decide to design your collection with Addition Elle? And what has been the most rewarding part of designing your collections?
Designing with Addition Elle wasn't even a question in my mind. Roslyn Griner, [vice president of marketing and visual display at Addition Elle], has a vision most don't. She's always thinking: what's the next step? Her and I have a lot of the same big picture vision. We want more for people and the industry. Addition Elle's lookbooks look like an editorial straight from a magazine. My favourite thing about designing with them, is bouncing ideas off one another. I'll say I want something to be a certain way design-wise, and they don't hesitate. I said I needed denim in this collection, and I really would love the front to lace up like a thigh high boot, and they were like, "Wait, we need to do this."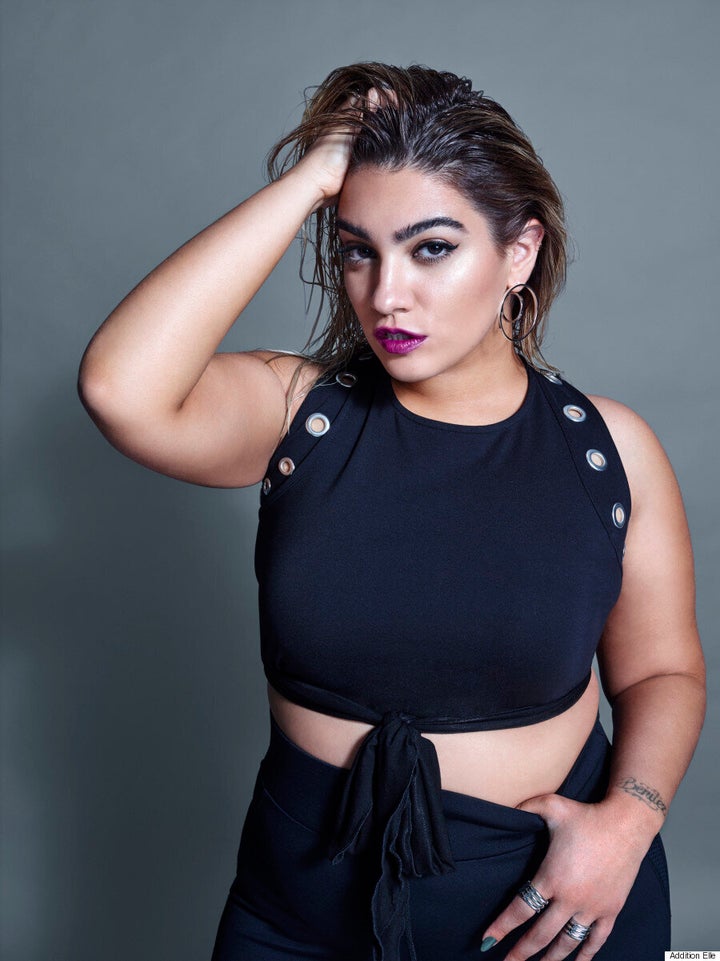 We love your street style aesthetic and how that translated into your first collection with Addition Elle. How will that play a role in this collection?
My street style is more in this collection than the first one. Each month I feel like my style is changing. So this collection embodies everything I love: mesh, bodysuits, oversized denim, lace[-up] jeans. I'm into minimal pieces that are statements on their own. This collection is just that.
The collection has a heavy '90s feel to it. What inspires you most about the decade?
I was born in 1988, but my true childhood was '90s. And some of the best models were walking runways in the '90s. The fashion then was so specific on runways. The music in the '90s definitely inspired me. I remember watching JLo music videos [thinking], "I need everything she's wearing." And the crazy thing is that I STILL want everything she was wearing back then, but just now in 2016.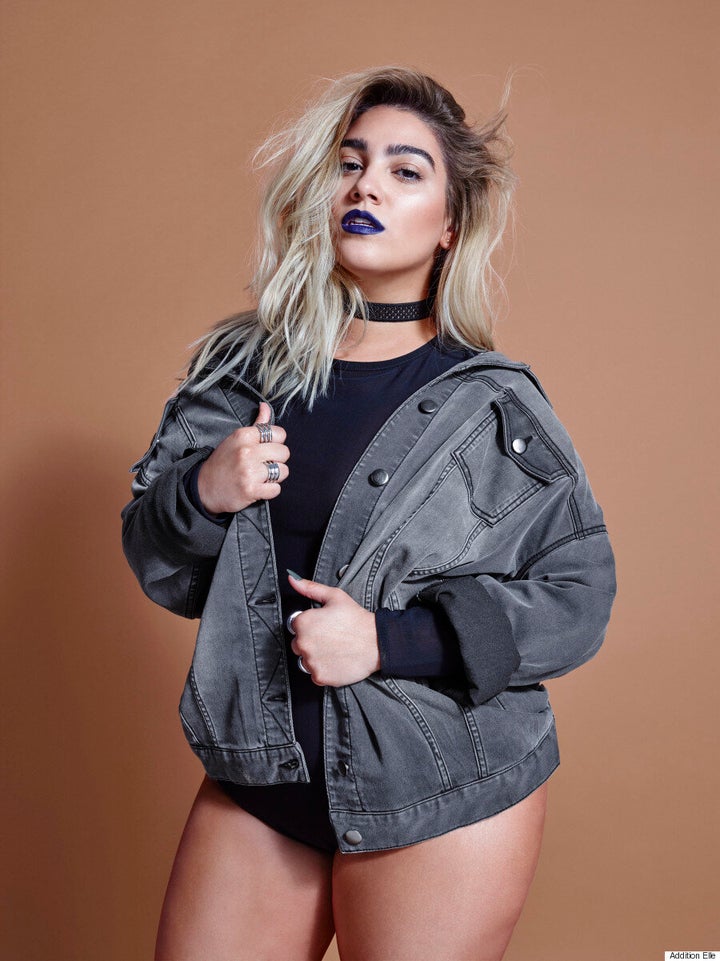 How has designing your second collection with Addition Elle been different than the first?
This time I really tried thinking outside of what isn't in stores already.
You have really helped to blur the lines between plus and straight sizes, and have always challenged the notion that just because someone is plus, they have to conform to a certain set of rules. What is your hope for the future of the fashion industry as a whole?
I like the idea of blurring the lines between "straight" and "plus," because fashion isn't just about size. I want more designers and brands to carry their sizing all the way up so everyone can have pieces that are always fashion forward rather than feeling excluded.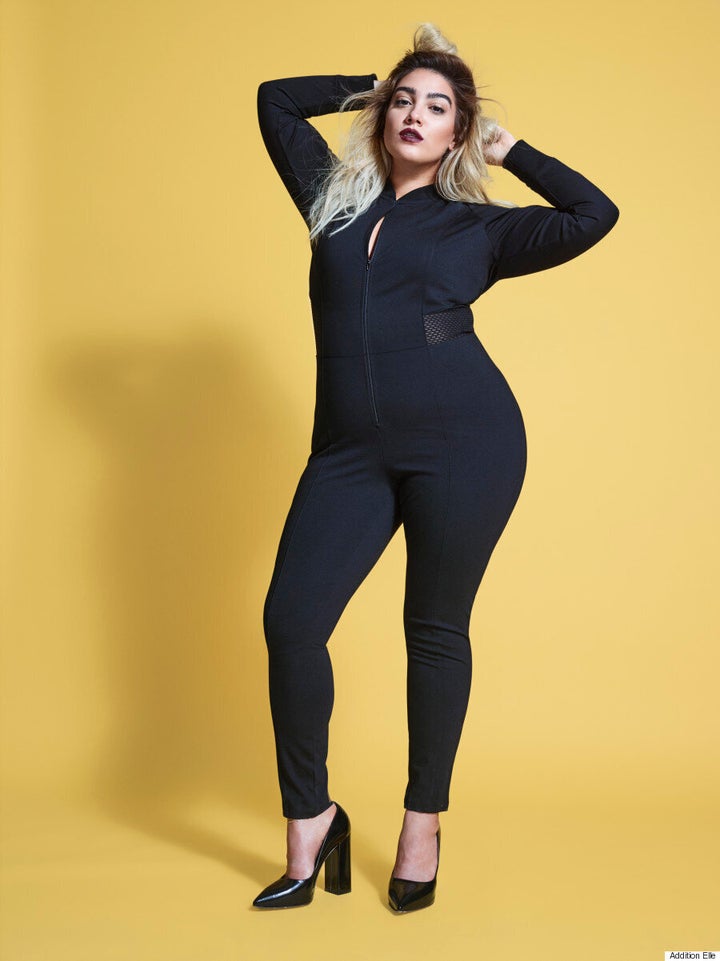 You have made such a huge impact on the body positivity world with what appears to be simply being yourself. How have you seen the change in the community since you have been a part of it?
I've seen a lot of change. I've seen new girls' careers blossoming that probably wouldn't have been as easy six or seven years ago. I've seen more girls truly being themselves on social media, not afraid to wear whatever they want. It's been really amazing to see and I'm happy I could even take a tiny part of that.
What is the most common thing that you have had readers/followers say they wish they had your "confidence" to wear? What is your advice to them?
Even when it comes to bodycon pieces or crop tops, girls are afraid to wear them. Or even to show off their legs. To be honest, back when I started all of this, I wasn't considered conventionally beautiful. I just didn't care what people said or thought, because I felt good about myself and I focused on the things I liked about my body rather than what I didn't.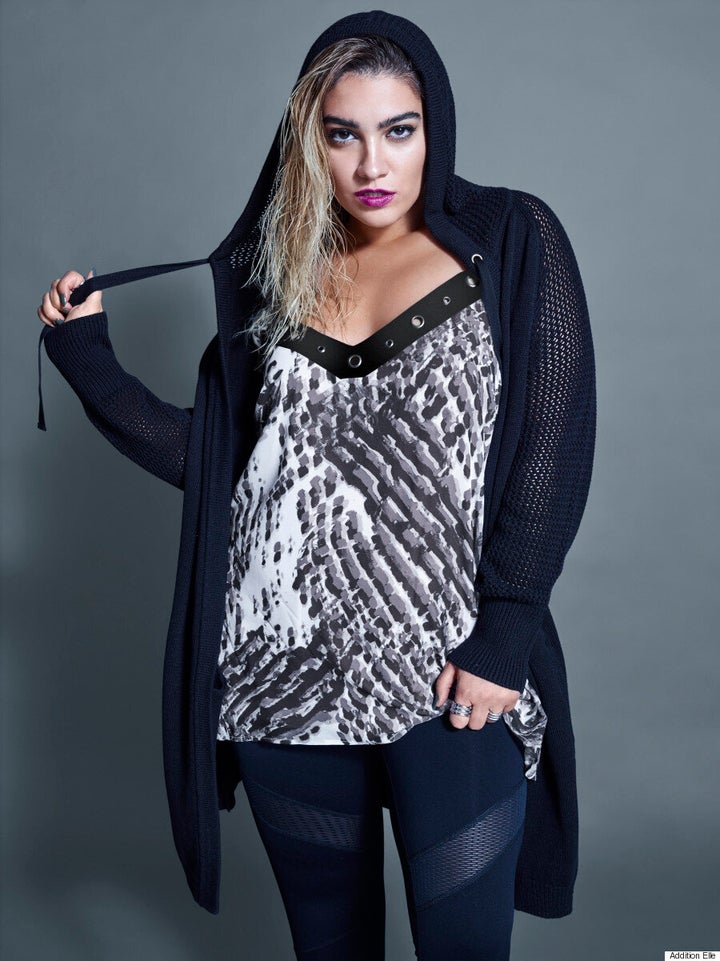 What is the number one thing you are tired of hearing?
"You shouldn't be wearing that."
What piece of advice would you give your younger self when styling her first outfit?
Stop making rules up for yourself that don't exist.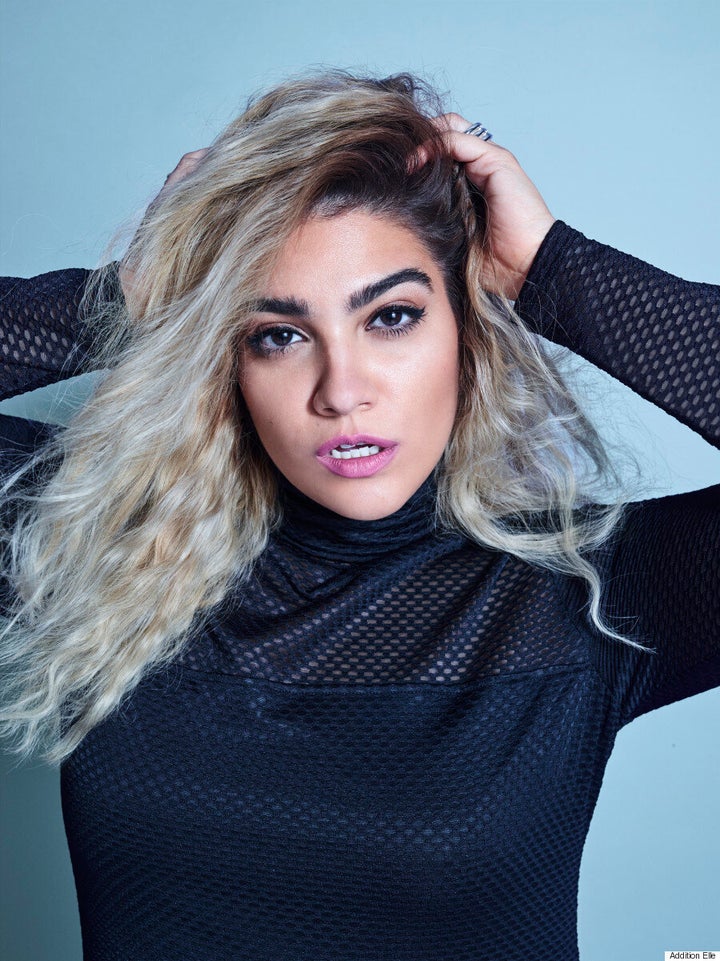 Every woman, with no exceptions, deserves to feel comfortable in her own body, and to believe that the world is made just as much for her as the next person. That's why with "My Curves Have No Bounds," we're going to get real and talk about our bodies, what we put on them, and how we feel about everything in between. We want to break down the barriers and outdated notions that plus-size women encounter everyday. So check back every other week for more from "My Curves Have No Bounds," by Amanda Montgomery of Latest Wrinkle.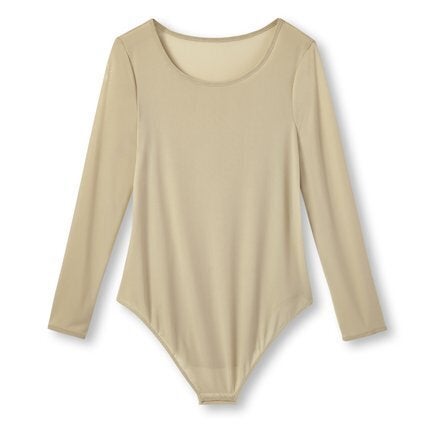 Nadia Aboulhosn x Addition Elle
Popular in the Community