Only one-in-four Canadians believe that the North American Free Trade Agreement has been good for this country, a new poll suggests.
Angus Reid Institute released the numbers Monday ahead of the historic "Three Amigos" summit this week. Prime Minister Justin Trudeau will host U.S. President Barack Obama and Mexican President Enrique Pena Nieto in Ottawa.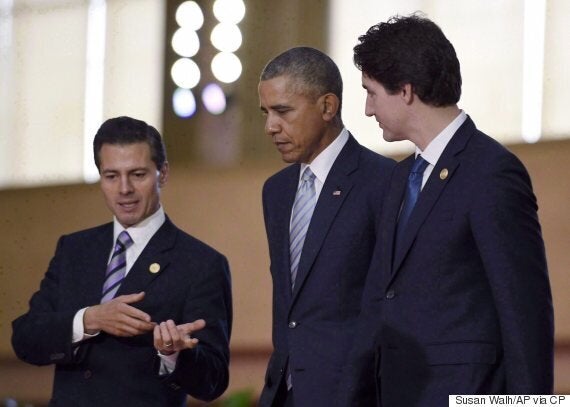 U.S. President Barack Obama walks with Mexico's President Enrique Pena Nieto and Prime Minister Justin Trudeau at the Asia-Pacific Economic Cooperation summit in Manila, Philippines, on Nov. 19, 2015. (Photo: Susan Walsh/AP via CP)
The poll suggests that more than two decades after NAFTA was ratified, Canadians remain deeply uncertain about the deal that binds the three North American countries together.
Twenty-six per cent of respondents said NAFTA has hurt Canada, while 27 per cent said they wren't sure what the effect has been. Twenty-two per cent said the deal hasn't made an impact either way.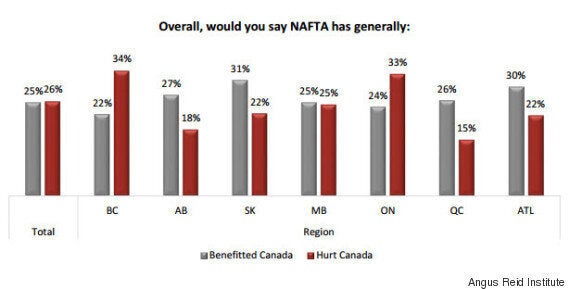 Many want deal renegotiated
When it comes to the future of NAFTA, three times as many Canadians would like to see it reopened than kept exactly as it stands.
Thirty-four per cent of respondents said it should be renegotiated, compared to 11 per cent who said it should be "left in place as is."
Another 24 per cent said the deal should be strengthened. Nine per cent said it should be scrapped entirely.
Donald Trump, the presumptive Republican nominee for president, has already pledged to renegotiate NAFTA if elected in November.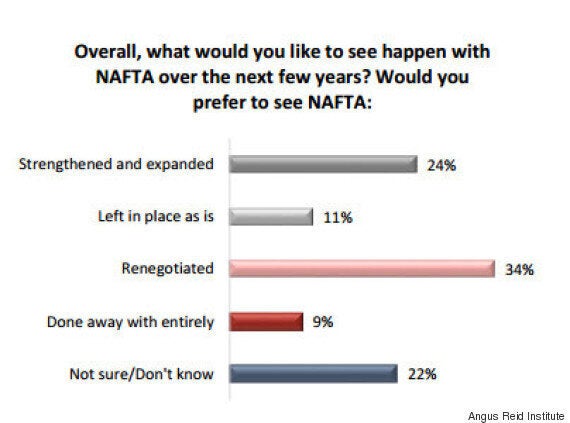 Despite the apparent ambivalence about NAFTA, the poll also suggests Canadians want to forge stronger economic ties with Mexico — particularly when it comes to standing up to the U.S. on matters including so-called "buy American laws."
Nearly half of respondents — 49 per cent — want to see Canada and Mexico "team up and take on the U.S. together."
However, the poll also suggests that most Canadians still harbour conflicting views of North America's second-most-populous nation. While 62 per cent acknowledge Mexico as a valuable trade partner — nearly seven-in-ten want closer ties — 56 per cent are concerned the country is a "risky venture for Canadian businesses."
Split on lifting visa requirements
It also appears the spirit of economic co-operation does not necessarily translate to border and security issues. Though Trudeau has pledged to remove the visa requirements for Mexican citizens visiting Canada — a controversial policy Conservatives instituted in 2009 to curb the number of asylum seekers — Canadians are evenly split on the issue.
Thirty-seven per cent of Canadians told the firm they oppose lifting the visa requirement, while 36 per cent support the move. Twenty-seven per cent indicated uncertainty.
And, perhaps most interesting of all, just 44 per cent of Canadians say Mexico can be counted on as a dependable ally.
The online poll was conducted between June 13 to 16 among a representative sample of 1,519 Canadian adults who are part of the Angus Reid Forum. It has a margin of error of 2.5 percentage points, 19 times out of 20.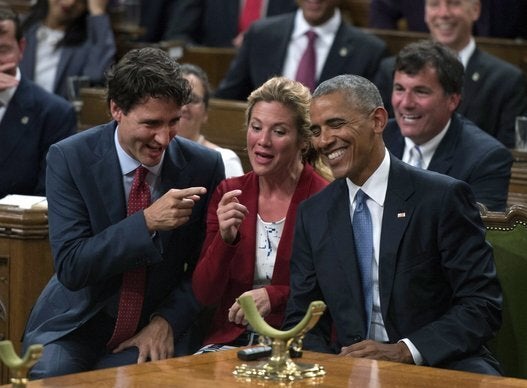 Three Amigos Summit 2016
Popular in the Community