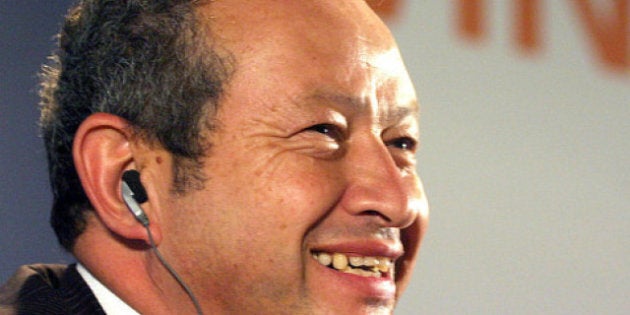 As Egypt struggles to find its way in moving forward after its Jan. 25, 2011 revolution, there is great skepticism, pessimism and all out defeatism in this 80 million-strong country.
As a country dependent on tourism income in a period of tourism decline, the economic situation in this country has deteriorated dramatically. Many of the country's investors have left, Egypt's social and political elite have renewed their foreign passports, and celebrations are hard to come by with continued bad news on the political and economic front.
So to hear that in November this year, the Canadian International Council (CIC) will be honouring Naguib Sawiris as its 2011 CIC Globalist of the Year Award, brings one to a moment of pause and reflection on the role of Egyptian business, the future of its economy, and the post-revolutionary political landscape.
Naguib Sawiris is an Egyptian businessman and political activist, both CEO of Orascom Telecom Holding and the Founding Member of Al Masreyeen Al Ahrrar political party. Under the Mubarak regime, rampant corruption stunted the Egyptian people of its deserved wealth and prosperity. Many of the country's crony-capitalists sat on the sidelines during the Egyptian revolution and worked actively behind the scenes to prop up and defend the Mubarak regime in its final hour. Sawiris, on the other hand, stood in support of protestors in Tahrir square during the revolution and challenged his own Coptic spiritual leader to politely say that religious leaders should stay out of Egyptian politics.
While Sawiris is no stranger to controversy in the post-revolutionary Egypt, he remains committed to promoting the revolutionary spirit of political liberalization throughout his country. Indeed, as owner of a mobile network in Egypt and other Arab countries, Sawiris' business model is dependent on the freedom of young Arab voices to film, text, and converse their dreams for a better economic and political future for their countries. Sawiris' charitable organization, the Sawiris Foundation founded in 2001, has also contributed to providing student scholarships, micro-credit, and student training on human development in Egypt. In a country with 34 per cent illiteracy, 22 per cent of the country living under the poverty line, and severe underemployment, Egypt is in dire need of investment, philanthropy, support, and hope.
Egypt needs to evoke the spirit of national pride in its citizens. That shortlived spirit was found on the day after the Jan. 25 revolution when ordinary citizens cleaned the streets of their neighbourhoods from the years of state and people neglect. This is not an easy task for sure, as people wonder if a revolution ever really happened and instead they traded a dictator for a military junta.
At the Globalist of Year Award Gala, many of Canada's foreign policy watchers, commentators, and engaged citizens will be listening to Sawiris talk about future of the Arab world. It will come to no surprise that he will speak to the challenges his country and region face in the coming months and years. But, Sawiris clearly enjoys navigating and engaging in political and business challenges. After all, he fought against the omnipotent power of the Canadian Radio-television and Telecommunications Commission (CRTC) to launch Canadian wireless provider Wind Mobile and Globalive and makes no apologies for his dislike of Canada's regulatory telecommunications regime. Canadians will surely hear more about the challenges Sawiris' sees from this outspoken and straight talking Egyptian businessman this November.
Popular in the Community