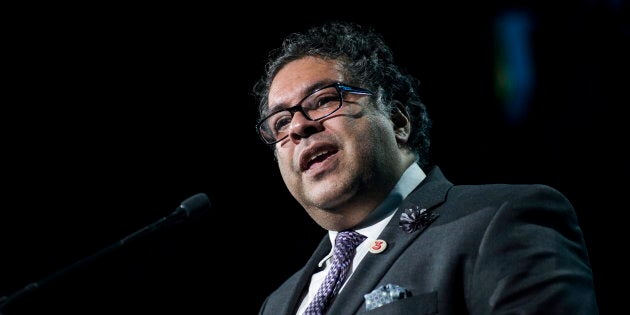 Calgary Mayor Naheed Nenshi is warning supporters that there are "forces" in the community galvanizing racists to vote for his opponents in the upcoming mayoral election.
The mayor made the comments in a video shared on Friday to the Facebook page of the Sindhi Association of North America's southern Alberta branch. It has since been removed.
Nenshi, who became Canada's first Muslim mayor in 2010 and is seeking a third term, was asked about his message to the Pakistani community when he made the remarks.
"This election is going to be very, very tight," he says, adding that the race has become "tenuous."
There are forces out there in the community that are supporting my opponents, that really want us to go backwards. They don't want a city that is so inclusive of everyone. And it's absolutely incumbent on us to hold on to the city that we're proud of, to make sure that we vote. And we know that they are using a lot of technology to get people who don't believe in diversity, to get people who might be racists or haters out to vote.
Nenshi is no stranger to hateful comments. According to statistics released by Calgary police in August, the mayor received 65 threats last year and 23 this year. Coun. Druh Farrell told the Calgary Herald at the time that the threats against Nenshi are "often to do with his race."
But Nenshi mentioning his opponents in a statement about racist online remarks has raised the ire of many, including rival mayoral candidate Andre Chabot.
Chabot told CBC News that Nenshi lumping in his political rivals in that context "suggests that we are all in collusion somehow and doing something nefarious."
Bill Smith, who has emerged as Nenshi's strongest challenger in the race, told Global News that he has chosen to ignore offensive remarks lobbed at his campaign.
"We have [had] as strong language come our way from people on other campaigns," he said.
"It's unfortunately part of the new discourse in politics. It is harsh and I don't condone it, I don't like it, but I have chosen to ignore it."
This election is going to be very, very tight.Calgary Mayor Naheed Nenshi
A Mainstreet Research poll of 1,500 Calgarians released last over the weekend found that Smith's victory is "near certain."
"Naheed Nenshi's path to victory on October 16th is growing thinner," Quito Maggi, president of the polling firm, said in the report. Forty-eight per cent of respondents said they would vote for Smith, while 31 per cent said they would back Nenshi.
In the Facebook video, Nenshi called on his supporters in the Pakistani community to rally ahead of next week's vote.
"So my request for you is to vote, get your neighbours and your family and your friends and your co-workers, Muslim and non-Muslim alike, Pakistani and non-Pakistani alike, out to vote," he said.
"Don't let them divide us."
HuffPost Canada has reached out to Nenshi's campaign and his office for comment.