St. Patrick's Day is only days away! And while you are planning your green outfit, don't forget about your nails! This design features imagery that is always associated with the holiday, but with some added glam.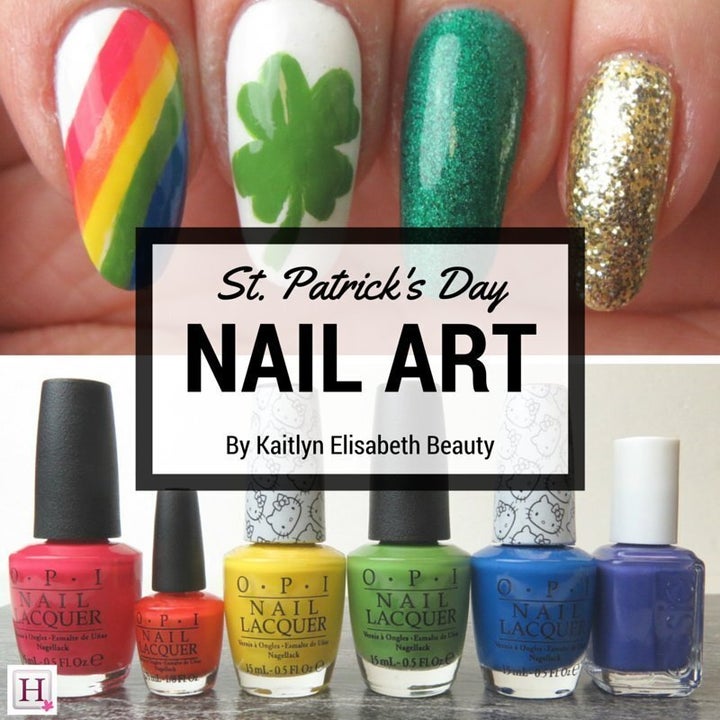 To create this design, you will need all of the colours of the rainbow, plus gold and green glitter polishes, and a small nail art brush.
To start off, paint your index and middle fingers with a white polish, your ring finger with a shimmery green and your pinky with a solid gold polish. Allow your ring and pinky fingers to dry as you create the designs on your index and middle fingers.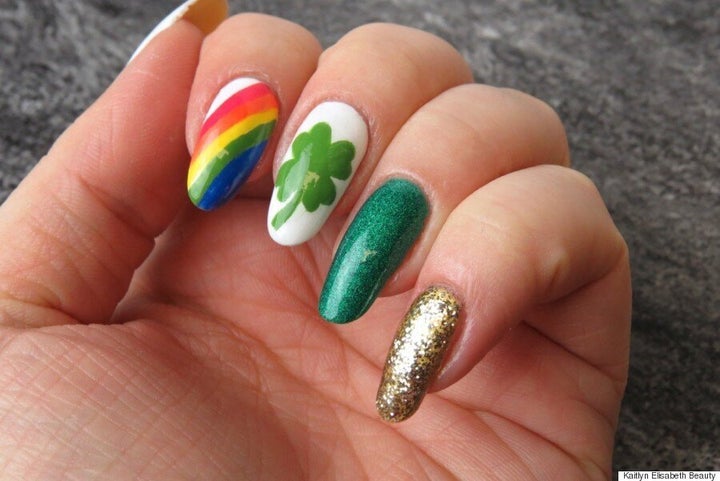 For the rainbow, start with the yellow colour and create a slightly curved line in the middle of the nail. Next, create an orange and green line on either side of the yellow line. Red and blue lines are up next, followed by a purple line. By starting in the middle, it ensures you can fit the entire rainbow on the nail. You can either leave the remaining white space unfilled (as seen in my design) or cover the entire nail with a rainbow.
For the four leaf clover, use your small nail art brush to create the shamrock shape. The best way to tackle this is to treat each leaf like a heart. Create the outlines of four hearts with the base of them all meeting in the middle. Fill in the outline with the green polish, and if you need to even anything out, go back with the white polish to clean up any lines. Add a stem at the bottom of the shamrock to complete this nail.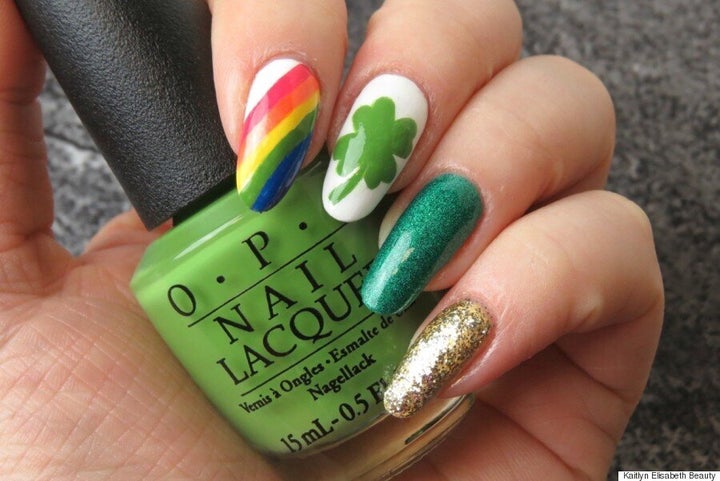 Finally, add a gold glitter polish over the solid gold on the pinky to really add some glam to the look. Allow everything to dry for about 10 minutes, and then apply a top coat to each nail.
Polishes Used: OPI She's a Bad Muffuletta!, OPI Orange You Going to the Game?, OPI My Twin Mimmy, OPI I'm Sooo Swamped!, OPI My Pal Joey, Essie All Access Pass, Chanel Chaine Or, Sally Hansen Golden Rule, Misslyn Kiwi Bomb, and Sinful Colors Snow Me White.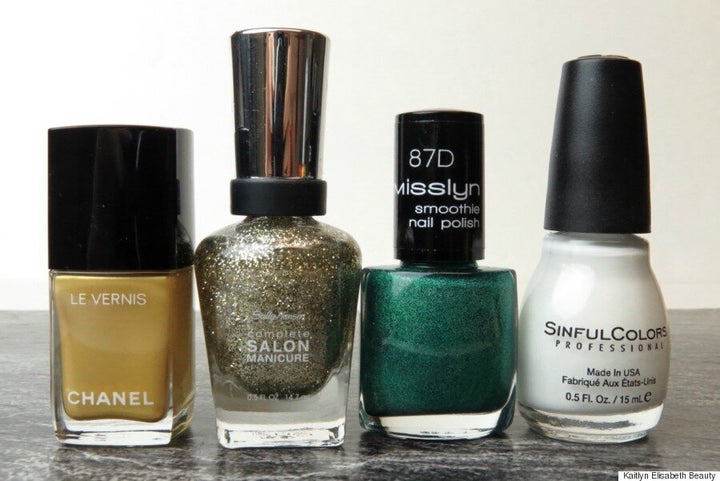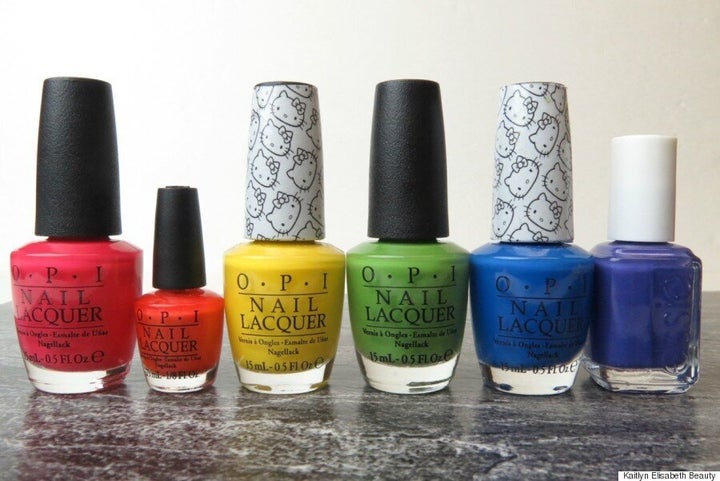 Kaitlyn Delano is a beauty blogger based in Toronto. You can find all of her Mani Monday designs on her blog, Kaitlyn Elisabeth Beauty.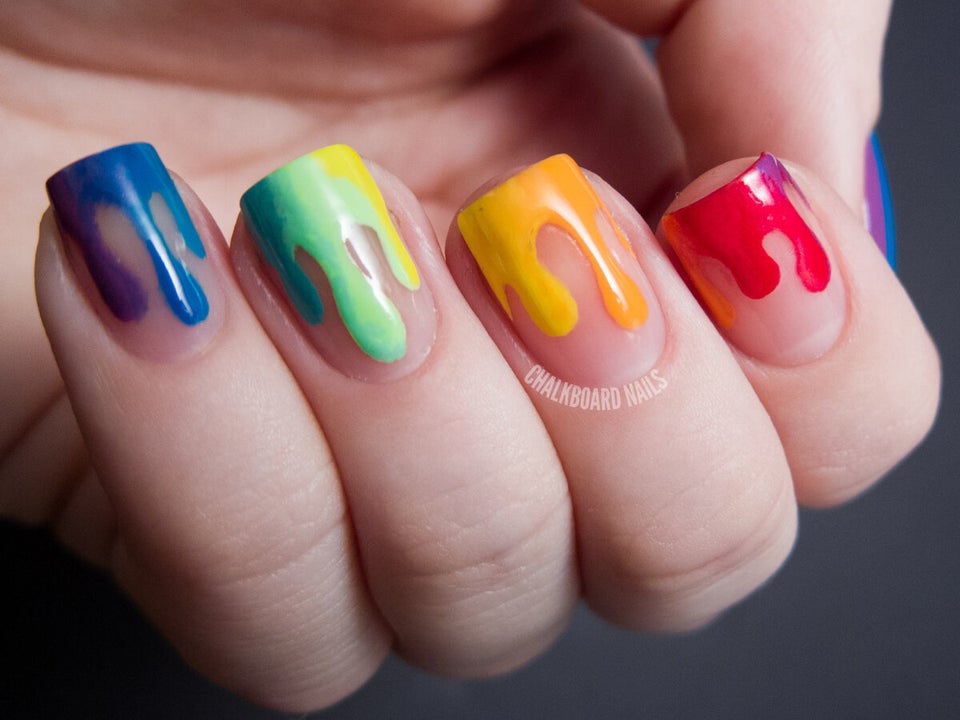 DIY Nail Art Ideas
Popular in the Community