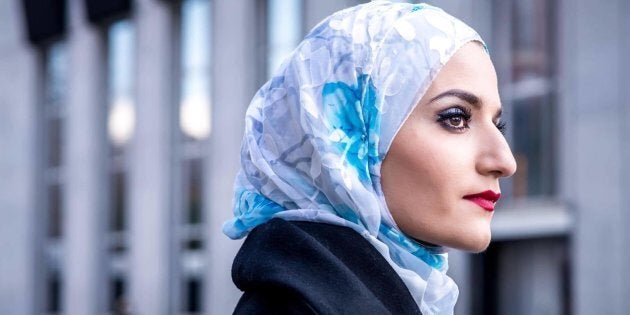 When Najwa Zebian started out teaching, she saw too much of herself in her students. That was just one of the reasons the best-selling author started writing again.
Her classes were filled with frustrated, sometimes ostracized, kids who hated that they had to leave the lives they knew and immigrate to Canada. Zebian felt exactly the same way in 2006 when she said goodbye to Lebanon.
So she asked her students to do what she had abandoned since she moved to Canada: write.
I (initially) wrote with the purpose of saying, 'I understand you. I know what you're going through.'Najwa Zebian
"I felt my experience as a newcomer to Canada was reflecting their experience," Zebian said in an interview with HuffPost Canada. She started jotting down her own thoughts alongside her students.
"I wrote with the purpose of saying, 'I understand you. I know what you're going through'," she explained. Her students began feeling less alone so she kept writing.
And for the past year and a half, her poetry on education, love, racism and sexual harassment have travelled beyond her classroom in London, Ont.
"These mountains that you are carrying, you were only supposed to climb," is now one of her most widely-shared quotes from her second book, Nectar Of Pain.
Celebrities ranging from Oscar-winning actress Hilary Swank, to Danielle Brooke from "Orange Is The New Black," to singer Jordin Sparks have all shared her words on their sizeable social media accounts.
They count themselves as part of her growing legion of 700,000 fans on Instagram, Twitter and Facebook who are hanging on her every word.
Most recently, she joined those using the hashtag #MeToo online to open up about their experiences of sexual harassment and assault.
The 27-year-old, who is pursuing a doctorate in educational leadership at Western University, says it's surreal to think about her meteoric rise simply from "the power of words."
She says that "never in a million years" could she have imagined so many people noticing her poetry.
Watch: How the #MeToo hashtag is allowing people to share personal stories sexual harassment and assault
"I write to give a voice to the silenced souls ... and those are the people who need a difference to be made for them. Once they feel heard, they'll be empowered and encouraged to use their voices," Zebian said.
Her work also touches on politics, her Muslim faith, and emotional trauma. She says writing is the strongest way to work through pain.
"When I write it's a process of liberation – the more vividly I'm able to describe a feeling, a thought or a reflection, the more empowered I feel," she said. "I don't have any feeling that I'm going to be judged."
Abuse was channeled into a book
Without naming her abuser, Zebian penned a recollection this summer about the years of emotional abuse and sexual harassment she endured.
That led to a second, more sombre book in 2016.
It was to "remind myself that nectar, sweetness, can come out of pain. If we look at it the right way."
But she wasn't born with that mantra. The youngest of six children, Zebian was regularly bullied as a teenager for being too sensitive.
Salvation came when she was 13, and her friend Mariam gave her a journal. That book became a refuge where she could vent not only about her tormentors but also her loneliness as her family moved between Canada and Lebanon to accommodate her older siblings' schooling.
When I was stuck here, I started feeling like I'm in a new place where I don't fit in, where I don't belong.Najwa Zebian
The journal made it all bearable.
"My journal was my shoulder to cry on. It was my friend and my loyal listener," she wrote in a blog post.
In 2006, war broke out in Lebanon, which stranded her family in Canada. Her frustration and isolation only worsened.
"When I was stuck here, I started feeling like, 'I'm in a new place where I don't fit in, where I don't belong' — I was already dealing with that back home," she said. "When I went back to try and write, I just felt it was too painful ... like there's no way out."
The 16-year-old ripped up her journal and swore off writing through the rest of high school, university and even teacher's college.
Students reignited her writing
Writing seeped back into her life in 2012, when she started teaching the children of refugees and immigrants struggling to create a new life in Canada.
Students and parents told Zebian she had a gift in capturing their feelings so vividly.
"I was receiving emails and messages from all over the world – really heartfelt ones," she recalls. It was her early musings that eventually filled her first book, "Mind Platter," which she self-published in 2016.
Within months, readers from Tanzania, Indonesia, Jordan, France, Germany and Australia were using her hashtag #MindPlatterAroundTheWorld to share her book. The hashtag still surfaces on social media.
Her first book topped the Amazon bestsellers lists for female authors and Middle Eastern poetry, and became a bestseller in Malaysia, Indonesia and Germany.
People opened up with their own stories about trauma — and she encouraged her to channel her own emotions before they overtook her.
She published her second book "out of the struggle to... not want to feel hurt anymore."
This year, she weighed in on a broader range of issues.
During women's marches across the world which, in part, protested U.S. President Donald Trump's inauguration, she read her poem, "Excuse Me, Sir" at a rally in London, Ont. Then she wrote another poem following the push for a U.S. travel ban on visitors from Muslim-majority countries and another supporting the protests against various pipeline projects in the U.S. and Canada.
Zebian sees herself as part of a growing base of people tired of being disenfranchised on issues like sexual harassment, politics, and the environment.
"I think there is so much they have in common. For example, when people are yelling during protests for governments to change, it's because they feel they're not being heard."
That's why Zebian makes a point to respond to every criticism and comment on her online content.
"If they took the effort to comment, then it'd be hypocritical to ignore them and not have a debate," she said, adding that she stole that trait from her father who never shied away from uncomfortable questions.
So in the same day, she'll hear from secular critics who question her feminist credentials because she wears a hijab — and also have conservative Muslims criticizing her modesty for wearing skinny jeans.
But engaging people, especially critics, means creating discussion that can only lead them to more empathy and true understanding, she believes. And being vulnerable in her writing is what resonates with people and encourages them to do the same.
"I want to change the world. And I will. You will see."