Doug Nickerson carries the little vial around his neck at all times.
And when he hears someone yelling his name on the street, he knows he's going to need to use it.
The drug inside is called naloxone, and when injected, it reverses the effects of an opioid overdose, literally giving someone their breath back.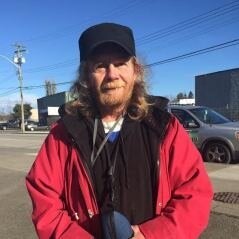 "I'm quite known out there on the street," Nickerson, who has no fixed address but calls Surrey home, told The Huffington Post B.C.
"When word goes out for naloxone, someone might know where I'm at and if not, they're all yelling for me. There's no mistaking it."
Nickerson was prescribed the drug under a program run by the BC Centre For Disease Control (BCCDC). While Nickerson's kits are meant to be used on him if he overdoses (he never has), the province's regulations allow them to be administered to someone else in an emergency situation.
So when someone finds another user in an overdose state, they yell. It's worth the commotion.
"That little 0.4 vial is magic. It's amazing, the turnaround," Nickerson said. "It saves a life."
There are 62 sites across the province where the drug can be picked up and users can undergo basic training. It's free for patients but costs the BCCDC $40 per kit; each contains two vials, needles, and instructions.
Under B.C.'s current regulations, naloxone must be prescribed by a doctor or nurse practitioner and can only be given to users of opioids — the family of powerful and highly addictive painkillers that include morphine, heroin, methadone, and OxyContin. Canada has the highest rate of opioid prescription drug use in the world, according to the BCCDC, and overdoses can happen with both prescription and illegal painkillers.
Because naloxone can only be prescribed to drug users (as opposed to their friends and family), it's recommended that they do drugs in pairs so the other person can act as a rescuer if needed. Some people who live in single room occupancies will even leave notes on their doors explaining that they have naloxone, and where it's stashed, in case of emergency.
The BCCDC, for its part, wants to continue to expand the program's reach.
"We're looking at ways to make sure that people who need it actually have access to it," Jane Buxton, the centre's harm reduction lead, told HuffPost B.C.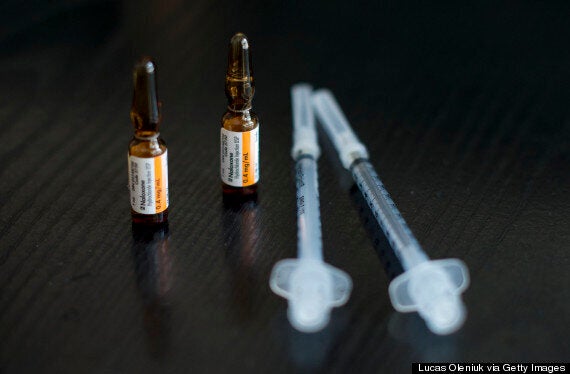 Naloxone, also known by the brand name Narcan, is injected into a muscle or vein and works by reversing the suppression of a person's breathing, which is the main reason people die during an opioid overdose.
Opioids and naloxone cling to the same parts of the brain that affect breathing. But naloxone binds more closely to the organ and therefore pushes the painkillers off it, allowing breathing to start again.
Naloxone takes only about five minutes to start working and 30 minutes to begin wearing off. The full effects disappear in about 90 minutes. By that point, the body will have broken down some of the opioids and therefore likely won't stop breathing again; however, in some cases another dose of naloxone may be needed.
If injected into someone who is not on opioids, naloxone has no effect — in other words, it is completely safe and cannot be abused by addicts.
Just last month, the European Monitoring Centre for Drugs and Drug Addiction released a study that concluded take-home naloxone programs decrease overdose deaths. It also suggested that such projects added to "creating positive attitudes to the correct use of naloxone and management of witnessed overdoses."
While Canadian naloxone initiatives are currently only in B.C., Ontario, and Edmonton, there are over 180 take-home programs in the United States, where they've been in place for years. A Massachusetts program, for example, began in 2007. (In fact, Nickerson said the first time he ever encountered naloxone in B.C. was years ago on the black market from the U.S.)
In some American states, even police officers carry the drug. But so far, police in British Columbia are not supplied with naloxone, even though the province's emergency medical workers have been administering it for more than 40 years.
"There are ongoing discussions about having VPD officers carry the drug," Vancouver Police Department spokesman Const. Brian Montague told HuffPost B.C. in an email. "There are, however, some hurdles we have to overcome."
He did not elaborate, but Buxton speculated that one obstacle could be the newer nasal form of naloxone, which is not yet licensed in Canada. The nasal version is preferred for officers so that they are not carrying and administering needles.
"We're hoping at some point we will have availability of intra-nasal naloxone," Buxton said.
Donovan Mahoney is a recovering addict who has been sober since March 29, 2012. Now a celebrated photographer in Vancouver, Mahoney said emergency crews gave him naloxone a couple of times in 2011 (before the take-home program started).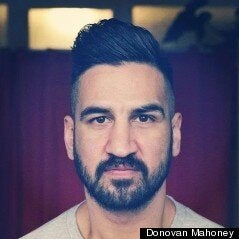 Being saved by naloxone didn't push him farther into his addiction, nor did it prompt him to seek treatment right away. It did, he explained, keep him alive long enough to get sober when he was ready.
"By keeping me alive it allowed for me to, in my own time, stop using," he told HuffPost B.C. in an email.
For that very reason, Candace Plattor, a therapist who specializes in addictive behaviours, supports the drug. However, she believes it highlights a much larger underlying funding issue.
"I think harm reduction is like that proverbial Band-Aid on a heart attack," she said.
"If somebody's dying from an overdose and there's a medication that can be given to that, I'm all for that. But I don't think that there are enough resources for people to really get to the root of the problem of what's going on for them that they feel the need to overdose in the first place. That's the problem to me."
Plattor said addicts may be less likely to seek help if they know they can be saved if they overdose.
"Why would they do that [seek treatment] if they're thinking to themselves, 'Well, I can just use, and if I use too much, I can just get some of this? No biggie!'"
But Buxton insisted that's not the case.
"One thing about the U.S. introducing it before us is that they have a lot of evidence, and the evidence shows that people who have naloxone do not use more drugs just because they have something that can reverse it. In fact, they're more likely to get connected to services," she said.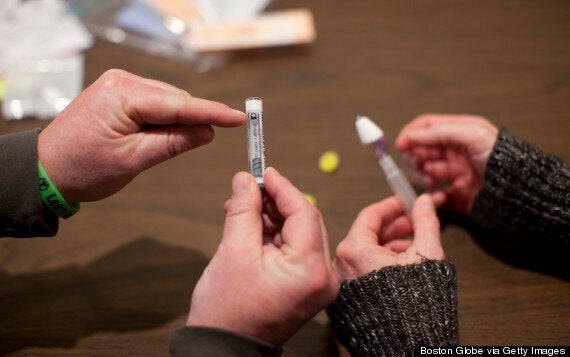 Naloxone is shown in a nasal spray used by American programs and police. (Photo by Dina Rudick/The Boston Globe via Getty Images)
"We're not concerned it increases people's drug use or encourages people to use drugs. It obviously prevents death and brain damage and for somebody to be able to be engaged in treatment, they need to be alive."
Buxton said many people decide to get a naloxone prescription after the drug was used to save them. Overall, she explained, naloxone sends a message to opioid users that their lives matter.
"People who come in [for a kit] will say, 'Well, someone used naloxone on me and saved my life and I want to be able to save somebody else's life,'" she said. "It's very empowering for them to be able to save somebody's life."
So Nickerson will keep carrying the little vials around his neck, ready to drop everything and run to someone's aid when he hears that unmistakable shout.
"It's a relief," Nickerson said, describing what it's like to watch someone come back to life.
"The anticipation that you have after you've Narcan-ed them and you're waiting, waiting, waiting ... [Then] the person suddenly gasps for breath and their eyes open."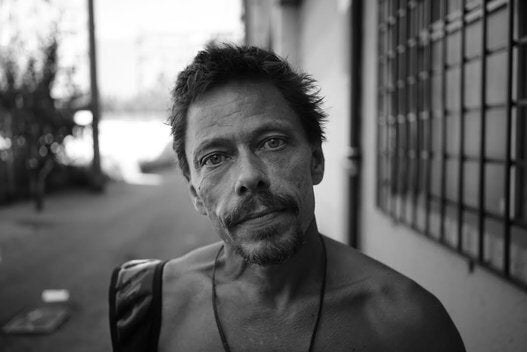 Photography of Vancouver's Donovan Mahoney
Popular in the Community