Nanaimo bars are a popular Canadian dessert that require no baking to prepare. The recipe was first printed in Edith Adams' cookbook in 1953 using the name "Nanaimo Bars" after the city of Nanaimo, British Columbia. This cookbook is now kept at the Nanaimo museum.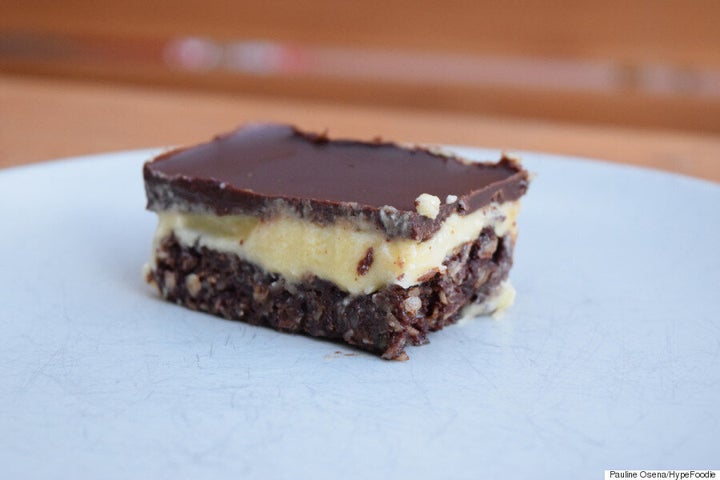 Nanaimo bars consist of three layers: the bottom layer is traditionally made with graham cracker crumbs, cocoa, almonds, coconut and held together with egg; the creamy centre is a sweet custard that is made with powdered sugar, custard powder, butter and cream; and the final layer is a chocolate topping that combines chocolate and butter.
Although the traditional Nanaimo bar recipe is full of common allergens, such as wheat, milk, eggs and tree nuts, an allergy-friendly Nanaimo bar can easily be made without sacrificing taste.
Here's how I made gluten-free, nut-free, vegan Nanaimo bars:
In order to ensure that my allergy-friendly version of the Nanaimo bar tasted authentic, I used the official Nanaimo bar recipe from the City Of Nanaimo website as my starting point.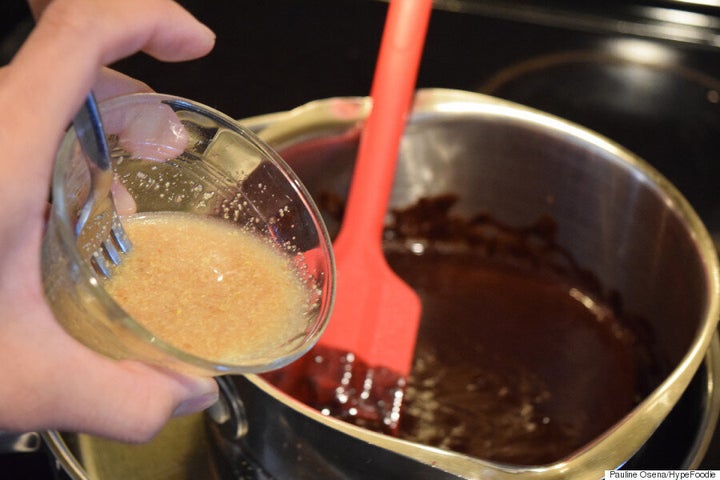 The bottom layer is the nutty, chocolate-y graham cracker base of the Nanaimo bar that makes up most of the flavour. I replaced the butter in the recipe with dairy-free, soy-free vegan butter. If you are unable to find vegan butter, you can use coconut oil as a substitute. I decided to use maple syrup instead of sugar, and slightly increased the quantity of sweetener to account for the fact that I would not use graham crackers in my recipe. I've had a difficult time finding gluten-free graham crackers that were also egg-free, so I replace the graham crackers with gluten-free oats.
The original recipe calls for finely chopped almonds and an egg to bind the ingredients together. I decided to replace the almond with shelled hemp seeds, which are completely nut-free, high in protein and also have a rich nutty taste. I replaced the egg with ground flax seed and water, which thickens and becomes an excellent binder, and also has a nutty flavour.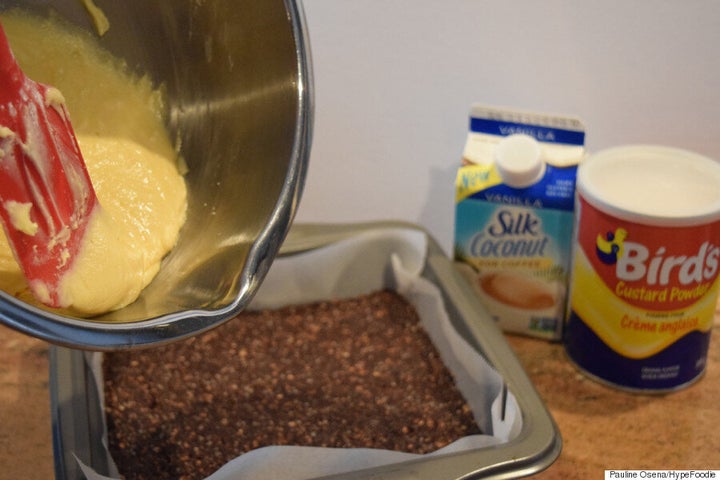 The creamy custard is traditionally made with butter, cream, icing sugar and custard powder. The butter and cream in this recipe was replaced with vegan, soy-free butter and coconut coffee cream. I was pleasantly surprised to learn that Bird's Custard Powder, which is a common custard powder brand, is dairy- and egg-free and is easily found in the baking aisle of grocery stores. A fun fact about Bird's Custard Powder: it was invented by Sir Alfred Bird in 1837 because his wife had an egg allergy. Custard powder is essentially cornstarch with colour and flavouring, and becomes custard when you add warm milk. It's important to read ingredient lists, as instant custard powder often contains dairy or modified milk ingredients.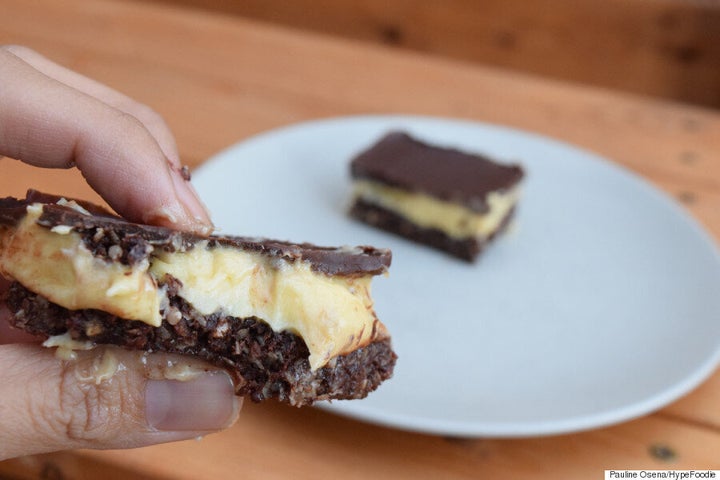 The Nanaimo bar is topped with a thin and soft chocolate layer. I used about half a bag of Enjoy Life dairy-free chocolate chips with vegetable oil instead of butter.
I refrigerated the final product for about two hours. It helps to run your knife under very hot water before cutting small bars, as it helps cut through the top chocolate layer. This recipe yields about 20 or more small Nanaimo bars. Serve the bars cold or at room temperature.
1 1/4 cups gluten-free oats
Melt vegan butter on a double boiler with maple syrup and cocoa.
Mix ground flax seed with three tablespoons of warm water in small bowl, and allow to stand for one minute. Add flax mixture to the double boiler, and stir to cook and thicken. Remove from heat.
Stir in oats, hemp seeds and coconut.
Press firmly into a parchment-lined 8" x 8" pan.
2 tbsp. and 2 tsp. coconut coffee cream
2 tbsp. dairy-free custard powder
2 cups icing sugar (sifted)
Cream butter, cream, custard powder and icing sugar together well. Beat until light.
Spread over top bottom cookie layer.
4 oz of dairy-free chocolate chips
Melt chocolate and butter over low heat. Cool.
Once cool, but still liquid, pour over custard layer, and chill in refrigerator for two hours or longer.
Enjoy the bars cold or at room temperature.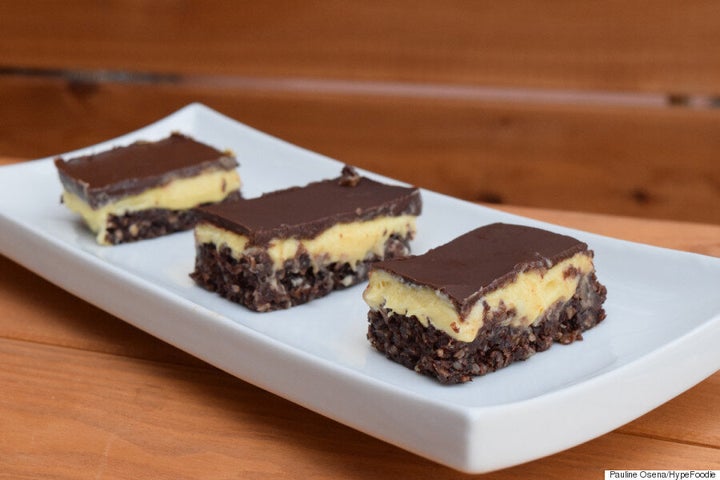 Pauline Osena is a food allergy advocate and founder of HypeFoodie.com, an online resource for allergy-friendly living. This former dairy junkie became an expert in allergy-friendly cuisine, while figuring out how to feed her child with multiple food allergies. Pauline aims to inspire culinary adventures and experimentation with her series, "An Allergy-Friendly Makeover," and shares the valuable knowledge she has gained with "The Allergy-Friendly Top 10."