A former employee of a Vancouver Island mill has been charged after two people died and two others were injured in a shooting at the site on Wednesday.
Police received a 911 call from Western Forest Products in Nanaimo around 7 a.m. PT. A gunman began firing in the parking lot and then continued in the office, said RCMP Supt. Mark Fisher.
RCMP, who responded within three minutes, arrested a 47-year-old suspect without incident. Officers also seized a shotgun from the scene, said Fisher.
Kevin Douglas Addison has been charged with two counts of first-degree murder and two counts of attempted murder, said RCMP in a Wednesday night news release.
The Nanaimo man is a former employee, said Don Demens, president of Western Forest Products. He would not provide details on how or when the man's employment with the company ended.
Michael John Lunn, 61, and Fred James McEachern, 53, were killed, while two other men were shot and "suffered significant injuries," said RCMP Const. Gary O'Brien.
Tony Sudar, who is in stable condition, is the mill's vice-president of manufacturing, reports Global News. Sudar's wife told the outlet that he was shot in the side of the face.
"The families and mill employees will now have to cope with the tragedy that unfolded here today, as does the community of Nanaimo," Fisher told reporters gathered at the RCMP office, in the community of about 84,000 people. "It's going to be a challenge, but as detachment commander, and a long-time resident of Vancouver Island, I can confirm this type of violence is extremely rare."
Story continues after slideshow: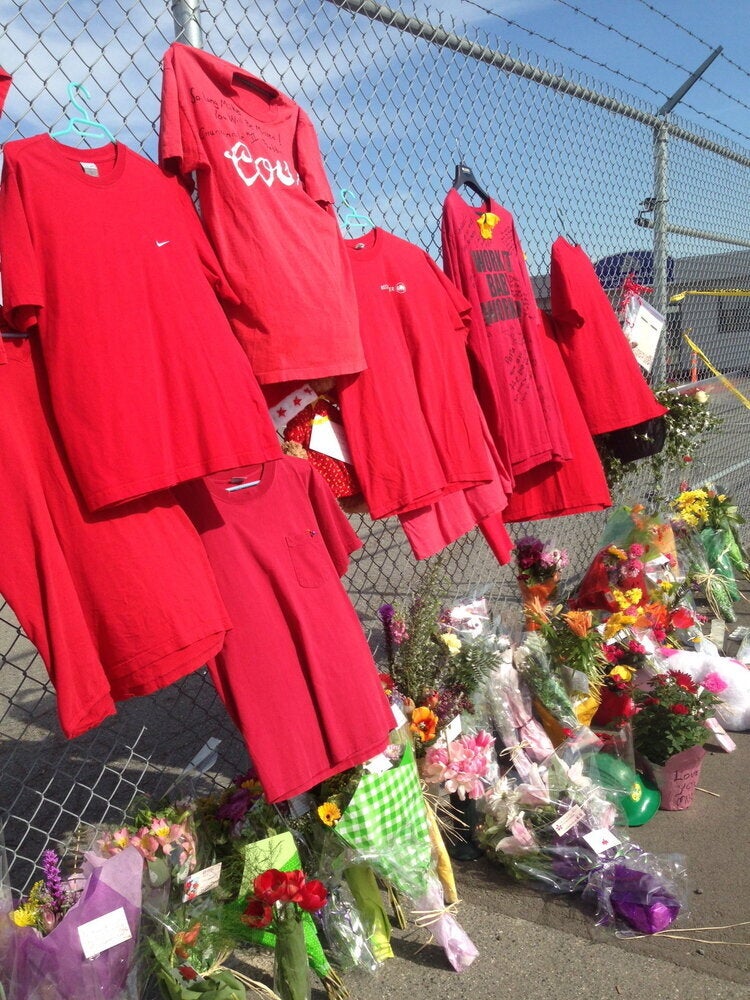 Nanaimo Mill Shooting, April 2014
Western Forest Products has shut down all of its Vancouver Island operations out of respect for the workers, said Demens. Grief counsellors are being brought in to help staff, he added.
"This kind of tragedy is almost unknown in British Columbia. Most of us here today cannot imagine what the victims and their families must be going through," said Premier Christy Clark in a statement. "They should know they are not alone. The people of British Columbia are standing with them."
At the mill, family members and workers, some in tears, gathered outside the facility.
Charlie Gallagher, a shift supervisor at another Western Forest Products mill in nearby Ladysmith, said he wasn't sure whether he personally knew any of the victims, but he brought a bouquet of flowers to the mill's gates all the same.
"Out of pure emotion, more than anything," said Gallagher when asked why he visited the mill.
"It's our colleagues and people we've worked in the industry with for a number of years. We may not have known them, but they work for our company and we owe them that."
With files from The Canadian Press