OTTAWA — Plastic toys in your McDonald's Happy Meal will be gone for good if a Conservative senator gets her way.
Contests, games, and fun surprises in the cereal boxes that marked your childhood will also be banned.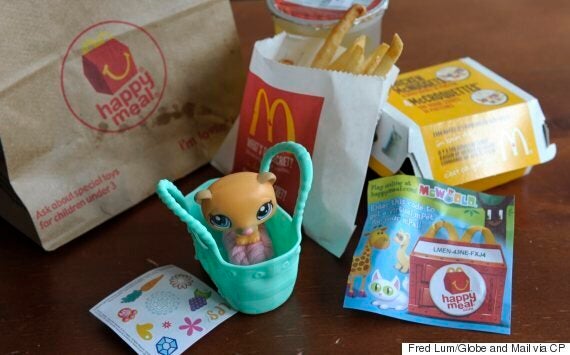 A McDonald's Happy Meal is shown on Nov. 3, 2010 in Toronto. (Photo: Fred Lum/The Globe and Mail via CP)
These are necessary actions to limit obesity rates and encourage healthy living, says B.C. senator Nancy Greene Raine, a former Olympic athlete.
Earlier this week, Greene Raine introduced Bill S-228, the Child Health Protection Act, in the Senate. Her bill prohibits marketing techniques aimed at getting kids under 13 to eat foods that are too salty, too sweet or too fatty.
No more cartoon characters or bright colours that catch the eye. The aim is to make packaging as plain as possible to prevent children from demanding one brand over another, she said.
Current laws are too lax and put parents in an impossible position when they go to the grocery store with their young ones, Greene Raine told The Huffington Post Quebec.
'It's tough to be a parent today'
"Parents want to do the right thing for their kids but they also give in to the children and you can't blame them because the kids are pestering them for, you know, 'I want this, I want this, everybody else has it why can't I have it?'"
"It's tough to be a parent today, and I think a law like this supports parents," she added.
Greene Raine has been pushing nutrition and healthy living since she arrived in the Senate in 2009. Two years ago, her bill to establish the first Saturday in June as Canada's National Health and Fitness Day passed unanimously in both chambers.
Now, she has her sights set on curbing the steady rise of childhood obesity across the country — rates that have tripled since 1980.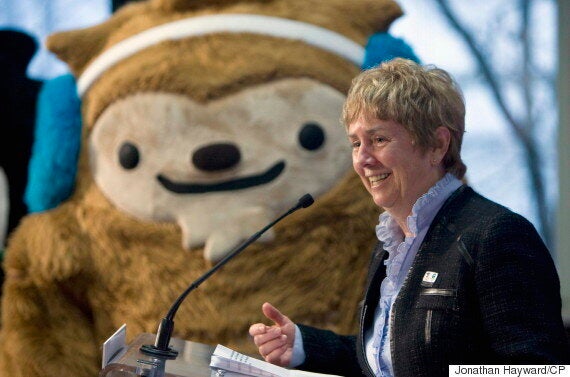 Olympic mascot Quatchi looks on as Sen. Nancy Greene Raine addresses the media in Vancouver on Jan. 15, 2010. (Photo: Jonathan Hayward/CP)
"Obesity is a crisis. Increasingly, young people take on too much weight, and it continues throughout life. When they get to 30 or 40 years, they have diseases they would not have if they had an active and healthy life," she said.
Overweight and obese children are at increased risk of developing high cholesterol, high blood pressure, sleep apnea, joint problems, Type 2 diabetes, heart disease, stroke and some cancers, her bill notes. Being overweight also affects children's mental health, and obesity can be very difficult to reverse.
The World Health Organization identified the marketing of unhealthy foods and sugar-sweetened beverages as factor in childhood obesity rates and countries such as Mexico, the United Kingdom, Sweden and Norway have already adopted restrictions aimed at changing consumption preferences.
Quebec is the only province currently to prohibit advertising to children under 13 years. But the Consumer Protection Act was adopted in 1980, Greene Raine noted, and with technological advances, it becomes increasingly easy to circumvent the rules.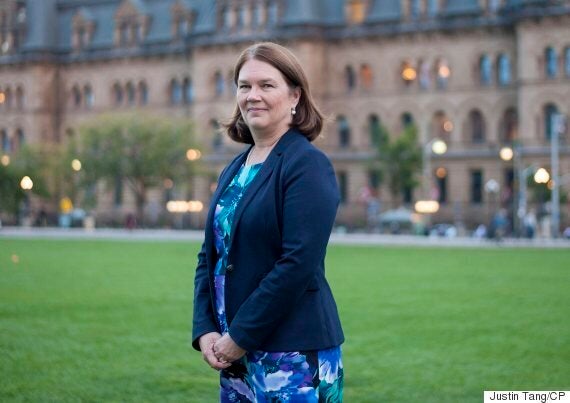 Health Minister Jane Philpott is shown on Parliament Hil on Sept. 27, 2016 in Ottawa. (Photo: Justin Tang/CP)
Health Minister Jane Philpott's office said it is reviewing Greene Raine's bill and will outline the government's position "in due course."
The senator, however, feels pretty confident her bill will become law. Philpott has already encouraged her to pursue her efforts, Greene Raine said.
In Philpott's mandate letter from Prime Minister Justin Trudeau, she is asked to promote public health by "introducing new restrictions on the commercial marketing of unhealthy food and beverages to children, similar to those now in place in Quebec."
She is also asked to bringing in tougher regulations to eliminate trans fats and to reduce salt in processed foods, and to improve food labels by giving more information on added sugars and artificial dyes in processed foods.
Expecting a fight from food industry
While Greene Raine expects a smooth ride in Parliament, she noted that she expects a fight from the food, beverage and advertising industry.
"There is a lot of money spent advertising to kids and all of a sudden that is not going to be allowed," she said. While companies might cite freedom of expression, the senator pointed out Canada has already restricted advertising on cigarettes and alcohol.
"There is no reason why we can't do this as well," she said.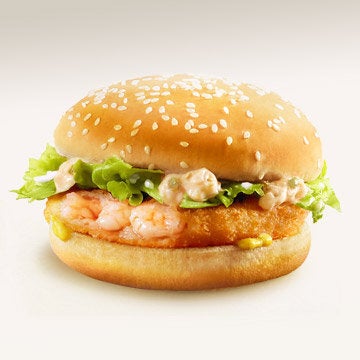 17 Fast Food Items We Wish We Had In Canada