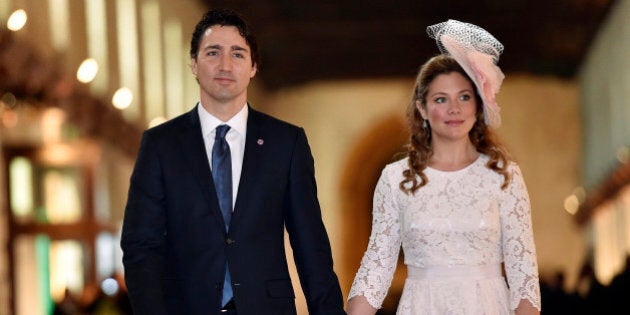 It seems as though the world doesn't have enough to complain about these days. In true nit-pick form, the Canadian media is all in a frenzy about the latest political scandal -- 'Nannygate', a hot button topic that proves that anything can sound sinister if you add the suffix gate to it. The media, especially the Conservative opposition, are hammering this down our throats as if it were a bitter 'told you so' medicine to take for a brutal Liberal cough. And in true media style, most people are buying it.
For those of you who haven't heard, Tory opposition and concerned well-to-do journalists are slamming Justin Trudeau for using taxpayer money to pay for his nannies. This is not exactly abnormal behaviour for a busy couple with three young children to care for, but the issue lies in the fact that Trudeau himself slammed previous Prime Minister, Stephen Harper, for his childcare tax cuts. Low and behold, Trudeau falls into that wealthy tax cut bracket.
And you know what? I really don't care right now. In fact, I don't even see an issue.
Let's look a little deeper, shall we? The media is calling into question the Prime Minister's hypocrisy as if he were a man up for martyrdom who tried to sneak in a crust of bread during a hunger strike. People very quickly forget that politicians are not up to be declared saints, they are POLITICIANS. This means that they are fallible, that they are going to make mistakes, and that occasionally, they may work in their own best interest without thinking about the consequences. You might say that politicians are, dare I say, just like you or me.
(And just for fun, I'd like to interrupt this article by saying that if you're concerned about how Trudeau is spending taxpayer money, have a look at some of the things Stephen Harper spent taxpayer money on. Hint: it's way worse than nannies).
Deeper still, there is an undertow to the 'Nannygate' current that is threatening to pull the Trudeau family down with it -- the idea that Justin Trudeau and Sophie Gregoire are terrible parents. The blame gun seems to be aimed right at Gregoire, a woman who is expected to drop all of her own professional obligations to care for her children while her husband is off running a country. I mean, who is she to ask for help? What kind of nerve does she have to ask other people to help her with her family while she's trying to balance her increasingly demanding life? Who the hell does she think she is -- A PERSON?
(Do you see what I did here?)
Our climate is failing. More than half of the world is at war. The Canadian government racked up an incredible debt during the Harper administration, and THIS is what we're choosing to get fussy about? Never mind that Trudeau has already attracted admiration from several world leaders, improved foreign relations, signed on a $300 million dollar deal to help battle climate change, made good with his promise to aid Syrian refugees, and resolved to protect Canada by pulling its fighter jets from Syria. Never mind that he's only been Prime Minister for less than two months and has been actively working for the change that he promised. No, no, let's talk about how he and his wife hired a NANNY.
So, what did everyone expect the Trudeaus to do with their children? Did you want to stick with the sexist and dated argument that Sophie should be the one to be a 'better' mother and stay behind with her kids? Or would the best idea be to drag the children along to every single event the Prime Minister and First Lady had to attend, regardless of the location? Sure, some people might be irritated that the Trudeau family aren't paying out of pocket for the expense, but is that really a thing to be focused on while our world is essentially FALLING APART?
Let's be honest to all the Trudeau haters out there: even if the Trudeaus were paying for their nanny out of pocket, you would find something else to complain about. Maybe one day you wouldn't like the colour of Justin's tie, or you found that Sophie was wearing eyeliner that was just a little too black and didn't match the dress that she was wearing. When you dislike a politician, your hand is eternally hovering above the buzzer, waiting for that moment when you can yell out, "I'LL TAKE HYPOCRITE FOR 1200, ALEX!" A critic never chooses their battles; they're forever engaged in war.
If any other family in Canada did this, it would be a non-issue. Why are we choosing to cry hypocrisy when we would probably do the same?
God forbid that the First Family of Canada would be human beings, imperfect and mortal just like the rest of us. God forbid that Justin and Sophie would want their children to be happy and comfortable during a life changing adjustment that the vast majority of the planet will never have to deal with. What a crime it is to want the best for the people you love. Those Trudeaus have some nerve doing what every other family in their position would do.
And God forbid that any of us come under the same scrutiny the Trudeaus do. I don't think that many would handle it with the grace that the First Family are expected to. Maybe next time someone decides to tell you that you're not good enough because you didn't act the way they wanted you to, you'll just smile and admit that they're right. That's what you're expecting the Trudeaus to do, so it's no big deal if you admit the same, right?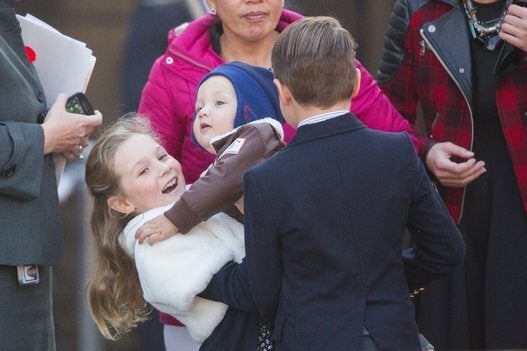 Justin Trudeau's Kids At His Swearing-In Ceremony