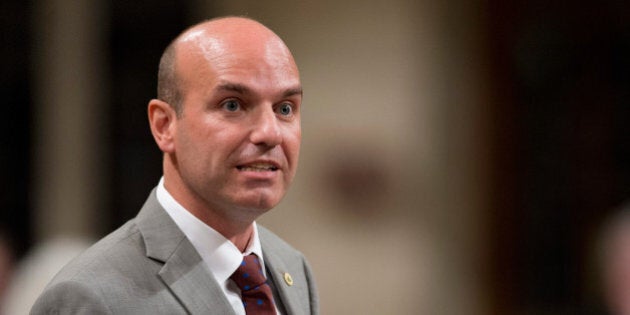 NDP MP Nathan Cullen says he would be more likely to run in the provincial leadership race if the contest was held in 2015.
The popular MP says he's still weighing his options, factoring in family, the needs of his Skeena—Bulkley Valley riding and the timing of the leadership race.
"It's a big factor for me. It's actually become a significant factor is when they actually hold the leadership convention," Cullen told The Huffington Post Canada. "When I have that information on hand, I think I'm just about ready to make a call."
Cullen said the B.C. NDP is currently musing about a spring leadership contest.
"If that's what is considered I've told people that it is just too much of a panic. I'd have to drop from the federal scene; I think I have to step down in order to run for the leadership, there would be a by-election. Those are all factors that keep me pointed towards the federal scene right now. But things can change. Timing can change and it can work out on both sides, and then I make a call to go provincial."
It's not just about personally convenient timing, Cullen said. He feels the B.C. NDP has a lot of thinking and building to do and he's concerned the provincial party can't accomplish that in two short months.
"Just about everybody is saying the same thing, which is, to do the kind of renewal we need after such a difficult loss last year takes time and can't be rushed and so why rush? Why get it done in the spring? Why not give the full 2014 over to that and have a really good leadership race? And also to attract in other candidates."
B.C. NDP leader Adrian Dix announced in September he would step down after a surprising and crushing defeat at the polls this spring. Dix was widely expected to win the election but instead the NDP lost seats to Liberal Premier Christy Clark.
In announcing his resignation, Dix said he would stay on as leader until the party chose his replacement no later than "mid-2014 at the very latest."
If leadership vote happens quickly, Cullen said it will likely be an "internal applicants only" affair because other interested MPs — such as his colleagues Fin Donnelly or Peter Julian — as well as any municipal politicians would be asked to take on more risk and incur more consequences for their electorates by unleashing by-elections unexpectedly.
Cullen told HuffPost he hopes the B.C. NDP will resist the temptation of doing what so many parties do when they "lose badly," which is to say, "just change the leader and everything gets better."
It would put a fresh face on the party, but it would place the onus of rebuilding on that person's shoulders rather than the movement's, he said.
"The movement wants to be heard right now. In British Columbia, people want to be heard, they want to be asked, and they want to be listened to. And if you rush that conversation, I think you leave a lot of great opportunity on the table … you leave that moment of innovation and change behind because you are just rushing to pick the new leader and just move on."
The time to have that discussion is during a leadership race and not after a new leader is chosen, Cullen said.
Cullen said he's done a "due diligence" tour, speaking to constituents. Many want him to stay in federal politics; others think the provincial party needs him.
He's attracted to the provincial job because he thinks B.C. has an opportunity to take its place in the national conversation fully, he said.
"It hasn't and doesn't right now. Not just on pipeline, but on a whole bunch of issues. So it feels like it would be a step towards provincial leadership but still within a national conversation."
He loves British Columbia and the rough and tumble nature of its politics, he said. "Living and working in the same time zone would be interesting," he added, laughing. "I haven't had that in 10 years."
There are some drawbacks too, he added. The party needs to do some fundamental work and it won't be some easy work, he said. The biggest drawback, however, would be leaving the federal scene "which I quite like."
Cullen suggested he's torn between the job that federal NDP leader Thomas Mulcair has given him -- house leader -- and an uneasiness about whether the B.C. "is really wanting the renewal that is being talked about."
"That is kind of my nature, I like to see things changed and challenge how things are done."
If he decides to take the plunge, Cullen said he's not yet sure whether he will resign his seat. He always assumed he had to, he said, but Parliament has no rules about it and he's checked with the Ethics Commissioner. Still, he wonders whether if he stayed on as MP, his opponents would use that against him.
Michael Roy, director of communications for the B.C. NDP told HuffPost a decision on the timing of the leadership vote would be coming "in the not too distant future."
Cullen said he heard it could be as early as next week.
-With files from Jesse Ferreras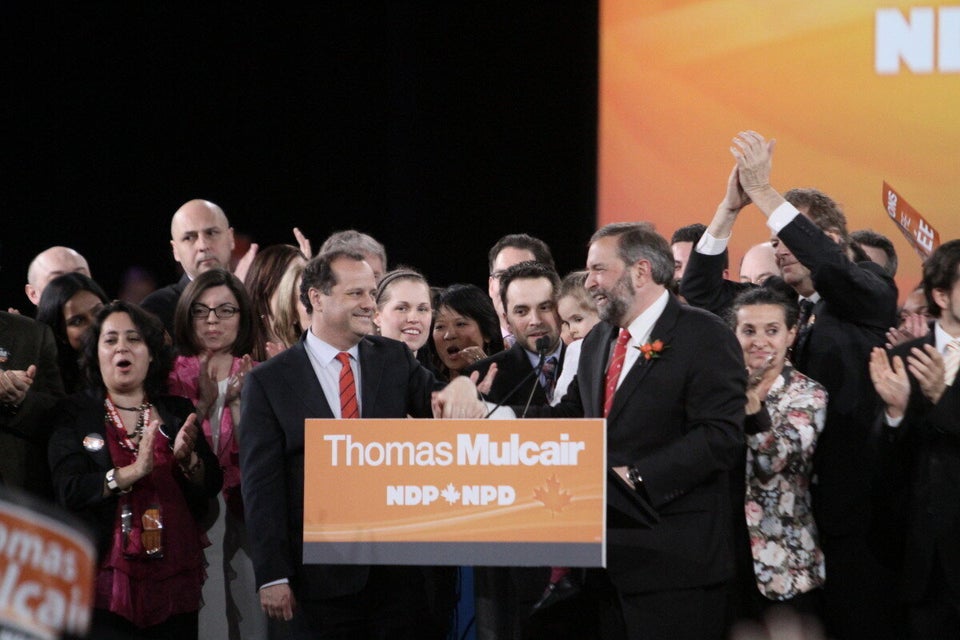 NDP Convention Sights and Sounds