OTTAWA — Canadians should be able to reject any new voting system in a future referendum — but only after trying it out first, says Nathan Cullen, the NDP's democratic reform critic.
In a year-end interview with The Huffington Post Canada, Cullen said Canadians are naturally wary of voting systems with which they are unfamiliar. But he suspects that the Conservatives calling for a referendum on a new voting system are doing so because they believe Canadians will reject change — and the current system has worked well recently for the Tories.
"Suddenly they are interested in direct democracy because maybe a new voting system wouldn't do as well for them electorally," Cullen told HuffPost.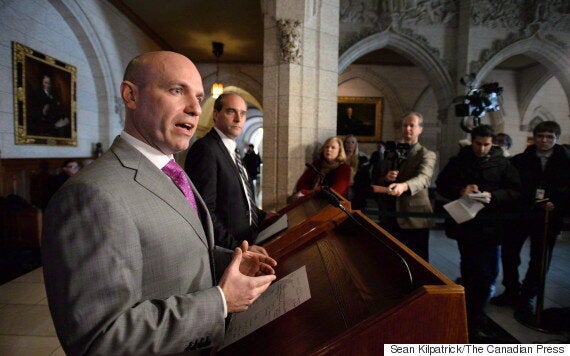 Nathan Cullen speaks to reporters in the foyer of the House of Commons. (Photo: Sean Kilpatrick/CP)
"Often when you present somebody with something new versus old, if they are not totally sure about the new thing, they will just naturally defer to status quo," the B.C. MP added.
"So I lean more towards a referendum once people have tried a new system out for an election or two. I think that makes more sense. And so if it is not getting the result or not performing the way that they'd hoped, they would have an opportunity to go back to first-past-the-post."
First-past-the-post is the system currently used in Canada, whereby the candidate with more votes than any other candidate wins, even if more than half the voters preferred someone else. It's a system that allows majority governments to be formed without winning a majority of votes cast. Trudeau's Liberals, for example, won 184 seats out of 338 on Oct. 19, with 39.5 per cent of the vote. Stephen Harper's Conservatives won a majority in 2011 with 166 seats out of 308 – and 39.6 per cent.
Tensions about which new voting system should be implemented, and how, will likely heighten when MPs return to the House of Commons in January.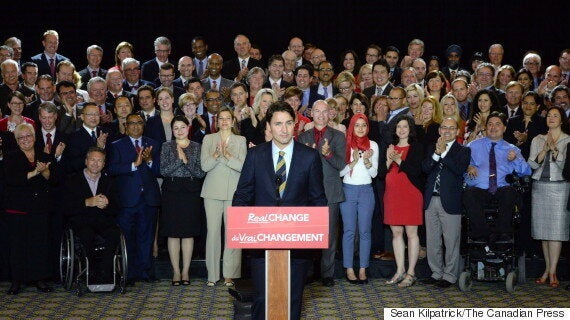 Justin Trudeau unveiled his plan for democratic reform last June. (Photo: Sean Kilpatrick/CP)
Cullen said he thinks all parties need to take a step back from their specific preferred choice and agree to some "tests or principles" that the new voting system needs to meet to avoid potential "partisan bickering."
The Liberals campaigned on a promise to adopt a new voting system before the 2019 federal election. Prime Minister Justin Trudeau never said what type of system he would enact, pledging that an all-party committee would study the issue and report back to Parliament within 18 months.
Several months ago, however, Trudeau did indicate that his personal preference is a preferential ballot. That is a system used in Australia whereby voters choose the candidates by ranking them on each ballot. If none wins more than 50 per cent of the votes cast, the candidate with the fewest votes drops off and the second-place votes of ballots favouring that candidate are reallocated. The process continues until someone wins a majority of the votes.
"Often when you present somebody with something new versus old, if they are not totally sure about the new thing, they will just naturally defer to status quo."
A preferential, or ranked, ballot might benefit the Liberals. A Nanos poll released a few days before voting day suggested the Liberals were the preferred second choice of both Conservative and NDP supporters.
Other options, such as proportional representation or a mixed-system would help smaller parties — such as the NDP —
whose support is less concentrated. It's no surprise that the NDP has called for electoral reform, and specifically proportional representation, in its election platforms.
Several provinces looked at ways of changing their electoral system in recent years, but voters in Prince Edward Island, Ontario, and British Columbia all rejected proposals when asked for their opinions in referendums (in 2005, 2007 and 2009, respectively).
Tories: 'Everyone gets a say'
Earlier this month, Conservative interim leader Rona Ambrose led off question period with demands that the Liberals bring whatever voting system the Commons committee recommends to the people in a referendum.
"When we change the rules of democracy, everyone gets a say," Ambrose said. "Sixty per cent of Canadians did not vote for the Liberal Party…. Does the prime minister only listen to Canadians who voted for Liberals, or will he govern for all Canadians and hold a referendum?
Trudeau retorted that the Tories had not consulted Canadians before introducing the "so-called Fair Elections Act." The Liberals, he said, would commit to "engage substantively with Canadians" before following through on their election promise changing the voting method. He did not commit to holding a referendum.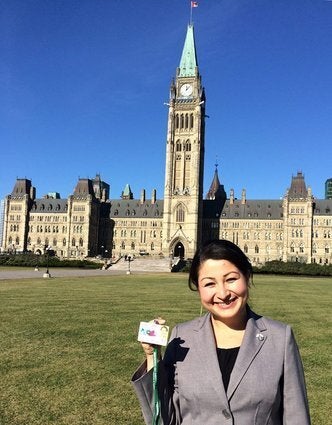 Rookie MPs To Keep Your Eye On
Popular in the Community