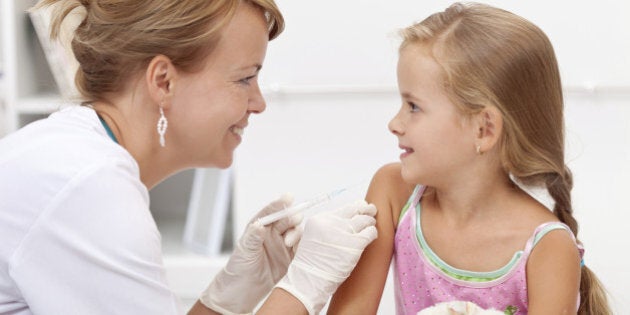 There are no parades or fireworks displays, but maybe there should be. National Immunization Awareness Week (April 22-29) is an occasion to celebrate the tremendous strides forward in preventing disease, as a direct result of modern vaccines.
Over the past 100 years, vaccines have had a dramatic effect on our health and well-being. From reducing the incidence of a number of preventable diseases -- and, in the case of polio, eradicating it entirely in some countries -- they have changed the course of history. In Canada, immunization has saved more lives than any other health intervention.
Prior to 1920, some 12,000 Canadian children would become infected with diphtheria every year. Today, the total number for Canada is between two and five cases. For Hib (Haemophilus influenzae type B), which can cause meningitis and result in brain damage, deafness or death, there were on average 1,500 cases per year before 1987 when a vaccine was introduced. This disease has almost disappeared in Ontario.
And thanks to Ontario's chickenpox vaccination program which started in 2004, doctor's office and ER visits by children with chicken pox has plummeted by 71 per cent.
But despite all that progress, we must continue to remain vigilant, and National Immunization Awareness Week is a timely reminder.
We have seen recent outbreaks of preventable diseases like measles, mumps and whooping cough in Ontario. What leads to this vulnerability can usually be found in what the World Health Organization calls the three Cs: complacency, convenience and confidence.
Because of the success of immunization programs, most Ontarians have never seen or experienced the devastating impact of diseases like smallpox, diphtheria, Hib, polio or measles. Therefore, being immunized may not seem as urgent, and the benefits of immunization may be taken for granted.
Despite the availability of vaccines from a range of locations including doctor's offices, public health clinics and schools, it can still be a challenge for families to keep up with the immunization schedule which requires different shots at different ages and stages.
Ontario's Ministry of Health and Long-Term Care has a great online solution to help you manage all of your children's immunization needs. Go to www.ontario.ca/vaccines to find the scheduler tool. Simply enter your child's name and birthdate to see their schedule. You can then add reminders to your calendar, or print a copy for future reference.
Some of the increase in vaccine hesitancy started with an article that falsely claimed a link between the measles, mumps and rubella (MMR) vaccine and autism. Over the past 15 years, a number of large studies have found no association between the MMR vaccine and autism.
The damage caused by the original misinformation however has been hard to undo.
As we mark National Immunization Awareness Week, it's an appropriate time to celebrate just how far we've come. For more than 200 years, vaccines have been saving lives around the world. When children get vaccinated against a disease, they build up their immunity, making them stronger and more resistant to that disease. Getting vaccinated helps their body make antibodies that fight specific diseases, giving their immune system a boost. And when we get vaccinated, we reduce the risk of future outbreaks of vaccine preventable diseases in the province, and achieve better health for all Ontarians.
Talk to your health care provider if you have any questions about immunization in general or specific vaccines. And more information is available online at Ontario.ca/vaccines.
Follow HuffPost Canada Blogs on Facebook