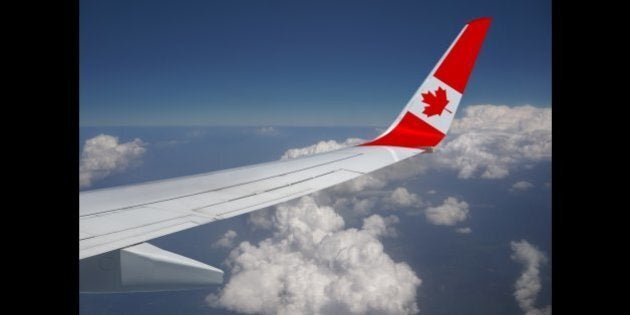 Justin Trudeau has led the Liberals to victory and will be Canada's new Prime Minister. I first met him in Montreal at the Association of Canadian Editorial Cartoonist Convention in 2012. He vaguely hinted to the group he would run for the Liberal Party leadership when he pulled-out (from a duffel bag) and tried on his father's buckskin leather jacket. He told the room full of cartoonists, "the jacket fits."
In the lead up to these recent elections, I was walking my four-year-old daughter back home from school. She saw a campaign poster for Peggy Nash, the NDP incumbent candidate for our Toronto neighbourhood. My daughter shouted excitedly, "Look, there's another Peggy Nash picture. She turned to me and said, very seriously, "Baba, Peggy Nash helped you -- that makes her your girlfriend, right?" I laughed.
Peggy and the NDP have helped me tremendously over the years. In 2004, I was disallowed from boarding an Air Canada flight from Vancouver to Victoria. Since then, I have spent many years trying to get answers from the federal government as to why this happened. It seems I have no legal hook for any lawyer to leverage our government to provide me the answers I need. I have been frequently and routinely subjected to extraordinary scrutiny, delays, additional security measures, and restrictions when travelling on domestic and international airlines. Peggy Nash and the NDP have pressed successive Liberal and Conservative governments to provide me answers.
Through Peggy I was introduced to key party members including, Joe Comartin, Libby Davies, Randall Garrison and the late Jack Layton. Peggy's office filed countless Access to Information Requests and allowed me to speak on Parliament Hill about my ordeal. Throughout this time, the Liberal Party's Minister of Transportation Jean Lapierre and Deputy Prime Minister and Minister of Public Safety and Emergency Preparedness Anne McLellan vehemently denied (as stated in documents received in my ongoing case) to me any knowledge of a Canadian no-fly list.
After years of perseverance, the NDP finally obtained written confirmation that my name was in indeed "flagged" on a no-fly List. Perseverance is an important value. As a constituent, I was never taken for granted and always felt reassured that the NDP were there to clarify important issues for Canadians. They have certainly not relied on past achievements. Tommy Douglas, NDP's first leader and who introduced Canada's universal health care program, once said, "I don't mind being a symbol but I don't want to become a monument. There are monuments all over the Parliament Buildings and I've seen what the pigeons do to them."
The Conservatives had indeed become monuments -- an enduring symbol of fear and divisiveness. The Conservative government, which was just elected out, made detrimental changes to how national security is handled in Canada -- stripping the system of any transparency and accountability. The Conservatives legislated both Bill C-24 and Bill C-51 telling Canadians these bills are necessary. What these bills do is bring about societal instability -- pitting two-tiers of population ("old-stock" versus all other Canadians) against each other.
Bill C-51 gives unilateral powers to government agencies. These agencies can now share private information at will about anyone deemed a threat. Bill C-24, on the other hand, states citizenship can be revoked if someone is suspected of lawless activities. Canadians who have dual nationality now have weaker citizenship rights simply because the government can take their citizenship away. Both bills are dangerous.
But "dangerous" is nothing new -- in 2006, Commissioner Dennis O'Connor established 13 recommendations for a new approach to monitor the national security activities of six federal departments and agencies. There is no evidence that shows any progress was made towards implementing these recommendations. Amnesty International followed up, in a strongly worded letter to Stockwell Day, former Conservative Minister of Public Safety, stating that had the Conservative government followed Commissioner O'Connor's proposed recommendations I would have had access to an expeditious, transparent process to resolve my no-fly list status.
Earlier this year, it was the NDP again who directed me to the United States' Department of Homeland Security. Although the Department of Homeland Security would neither confirm nor deny any information about me they did provide me a redress control number, which I now need to carry whenever when I travel. A small win of sorts, considering I never heard back from my own Canadian government with regards to redress.
Because of ongoing NDP involvement, there is a growing public debate on just how these bills will affect Canadians. These bills will, in time, erode away at the Canadian Charter of Rights. Even with the full support of the NDP, I have no more answers now as I did 10-plus years ago.
My experience raises broader and more serious issues of equality for all Canadians. The Canadian Charter of Rights and Freedoms was the result of the efforts of Justin Trudeau's father, the late Prime Minister Pierre Eliot Trudeau. The Charter ensures individuals are equal under the law and have the right to equal protection and equal benefit of the law without discrimination based on race, national or ethnic origin, colour, or religion.
Justin Trudeau has an opportunity to change the course for Canada -- hubristically steered by the Conservative and previous Liberal governments for years.
There is hope -- I was directed by Justin Trudeau last year and put in touch with Wayne Easter, the Liberal critic for Public Safety and Emergency Preparedness. On my behalf, Wayne Easter contacted Steven Blaney, Conservative Minister for Public Safety and Emergency Preparedness. He wrote, in response to a flaccid response I received from Ottawa, that he found my situation only cursorily addressed and requested that I would be removed from the no-fly list.
Can this hope translate into something bigger? Justin Trudeau ran a campaign of optimism. Tommy Douglas once said, "Man can now fly in the air like a bird, swim under the ocean like a fish, he can burrow into the ground like a mole. Now if only he could walk the earth like a man, this would be paradise."
I hope Justin Trudeau can take page from Tommy Douglas -- it is, after all, important to note the lessons of failure when celebrating success.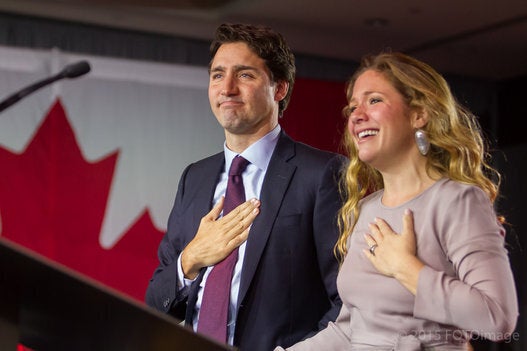 Soirée électorale
Popular in the Community