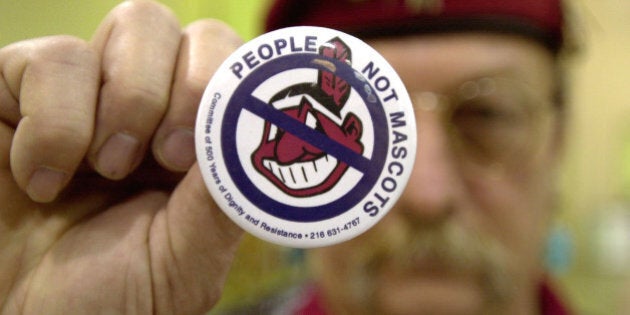 Native mascots perpetuate a culture of racism against First Nation's people that results in tragedies like MMIW and residential schools. These horrors are real and in our immediate past and present. If we want to these abuses to stop then we have to change the way people are educated about aboriginal people. That is why I am pursuing the end of government subsidization of mascots in the Human Right Tribunal of Ontario.
There is a complete blind spot on indigenous human/civil rights. Every time I mention First Nation mascots, I am told to get over it, that they are honouring us. Many native people even sing the Canadian cultural tune. I am unable to turn a blind eye to it, though. I can suck it up, I just choose not to. Why should any First Nation person learn to deal with abuse to survive?
In early 2015, I attended some games of my daughter's school hockey tournament in Mississauga. Every bag seemed to have a native logo, every wall a headdress. That day, a coach tried to recruit my daughter for the Mississauga Chiefs, I told him no, Chief is used as a derisive term in most of Ontario. The previous year another Chiefs coach understood. This coach told me to get over it, it was NEVER GOING TO CHANGE.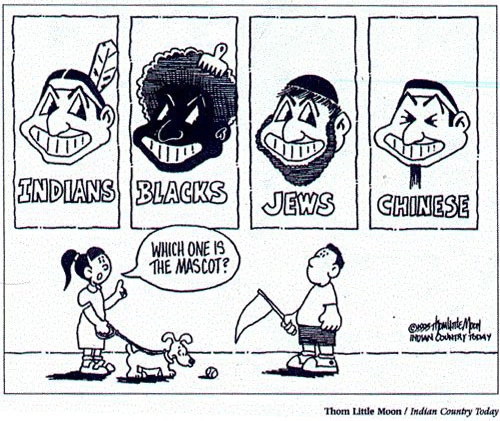 Image courtesy of Indian Country Today Media Network
I got angry. I did a survey of competitive minor hockey teams in the Ontario Bantam age group on myhockeyrankings.com. Of the 219 teams competing in Ontario in Bantam, eight teams used native logos, five of those teams played out of Mississauga. I sent an email to the mayor, and my councilor. On March 18, 2015 I met with the recreation department after asking participants at the Little Native Hockey League what they thought of the native banners (every person did not like them). The city sympathized with my concern but the mascot choice was of their affiliates and not theirs to govern, and they merely allowed them to use their space.
I disagreed and told them to lead the remaining five teams to a change as the Mississauga Algonquin, Cree, Iroquois, Huron, and Navajo teams had done in the MHL. It was their responsibility under their commitment to human rights. Or I would pursue the matter in the Human Rights Tribunal in April if they did not take a leadership role in changing the names.
Forty-five minutes following the meeting -- 45 minutes to consider the legal ramifications of a human rights complaint -- I was informed by the city that they were not responsible for what occurred in their facilities. So, I took them to the HRTO as promised.
In Mississauga, I was always pretty confident that if the public knew of the damage of the mascots that they would support the name change. Most people of the city are pretty accepting and inclusive. Let me describe the attitude I expected when people hear about mascots. Mark Trozzo, a teacher in Mississauga grew up playing in the MHL. He played with the Mississauga Navajo and at times "they would do a native style war chant to pump up. Upon learning that this was deemed offensive they stopped."
That is what I am expecting from Mississaugans when they learn about the APA report on native mascots and mascots damning psychological effects. When they learn that the Ontario Human Rights Commission has intervened on the issue of significant public interest and is seeking:

When they learn that Amnesty International has stated to the mayor of Mississauga:

And when they learn that because mascots perpetuate racism against First Nation's people and contribute to MMIW, that even the Mississauga Chiefs actually perpetuate violence against women. When they learn this I believe that the reasonable, fair thinking Mississaugans will push for change. Now! Because while the mascots may be racist, the people who unknowingly caused pain for the indigenous, are not. They believe in establishing a harassment-free environment. It is even in the MHL handbook.

More importantly, I believe that in many native mascots are threads of scientific racism. The 30-degree sloped brow on the Redskin, Blackhawk and Ojibwa logos were purposely incorporated into standard native caricatures. A search on sloped brow should get you to stormfront.org pretty quickly on Google. They depict natives as subhuman and reflect the ideology of scientific racism, the intellectual justification for white supremacy.
These ideas cannot be preserved in our society.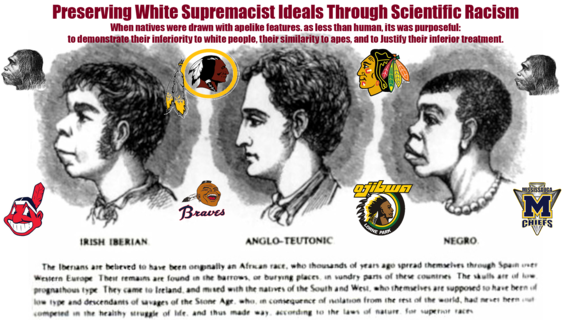 These ideas cannot be preserved in our society. It is why we fought WWII and our commitment of these freedoms is why many Canadians came and continue to come to this country.
That means no mascots in the arenas. No ethnic slurs are permitted on the ice per Hockey Canada mandate, they cannot be on the jerseys or on building walls. No mascots can be permitted in schools (and I am intending to challenge school board policies, hopefully Equity Summit Group are successful before I act).
For me, I believe that the most effective use of reconciliation dollars is the immediate end of the daily reminder of discrimination in indigenous lives. For up to $50,000 per organization, governments can invest in the inclusion of the indigenous in Canadian lives and teach Canadians that you can no longer treat First Nation's people as your property.
It would save countless time and money spent on an issue that is obviously outside the law. People like Ian Campeau whose actions inspired me and Mitch Baird in Thorold, Jacqueline Keeler in EONM, and others who have helped me, will fight until this issue is resolved.
I, like the citizens of Mississauga, want our children to be able to go to school, a mall, an arena, watch TV or browse the internet without institutionally sanctioned or corporate sponsored racism.
First Peoples are people first.
Follow HuffPost Canada Blogs on Facebook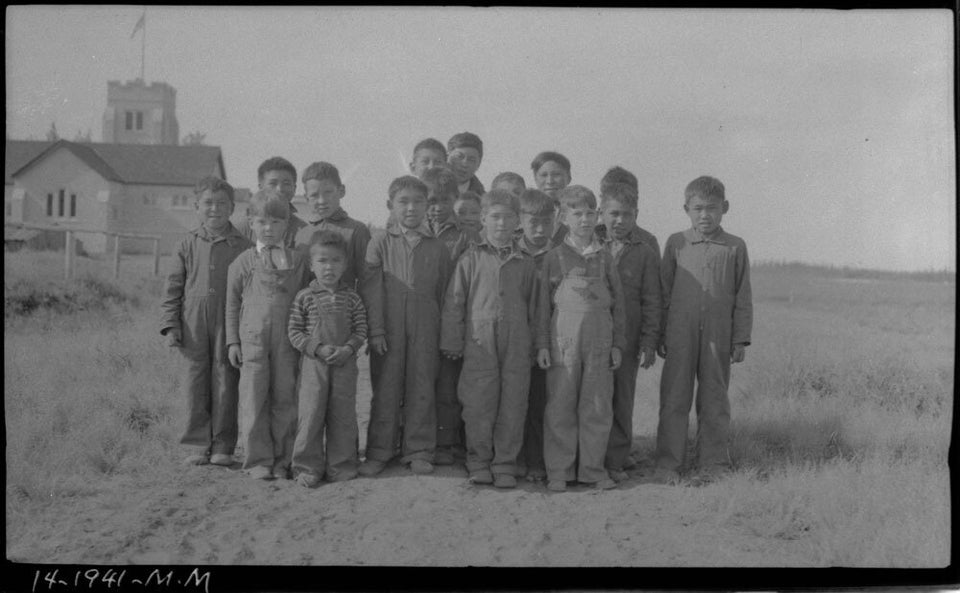 Residential Schools: A Photo History