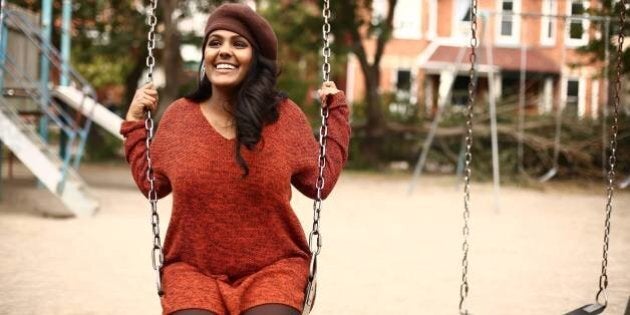 Racism is a reality for many Canadians of colour, and its effects can be damaging physically and psychologically. We asked Canadians to share their experiences of racism, self-care, self-love, and "paying it forward" for real change.
Nayani Thiyagarajah is a director, writer, producer, trained doula and yoga instructor. She completed her Bachelor of Journalism at Ryerson University and her master's in Interdisciplinary Studies at York University. Thiyagarajah's first feature documentary "Shadeism: Digging Deeper" premiered in 2015. She is currently co-producing, writing, and directing multiple independent film projects.
What effect do repeat experiences of racism have on your well-being?
For me, the effect that these repeated experiences, micro-aggressions and macro-aggressions have on my well-being both mentally, emotionally and spiritually is fatigue and tiredness. I often feel so tired I don't know how to respond. It slows down how I work, how I move. I can literally feel how the pain of experiencing these kinds of aggressions, how they manifest in my body as blockages, as things that stop me, that prevent me from doing me and from moving forward ... I've had to learn over time how to try and create a filter or try and really not allow those kinds of words to seep into my body.
How do you practice self-care?
For me I have been reconnecting to healing practices from my culture, being South Asian, a Tamil woman … I turned to Ayurveda as a healing practice and a healing tool, it being centuries-old tradition of healing has provided me a lot of solace. I've also turned to traditional Chinese medicine, acupuncture and shiatsu, to be specific.
I also teach yoga, and so I went through a one-year process of learning yoga, actually, because I work as a Doula and so I thought the yoga training would be obviously a helpful tool to have in my tool bag and provide prenatal yoga … the training was a space for me to start my healing so that I can then share that healing process with others.
What is the relationship between self-care and working toward change?
I truly feel that creating more shared experiences of love and tenderness and affection is necessary. Each time I love and try to love better and experience exchanges of love, with my family and other people of colour, indigenous folks in my life, I feel like we are helping to ease each other and help each other continue fighting the good fight. I believe in extending my self-care practices into something I can share … If [as a Doula] I can help ease someone's journey of pregnancy, and that of their loved ones, I feel hopeful.
I want our babies to be loved and nurtured with so much tenderness and care from the jump, so they know how loved they are and how important they are, so they move through this world with that knowledge of self. Despite experiencing traumas like all other folks, I grew up with a lot of love and support, and I know how much that has done to help me move through this world with a certain kind of strength that helps me keep it moving and fighting the good fight, the necessary fight, in any way I can.
This interview has been condensed from its original format.
Popular in the Community