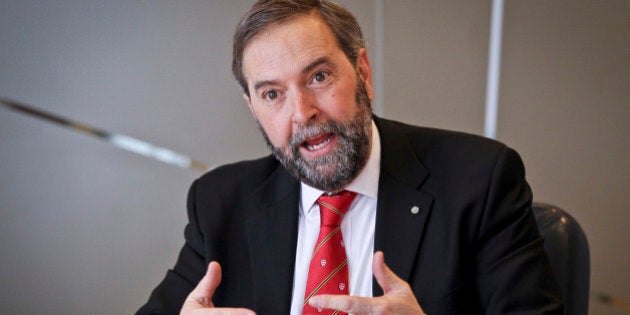 OTTAWA – The NDP is defending its use of taxpayer money to send mass mailings to hundreds of thousands of homes in advance of three byelections last year.
NDP Leader Thomas Mulcair told reporters Tuesday that his party was following the rules set by Elections Canada when it sent pamphlets to some 388,000 households in the Montreal riding of Bourassa, the Manitoba riding of Provencher and Toronto Centre.
"We're allowed to contact voters. We're allowed to send things out as long as we don't send it out during the election period, and that's exactly what we did. We sent it out outside of the election period. We respected all the rules," Mulcair said.
In a letter on Monday, House of Commons Speaker Andrew Scheer said the Board of Internal Economy, the multiparty committee that administers the House, was reviewing the NDP's use of bulk mailings to areas in which it has no seats.
The Huffington Post Canada has learned that the NDP sent close to two million pieces of partisan mail in some 26 ridings across the country using free mailing privileges offered to MPs within a seven-month period.
Scheer referred three specific cases to Elections Canada Monday. He questioned whether the NDP mailings to ridings where byelections were held constituted an unfair election expense. The byelections were called on Oct. 20 and took place on Nov. 25.
Scheer said the NDP planned:
– 155,428 mailings in Bourassa, in four waves between July 30 and Oct. 18, 2013, to the 50,095 households in the riding.
– 168,188 mailings in Toronto Centre, between July 16 and Oct. 18 as well as one on Jan. 29. There are 92,382 homes in that riding.
- 65,003 mailings in Provencher, which has 43,686 households, between Sept. 9 and 27.
Conservative Whip John Duncan is a spokesman for the board and said in a statement that the committee wants to ensure that Elections Canada is aware of "any costs that could be attributable to election spending."
"It is important that the institution of Parliament is respected and that all parties act in a way that is consistent with both the letter and spirit of the rules," Duncan said.
The Conservative, Liberal and NDP parties were allowed to spend $270,775 in each byelection race, while the Bloc Québécois was entitled to spend $64,954. The local candidates were also allowed to spend between $89,016 and $101,793, depending on the race.
Even if the mailings were valued at $0.65 each, the standard cost for letter mail, it would be a substantial expense.
Mulcair rejected a suggestion that the NDP repay the postage fee attached to the delivery of the flyers in the period leading up to the writ. The NDP pamphlets were printed and stuffed using an outside supplier rather than the House of Commons, HuffPost learned.
"We would never send out one of these mailings during an election period... [But] governments decide the dates of byelections, and we did not send these out once the byelection was called," Mulcair said.
The byelections were called on Oct. 20, but in all three cases – in Toronto Centre where Liberal MP Bob Rae announced his intention to step down on June 19, in Bourassa where Liberal MP Denis Coderre announced in May that he would quit on June 2, and in Provencher where Conservative Minister Vic Toews announced on July 8 that he was leaving politics – the vacancy was known for months ahead of time.
Bloc Québécois MP Jean-François Fortin told HuffPost that Mulcair's flyers in Bourassa all made reference to the upcoming byelection.
"So [Mulcair] is clearly contradicting himself," Fortin said.
It was the Bloc's complaint that prompted the Board's investigation.
One copy of a mailing by NDP MP Guy Caron sent to a Bourassa address between Oct. 16 and 18, obtained by The Huffington Post Canada, tells residents that "For decades, Conservative and Liberal governments have done nothing for transport, nothing for public housing, nothing against climate change, and nothing to protect workers in Bourassa. Except maybe make things worse."
The one-page flyer invites residents to share their contact information and identify which party they support.
Fortin said that the NDP was using a loophole in the rules that bars MPs from sending so-called 10 per centers to constituents outside their ridings, but allows bulk mailings if they are sent in envelopes and labelled to individual electors. The Liberals also used a similar tactic several years ago in his riding, Fortin said.
Liberal MP Rodger Cuzner told HuffPost that the allegations against the NDP are serious and that the rules are clear but they may need to be tightened to avoid a political party's flooding a riding before a byelection call.
"There is a spirit around the rules...and if you're intent on trying to gain an advantage by ignoring, bending or stretching rules [and] it is being exploited for political gain, by all means it should be looked at and addressed."
Cuzner also noted that the NDP is being investigated for using taxpayer resources to pay for party offices in Montreal and Quebec City and an outreach position in Saskatchewan, where the party has no MPs. The NDP has acknowledged using parliamentary resources to fund the satellite offices in Quebec but says staff there offer support services to its MPs.
"The other parties use field workers, and it is not uncommon," Cuzner told HuffPost. "But it is done on party expenses. To do it on the taxpayers' dime is just wrong."
The Board of Internal Economy will discuss the matter next week.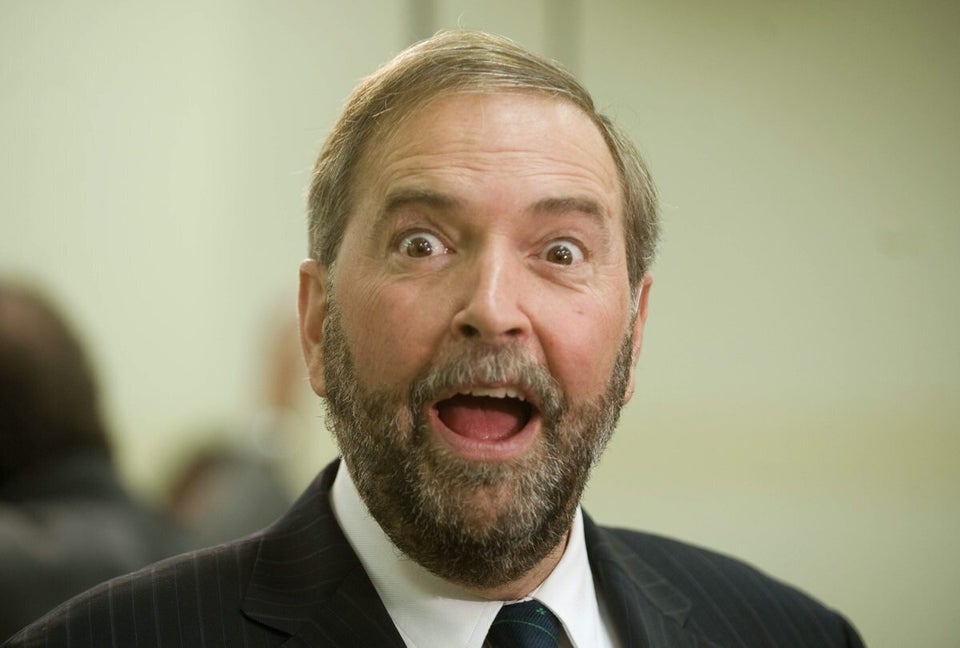 What Mulcair's Really Saying