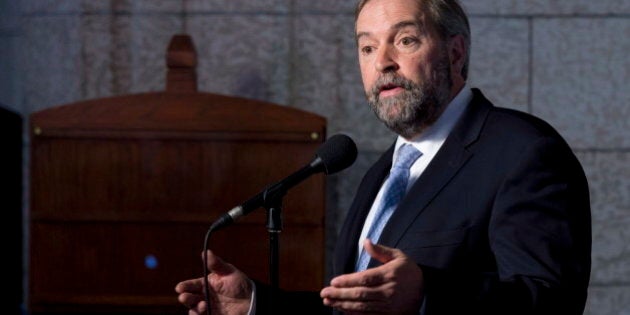 TORONTO — After allegations that two of their MPs were sexually harassed by Liberal MPs, the NDP says it wants the parties to develop a code of conduct and nominate an independent officer of Parliament to deal with complaints.
NDP Leader Thomas Mulcair outlined the proposed position in a letter to the other party leaders dated Nov. 13. However, a similar position already exists in the House. The NDP seemed caught by surprise Thursday when The Huffington Post Canada noted it.
"I'm sorry, but I don't have answers for you," NDP spokeswoman Valerie Dufour wrote in French in an email when asked specifically how the NDP's suggestion differed from the current practice.
"[T]he letter speaks for itself. The idea is to make the propositions and open the discussion," Dufour wrote.
In the letter to Prime Minister Stephen Harper and Liberal Leader Justin Trudeau, Mulcair says he wants the parties to work together to develop:
- A definition of harassment that is communicated to all MPs and employees "making it clear that there shall be no harassment, sexual or otherwise, tolerated in Parliament."
- A new formal code of conduct around harassment.
- The nomination of an independent non-partisan third-party officer of Parliament who would review incidents, advise complainants on the processes and services available to them, undertake investigations and when appropriate propose remedies.
- A confidential fair process that protects complainants and gives victims' control over their complaint and the process.
- A system of training and education for MPs and employees.
"The thing we must do is get our own House in order," Mulcair wrote.
The House of Commons has a policy against harassment in the workplace that was developed in 2001 and revised in 2003 by MPs but only applies to the 1,800 full-time House bureaucrats, not MPs.
However, Speaker Andrew Scheer's office says a third-party independent non-partisan staff person in the Commons has been in place for years to receive complaints confidentially from House employees, MPs and their staff. On the day the Liberals announced they were suspending the two accused MPs, Scheer's spokeswoman Heather Bradley said the NDP MPs could have brought their allegations to the chief human resources officer of the House of Commons, a position currently held by Pierre Parent.
Bradley said the chief human resources officer would meet with the individuals to determine the next steps and that "all meetings remain strictly confidential."
Parent could offer the complainants mediation, counselling or report the matter to the proper authorities.
Thursday, Bradley told HuffPost she couldn't confirm whether either of two female NDP MPs had met with Parent, noting that if they did, they would be doing so confidentially. The NDP did not respond either, citing their MPs' confidentiality.
A senior official in the House noted that the chief human resources officer's role wasn't well known to MPs and their staff and that it could be more clearly communicated to them and the process defined more explicitly.
Speaking to the House of Commons Standing Committee on the Status of Women in 2012, the top civil servant in the Commons, Audrey O'Brien, testified that it was her belief that MPs wanted to handle harassment complaints internally.
"We don't have any role to play in making the staff of members aware of what their rights might be and how to operate if they have a conflict, or a harassment situation, or what they view as an abuse of power situation," she said.
O'Brien said staff made a point of outlining to new MPs their responsibilities as employers.
"I confess that I think for many members who come in after an election it is a huge leap to actually run an office and manage a group of people here and in the constituency," she said.
"Very often they are terrifically vulnerable to whoever they hire as their chief of staff. You end up in situations, which as you say, are sometimes very unfortunate."
In her letter to Scheer, Liberal whip Judy Foote said as far as she knew there was no established process for dealing with allegations between MPs.
"The House of Commons has a process for administration employees to address allegations of misconduct in the workplace, but there is no established process for complaints between Members," Foote wrote.
Foote said she felt that the allegations had to be handled by a "neutral third party trusted by all concerned." She called on the Speaker to establish a proper process with the Board of Internal Economy, a secretive all-party committee that administers the House of Commons.
The board is frequently called upon to discuss allegations of misbehaviour by Members of Parliament. These complaints, however, are dealt with behind closed doors with any cash awards or resolution kept out of the public's view.
The NDP is the only party whose staff members are unionized. A recent lawsuit alleging one of its MPs, Sylvain Chicone, displayed a "sexist and misogynist attitude" in the office suggests the party has so far tried to deal with such matters internally.
Thursday, Trudeau's spokeswoman Kate Purchase told HuffPost the Liberals would "look at any constructive measure to improve workplace safety and protect people from harassment."
The two Grit MPs suspended, Scott Andrews and Massimo Pacetti, deny any wrongdoing. The NDP MPs, so far, have refused to tell their story publicly. The NDP says the women were caught off-guard by Trudeau's decision to suspend his MPs from caucus pending an investigation. It remains unclear whether a probe will occur. So far, the complainants do not appear to want to come forward with their allegations to their colleagues at the Board.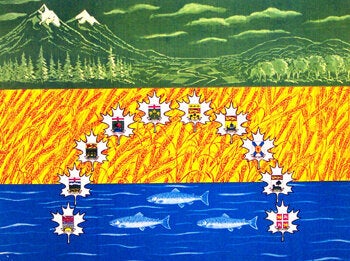 142 Rejected Canadian Flag Designs
Popular in the Community