OTTAWA — More than 1,000 New Democrats joined two party conference calls Thursday to vent their frustrations about what went wrong with the NDP's election campaign, a possible indication of what members are likely to say when the party convenes in Edmonton in April for a leadership review.
Party president Rebecca Blaikie heard from some New Democrats who are upset with leader Thomas Mulcair and others who support him strongly. She heard members lament how the party appeared ill-prepared for the election campaign, and she heard them chastise the leadership team for its refusal to support a policy that would have taxed the rich.
"What in the hell happened at the national level that we ran such a bad campaign?" said a man named Cliff, who had worked on defeated Halifax MP Megan Leslie's campaign.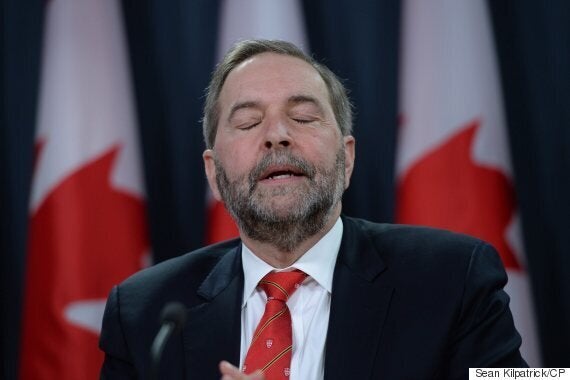 NDP Leader Thomas Mulcair holds a press conference at the National Press Theatre in Ottawa. (Photo: Sean Kilpatrick/CP)
As it led in national public opinion polls, the party seemed content to run a "cautious campaign," he said. But "the problem was, when that wasn't working, there wasn't any shift." Justin Trudeau and the Liberals were on TV all the time with "sunny" ads and Mulcair appeared "very dour" and had "absolutely terrible TV ads," Cliff said.
"Not that I'm suggesting [Mulcair] had to be Trudeau and jolly and happy, but he had other saleable qualities that never got shown in the campaign, and in the end, it came down to tone."
Some policy decisions also affected the ability to sell the NDP's message to the grassroots, Cliff said.
What about taxing the rich?
"Failure to talk about taxing the wealthy, for instance, coming out and saying something over and over again, like, there would never be a deficit, just foolish, foolish things like that.
"We need people in the leadership who are not afraid of being New Democrats. To stand up, and get behind the policies that we have always stood for. Too often in the campaign, it looked like we were afraid to do that."
A woman named Brenda said she thought the NDP had done an "amazing job" convincing the country that Conservative prime minister Stephen Harper had to go.
"You basically served up a win for the Liberals," she told Blaikie.
Another caller named Maxine thought the party had "lost it" because it underestimated the Liberals. "We allowed them to present non-progressive ideas as if they were the most progressive."
"You basically served up a win for the Liberals."
"It wasn't simply because other people were racist," she said. It was because the party hadn't seen the issue coming and didn't know how to deal with it.
"For the most part, our policies were fine. As much as I'm a lefty, I really do think we have to move towards the centre on some aspects of our program in order to have any hope of forming government, but it does mean that we have to really think about how we articulate that."
Blaikie, who mostly listened to callers without intervening, seemed to agree with Maxine and thanked her for her thoughtful comments.
New Democrats outflanked on the left?
David from Frontenac, Ont., said he thought the federal campaign had "missed the boat in a number of ways."
"We kind of got ourselves in a hole by saying that we wouldn't go into deficit, and we allowed the Liberals to appear to go to our left," he said. The Liberals "appeared again to outflank" the NDP again when the Grits promised to tax the rich and the NDP refused, he said.
"It didn't work out for Tom federally to say: 'Don't worry about us, we're not that dangerous, we are kind of moderate, we are really kind of like the Liberals, but we are going to be more careful and not go into debt.' I don't think that rang true with people…. We could have come up with a better platform than that."
David suggested the party had failed not only to respond to the increasing Liberal strength, but also to articulate "a big vision" to tie all the planks of its election platform together.
"We kind of got ourselves in a hole by saying that we wouldn't go into deficit."
Some callers suggested the party could have done a far better job of selling progressive policies, such as national pharmacare and national daycare.
Others proposed new policies, such as endorsing a dental care program and an infrastructure bank, or just re-focusing on serving the needs of working people and the poor.
Still others suggested new strategies, such as releasing a comprehensive platform before an election so members had time to sell it and using the NDP's youth wing more effectively to pepper ridings with signs and literature.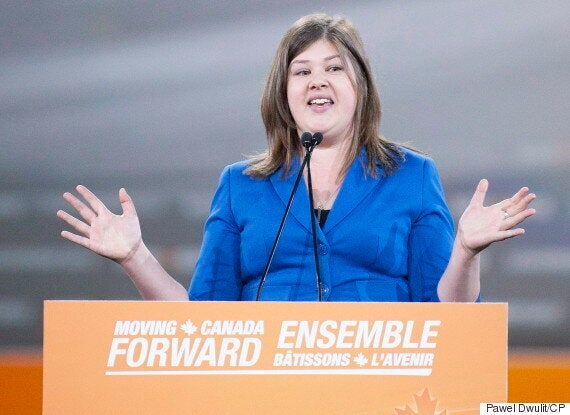 NDP President Rebecca Blaikie speaks during the 2012 leadership convention. (Photo: Paul Dwulit/CP)
Blaikie told the more than 1,000 callers on the first phone-in that their feedback would be sent to regional party representatives who would compile the information for a mid-March draft report. The final product would be released publicly at the NDP convention a few weeks later.
While several themes emerged during the hour-long phone calls, there was also some very vocal support for Mulcair, who will face a leadership review during the Edmonton convention.
A caller named Michael praised Mulcair for his "moral" leadership and said he sees no need for the party to change its direction or its leader.
Another caller identified as Robert thought the NDP's values had been pretty well communicated and wanted to give Mulcair "a big vote of confidence."
"The passion in the man and in the way he communicated our values and our platform gave over to a more avuncular maturity."
Mulcair's problem was that he appeared to be too tightly managed and should have been unleashed, Robert said.
"Somewhere mid-campaign, the passion in the man and in the way he communicated our values and our platform gave over to a more avuncular maturity, so that he was the adult in the room, but it didn't serve him or the rest of the party too well," Robert said.
"Mr. Trudeau has a passion that allows him to seem more spontaneous and more eccentric than a lot of the other people that surround him, and I think this was the quality that attracted not only young people but a wide range of people."
"Within four years, everyone in Canada will see that the Liberals have really not enacted much of what they promised, and what they promised is really what we promised and we were not given a chance to enact it," Robert added. "If we could let Mr. Mulcair really move with it, take it out there and run forward, I think we have a much better chance of forming the government next election."
NDP MP: 'Simplistic' to say result just about Mulcair
Manitoba NDP MP Niki Ashton told The Huffington Post Canada this week that she had heard "a lot of different things" about people organizing to defeat Mulcair at that meeting.
"People will make their choice when the time comes," said Ashton, one of only 28 NDP veterans re-elected to the Commons.
"It would be simplistic to say it was about one thing, or one area. Similarly, I think it's simplistic to say that it was about one person."
The election was obviously disappointing, Ashton said, but she was encouraged by the party's internal review and hopeful it could provide recommendations for the future.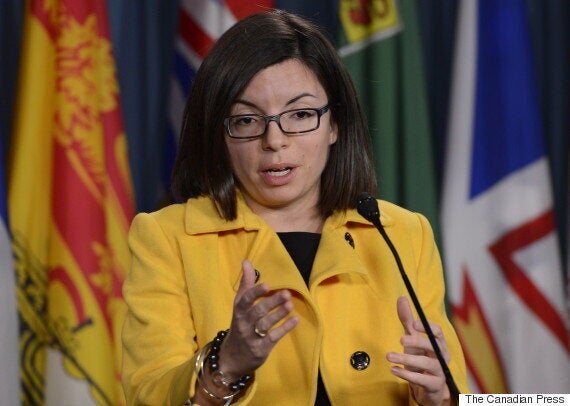 Niki Ashton speaks to reporters in Ottawa. (Photo: Adrian Wyld/CP)
Defeated Ontario MP Dan Harris told HuffPost he felt the party and the leader had made several mistakes. In a wide-ranging interview, he lamented the fact that Mulcair had not taken any questions from reporters during his campaign launch and had refused to participate in the consortium debate with the TV broadcasters if Harper wasn't taking part.
It prevented a match-up between Mulcair and Trudeau days before voters headed to the polls, Harris noted.
"That would have been a debate that would have happened two weeks before the election and would have been Tom, Justin, Elizabeth May and Gilles Duceppe. The focus would have been on Tom, and he would have been the one looking potentially prime ministerial at that point, so I think that was a strategic mistake. But there is blame to be shared."
The NDP could have done a better job staking out its territory on some issues. "Taxing the rich would be one of them," he said.
The NDP should have supported the move to tax the top 1 per cent of income earners, he said, but instead of giving to Canadians making $45,000 to $89,000 a year, as the Liberals proposed, he would have given the breaks to those making less than $50,000.
"Those are the people who really need it," Harris said. "That would have been a real good tax cut that would make sense for people."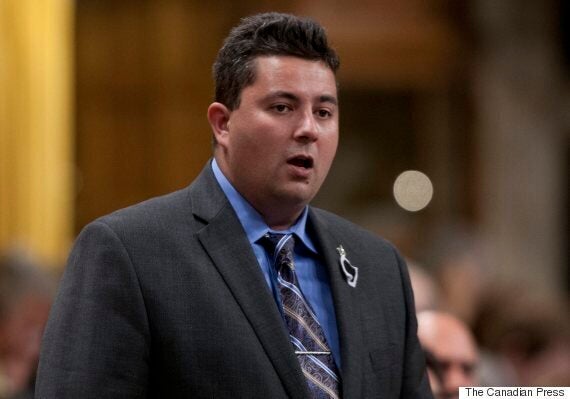 Former NDP MP Dan Harris speaks in the House of Commons. (Photo: The Canadian Press)
One of the most embarrassing errors, in Harris' mind, relates to the roll out of the NDP's fiscal costing.
When the party released its numbers, it had wildly overestimated the price of oil, pegging it at $67 a barrel in 2016 and more than $75 in the following years.
"The expected amount that oil … was already off by $20 a barrel. That is kind of unforgivable, especially for a party that has a perceived economic credibility issue," Harris said. But instead of correcting its mistake, the party "doubled down on it.
"[It] certainly didn't help our case."
The NDP also got outpaced "in a big and bad way" on the air war, Harris said. "A lot of my friends who are New Democrats would be coming home after canvassing and throwing on the Jays game [who were in playoffs trying to reach the World Series], and they would see Conservative and Liberal ads wall to wall and nothing from the NDP," said Harris, sounding exasperated. "Those are questions that need to be answered by the leadership team about what happened there."
"I'm still making up my mind about whether I think Tom is still the right person to lead us into the next election." - Ex-MP Dan Harris
Harris doesn't believe the NDP got outflanked on the left by the Liberals, but he thinks the Grits did a better job of selling their message as a progressive alternative.
"What was upsetting to me, as someone who was running in the election, was [that] this was [Ontario Premier and Liberal leader] Kathleen Wynne's playbook in 2014. And this is what the entire Ontario caucus was telling the leadership was going to happen in 2015, especially when we saw how closely Justin and Kathleen Wynne were attached at the hip," he said. "That seemed to not penetrate the leadership bubble, and it doesn't look like strategies were adopted to … counteract that."
The same could be said about the niqab issue in Quebec, Harris added.
"The Quebec caucus had been talking about it and trying to get definitive action on the issue to try to put it to bed — for a year before the election. Really, since the Values Charter," he said. "Those are two things that, if they had been put to bed before the election, might not have caused us so many problems."
Harris told HuffPost he still has "great confidence in Tom" and believes he is a formidable figure inside and outside Parliament, but he is undecided about whether to support Mulcair during the leadership review.
"That's the $64,000 question. There is obviously nobody apparent coming forward to replace him, but that is not what leadership reviews are about.
"Times change and leaders change," he said. Ultimately, it will be up to the members to decide what to do in April.
"Mistakes were made, opportunities were missed, maybe some people were there that weren't necessarily the best people.
"I'm still making up my mind about whether I think Tom is still the right person to lead us into the next election.
"This is Tom's to lose, and how he reacts, and how he goes out and speaks to the members, and how many people he [convinces] that he is the right choice to move us forward will determine whether he wins or not."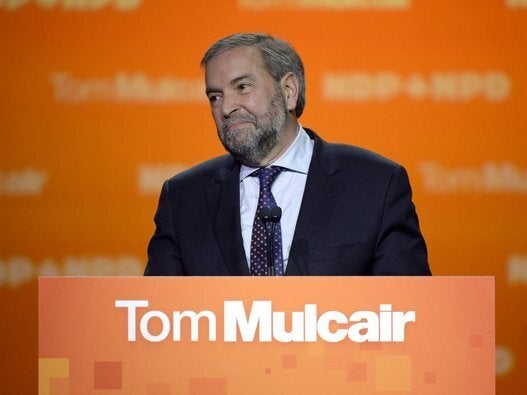 Key NDP MPs Defeated In 2015 Election