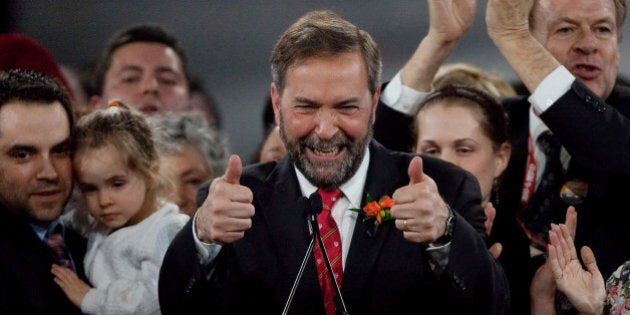 You know that feeling when you reach a level you never thought was even possible? When you win a battle that has been lost so many times before? When defeat is such a habit that you forget the sweet smell of success?
While kudos are in order, the celebration that comes with winning a battle should not be confused with the one that accompanies winning a war. I reckon the oft-last place federal political party known as the NDP relished the feat of leaping into Official Opposition. The previous watermark exploit of the NDP was forming government in Canada's most populous province in September 1990. The NDP's extended drought met with replenishing rain on May 2nd 2011. What a celebration that must have ensued for them!
Sometimes it feels like the NDP MPs are still nursing their hangover from the election-night party two years ago.
While they were ridiculed for their roster of pubescent politicians, freak electoral accidents, and a stunned Vegas vacationer-turned-member of Parliament, the NDP showed promise. The NDP caucus is unparalleled in diversity of experience, backgrounds, and community engagement. They are more of a reflection of Canada's electorate than the other 2 parties, and certainly more diverse than the "Party of Multiculturalism." Sure, it takes time to learn the ropes. And Canadians were willing to wait it out. After 24 months, it's time for the training wheels to come off!
The candidate known as "Vegas girl" is one of few MPs who has experience sleeping on the cold floor of a bare, low-cost accommodation after baring a child when she was as a teenager. She probably interacted with government programs designed to help teenage mothers, and can speak to their effectiveness of lack thereof. Ruth Ellen Brosseau's journey as a single mother could have made her a rare parliamentary voice for so many struggling young single mothers across Canada. Yet the media reports that her triumphs include improving her speaking skills in the preferred official language of her constituency and moving out of her parents' home. Not falling flat on her face has been deemed a great achievement.
I have seen the strength of single moms firsthand, and I know Ruth Ellen Brosseau could play a larger role in Opposition than she is given.
The Harper government's series of blunders on the immigration and citizenship file have irked many Canadians, including those waiting for family reunification, seeking asylum, or seeking jobs wrongfully assigned to Temporary Foreign Workers. The Official Opposition critics have been little more than witnesses to the implementation of bad policies, leaving the heavy lifting to enterprising journalists and bloggers. Immigration Critic Jinny Sims is nothing but a footnote in Jason Kenney's agenda to reform Canada's "broken" immigration system -- even the parts of the system Kenney himself implemented. Dreams of tag-teaming the Conservatives with the equally inept Liberal Immigration Critic Kevin Lamoureux have long faded.
It is unclear if either of them want to prove they are worthy of graduating from Opposition to government-in-waiting.
Two years on, Harper's Conservatives are untethered by the NDP, which is perceived as weak and "just happy to be there." Their collective comatose state barely registers on Harper's radar. With a few rising stars to speak of, including Québec MP Alexandre Boulerice, many Canadians wanting a solid Opposition are waiting for the NDP caucus to remove their straightjackets, give free reign to their constituents' concerns, and galvanize the dejected majority of voters. The NDP's current electoral trajectory is looking like a boomerang unless they wake up and "snap out of it!"
The NDP has 30 more months to show sign of life beyond election 2015, and to convince Canadians that they not going gently into the night. The clock is ticking.