OTTAWA — The NDP released what it called its fiscal plan on Wednesday, outlining how it aims to pay for the promises it has made and still run a surplus — four surpluses actually.
The two-page outline shows that the NDP would raise the corporate tax by two points, to 17 per cent from 15 per cent, to fund most of its campaign pledges. It projects surplus budgets averaging about $3 billion to $4 billion, and would mostly delay its spending promises until the third or fourth year of a four-year mandate while revenue stays neutral. For example, it projects spending $355 million on "health and seniors care" in 2016-2017 but $2.5 billion in 2019-2020.
Although the NDP didn't announce its plan for a carbon tax, officials promised it would be revenue neutral.
The party's fiscal framework includes only broad categories, so it's difficult it to determine exactly where its campaign promises fit, but here are four points that stood out for us.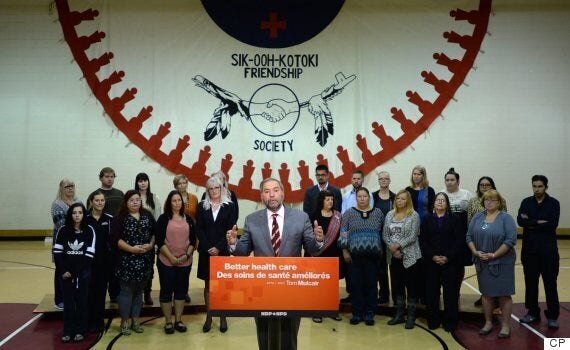 Mulcair makes a campaign stop at the Sik-Ooh-Kotok Friendship Centre in Lethbridge, Alberta. Sean Kilpatrick/The Canadian Press
Because of the NDP's vague categories of spending, it is impossible to know where and how the party plans to pay for its promises. It looks, however, like a Mulcair government might renege on several of its commitments.
For example, the NDP's commitment to lift 200,000 seniors out of poverty by increasing the Guaranteed Income Supplement (GIS) by $400 million fits in the "Help Where it's Needed Most" category, an official told The Huffington Post Canada.
The NDP says it will spend $572 million for programs under that category in 2016-2017 and bump that up to $956 million by 2019-2020. But this spending category is also supposed to include promises related to other "poverty reduction, housing support, and other measures to help children and families, including a plan to work to end violence against women."
NDP Leader Thomas Mulcair already pledged on the campaign trail that he would spend "dollar-for-dollar" of government income derived from closing stock option loopholes — now estimated at $500 million a year — to lift children out of poverty.
Still under this funding envelope, the NDP plans to fund a national action plan to put an end to violence against women and children.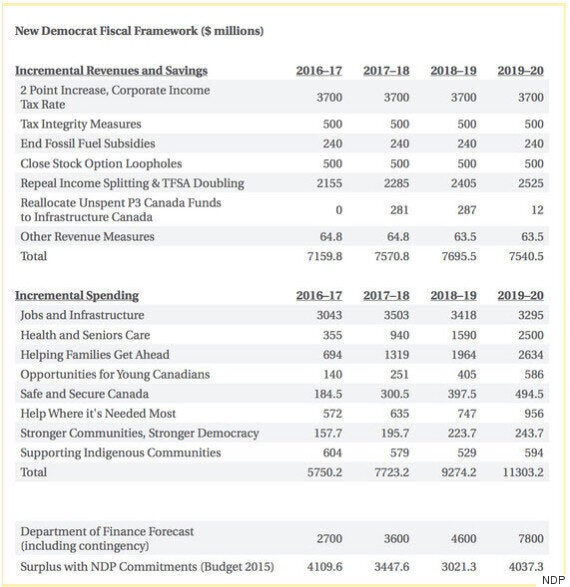 Under the category "Safe and Secure Canada," the NDP projects spending $184.5 million in 2016-2017 and $494.5 million in 2019-2020. That category includes an unspecified amount for veterans support — the NDP's plan to "reopen shuttered Veterans Affairs offices, end pension clawbacks, and expand health services for all veterans and their families."
It also includes a campaign promise to spend $250 million over four years for the Police Officer Recruitment Fund, and an unspecified amount on foreign affairs and foreign aid, including an unspecified amount to bring in the party's commitment of 10,000 government-sponsored Syrian refugees before the end of the year, followed by 9,000 a year over the coming years. If Canada spent what the EU is spending per refugee that would be about $100 million in additional money.
It is difficult so see how the party plans to pay for the promises made during this campaign, much less all the promises it has made.
HuffPost asked the NDP for, but did not receive, a breakdown of which categories included what promises.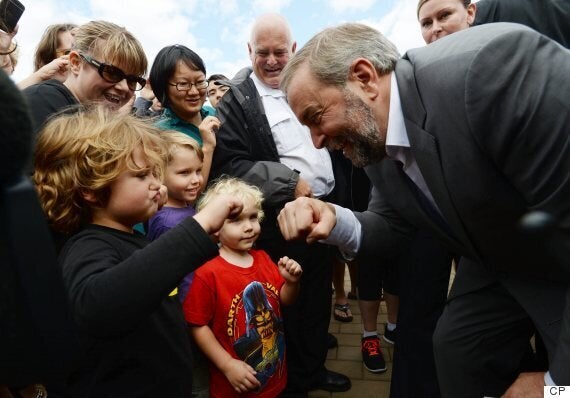 Mulcair bumps fists with a child at a rally in Vancouver, B.C. on Sunday, September 13, 2015. Sean Kilpatrick/The Canadian Press
Last May, Mulcair said the NDP would set a multi-year timetable for increasing official development assistance to 0.7 per cent of gross national income. In a background briefing on Wednesday, however, the party acknowledged it was nowhere close to meeting this promise, estimated at $9 billion. One senior party member called Mulcair's previous commitment "aspirational."
During the NDP's press conference, Toronto candidate Andrew Thomson said the NDP would announce increased support for foreign aid in the coming days.
"Within this framework, there will not be an ability for us to accommodate the move to the full — what is it? Point seven per cent," he told reporters. "Obviously, we need to work in the context of the current fiscal environment."
Peggy Nash, the NDP's industry critic and another Toronto candidate, said the party's fiscal plan is completely consistent with the NDP's history, values and vision.
"Do Canadians think that a government can correct 10 years of Conservative neglect, and more Liberal neglect before that, do they think we can correct that in an instant? No. We can't. But we will make huge progress over our first mandate."
Nash was responding to questions about several promises NDP MPs had committed to and championed in the Commons that the NDP appears to be backing away from, such as a bill that made affordable housing a right. The CMCH estimated that such a bill would cost taxpayers $5.5 billion a year in rental subsidies alone.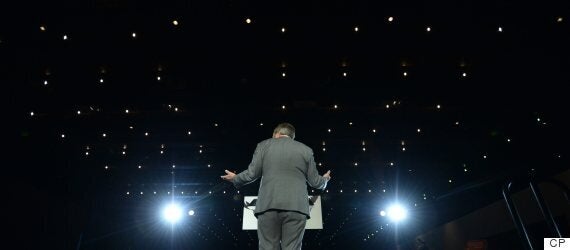 Mulcair rallies in Edmonton, Alberta on Thursday, September 10, 2015. Sean Kilpatrick/The Canadian Press
University of British Columbia economist Kevin Milligan, an advisor to Liberal Leader Justin Trudeau, raised questions on Twitter Wednesday about the NDP's fiscal projections. The party is using as a baseline an economic growth rate of 1.9 per cent for this year and 2.0 next. While next year's projection is lower than the Bank of Canada's recent projection of 2.5 per cent for 2016, the 2015 is grossly at odds with the Bank of Canada and the OECD, which believe Canada's growth rate will be slightly over one per cent this year.
The New Democrats are also using as a baseline for their fiscal plan the price of oil at US$67 next year. It is currently at US$47.19 — almost a 30 per cent difference. The forecast they are using is the same the Tories put forward in their April 2015 budget of a West Texas Intermediate (WTI) crude oil price per barrel of US$67 in 2016, US$75 in 2017, US$78 in 2019 and US$78 in 2019.
Low crude prices affect government revenue by lowering income from corporate taxes. They also contribute to a lower the real GDP because of less investment and hiring. The Conference Board of Canada, for example, estimated that the 40 per cent slide in oil prices last year had skimmed $4.3 billion out of federal coffers for 2015.
Last week, investment bank Goldman Sachs said the global oversupply of oil is worse than expected and predicted that WTI — the benchmark that Canadian oil prices follow — would hover around US$45 next year, down from the bank's earlier estimate of US$57. It said prices could fall to US$20 if production cuts don't happen quickly enough.
An NDP official told HuffPost that even if their projections are off, the surplus they have projected — $4.1 billion next year — should make up the shortfall.
The NDP's opponents suggested that not only was the party's math wrong but that their plan would cost jobs. The Conservatives pointed to economist Jack Mintz's comments that the $3.7 billion the NDP thinks it can rake in every year through corporate tax increases would cost 150,000 jobs. The Tories said combining that with the NDP's payroll taxes would cost 250,000 jobs. The Liberals said they thought the NDP plan will kill 200,000 jobs.
The NDP says it will keep its promise to increase health-care funding to the provinces by six per cent a year but that all the health care promises it has made on the campaign trail so far — for example, a $300 million pledge to help build 200 clinics across Canada and to hire more than 7,000 doctors, nurses and other health care professionals — will be included in that total.
Quebec candidate Guy Caron told reporters that everything his party had announced in terms of front-line services, long-term care, mental health and dementia strategies is "effectively money that is included in this financing."
The news came as a surprise, in part because the NDP has accused the Tories of cutting $36-billion out of health care by refusing to continue with the six per cent health escalator past 2016-2017.
Caron did not say the provinces would have to agree to spend the money on items the NDP prioritized, but then added that Quebec, for one, wouldn't have to.
"Quebec would have the right to pull out of the agreement with full compensation," he said. But not the other provinces, he suggested. "This is part of our agreement [with Quebec] about asymmetrical and co-operative federalism," he said in French.
When asked about it in English, Nash said the NDP would work co-operatively with the provinces and that the measures the party has proposed are things Canadians want.
UPDATE: The NDP released a more specific breakdown of some of its promises, after the party said reporters demanded it. None of the promises NDP Leader Thomas Mulcair announced before Aug. 2 are included in the NDP's costing. For example, the $2-billion promised in June for affordable housing doesn't figure in this calculation.

The NDP projects it will spend $50 million in 2016-2017 on the Guaranteed Income Supplement increase, adding in increments to $400 million by 2019-2020. So far, it only projects spending $10 million a year on affordable housing.

Under the "Help Where it's Needed Most" category, the NDP has $8 million more to spend in 2016-2017, $18 million more in 2017-2018, $27 million more in 2018-2019 and $31 million more in 2019-2020, when you add up all the promises made so far.

The NDP plans to spend no money on a national plan to end violence against women in its first full year in office. It plans to devote $1 million to it in 2017-2018 rising to $5 million in 2019-2020.
With files from Daniel Tencer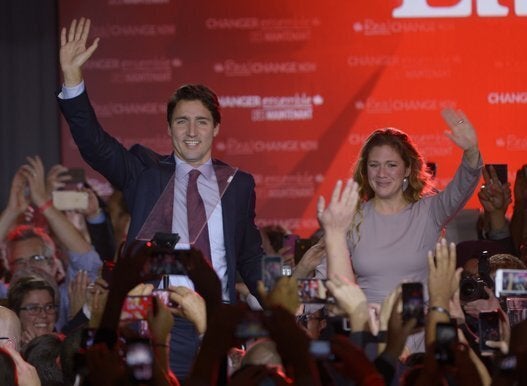 In Photos: Canada Election 2015