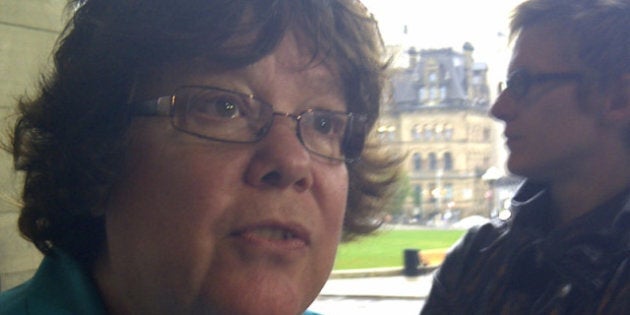 British Columbia NDP MP Nathan Cullen jumped into the NDP leadership race Friday just as rival Brian Topp collected the endorsement of another party veteran and challenged other contenders to mount equally professional campaigns.
"I make no apologies for running a strong campaign," Topp, the only officially registered candidate in the NDP's leadership race so far, told reporters in Ottawa.
"One of the things that the party is looking for, is 'can you campaign successfully in national politics?'," Topp said. "All the leadership candidates face the same challenges that I do, which is to show in the race that you are capable of doing that. And I think so far, so good, I think it has gone well so far and I am quite comfortable with the way the campaign is going."
Topp shot out of the gates on Sept. 12 announcing his leadership bid flanked by party giant and former NDP leader Ed Broadbent. He was also accompanied by Quebec NDP Françoise Boivin. He then received former Saskatchewan NDP premier Roy Romanow's support and last week added New Brunswick MP Yvon Godin and Quebec MP Alain Giguère as supporters.
Topp said his strong entrance in the race showed New Democrats were "capable of running well-run, professional, effective campaigns" something the party needed to do to defeat Prime Minister Stephen Harper.
So far, Topp faces challenges from new Quebec MP Romeo Saganash and Cullen, the member for Skeena-Bulkley Valley, who announced his bid in Vancouver Friday.
Ottawa MP Paul Dewar is also expected to announce his intention to take the plunge Sunday.
Friday, Dewar told reporters Topp was focused on "getting endorsements from caucus."
"I don't see any, you know, conspiracy here at all. He's just – he's a smart strategist," Dewar said of Topp's head start.
Davies, a Vancouver NDP MP with 14 years experience in the Commons, said she decided to back Topp because of his "good leadership qualities" and especially his experience across the country, including in government.
"I thought long and hard about the leadership race and what we need to do, I think that Brian Topp understands the work that Jack took on and he's the best person to move us forward," she said Friday morning.
"He has a base and connections and an understanding of all parts of Canada. So yeah, there will probably be people from B.C. running and they are good colleagues of mine, and that won't change ... but I made my decision on who I think will be the best leader," she added.
Davies said she feels that despite Topp's lack of electoral experience, he will succeed where others, such as former Liberal leader Michael Ignatieff, did not.
"Coming in to parliamentary life is a lot to learn, we've all gone through that," Davies said, adding that the leader's role was something Topp could take on and learn.
"It is not impossible. In fact, it is very doable and when you have been in the political arena, you know Brian has been a key part of our team for years," she said.
"He is not Mr. Ignatieff, he is a different person altogether. He lives in the real world. He is in his union, he is the leader of his union, he is active in the community, he understands politics ... so I don't see it as an issue at all."
Topp defended his lack of electoral experience, saying he never ran for public office because he devoted his time to his young family, but now that they were teenagers, he was willing to take the plunge.
"I'm not going to need any of the on the job training to campaign nationally against Stephen Harper. I've already cut a bit of my teeth on that one," he said, referring to his years working on national NDP campaigns.
Topp also said he didn't expect the NDP leadership race to be divisive because New Democrats had learned hard lessons from the Liberals.
"I don't expect that we are going to get a nasty campaign," he said.
"We've seen what happens when people do that. If you want this too much, and you are prepared to do anything to win, then you get what happened to the Liberals. You get divisive civil wars that destroy your party and that elect the Conservative. So we must not do that. And everyone who is going to be in this race knows that," Topp said.
Topp would not pledge to run in former NDP leader Jack Layton's Toronto - Danforth riding Friday, but he suggested that he had approached about, or been offered, a seat in the Commons by another NDP MP.
"That (seat) is not the only possibility for getting into the House. We'll just have to see how it works out. I did make a commitment to get into the House as quickly as I could," Topps said.
When asked specifically if others had offered to step aside, Topp answered: "I don't have any announcement to make about that today."
Members of the NDP will choose a leader at the party convention in Toronto on March 24, 2012.