MONTREAL — To hear Brian Topp describe it, the NDP leadership race is a clash between two different visions: his desire to cling to the party's roots or fellow contender Thomas Mulcair's desire to see the party move toward the centre.
"We need to make the transition from being an opposition party that has been extraordinarily successful to a governing party that gets its first mandate. And we need to do that without losing our soul," Topp said during a one on one with The Huffington Post Canada earlier this week.
"We are having a debate between essentially me and Tom Mulcair. Tom is saying that what it takes to win is to 'move to the centre' and what I'm saying is I don't agree, I think that is adopting the agenda of our adversaries just as you are winning … I also think it is a strategy that won't work," Topp said. "If there are two Liberal parties for the people of Canada, people will vote for the real one."
Over a caffe latte and a chocolatine, Topp described why he wants the NDP's top job while criticizing his principal opponent, almost to the point of labelling him a party traitor.
Mulcair, Topp suggested, would kill the NDP's soul by destroying its idealism — its principle belief in income redistribution.
"Canada is more than a market. We are a market economy and we will always be a market economy, but a society is more than a market," Topp, who is currently union head for Toronto's chapter of The Alliance of Canadian Cinema, Television and Radio Artists (ACTRA), said. "The idea that we are a society of friends is a powerful streak in our party that we must not lose as we approach power."
He's not ready, Topp said, to accept the Conservatives' decision to spend many billions of dollars on "tax expenditures" for people who don't need the help. "I have the guts to raise issues like that," he said.
Topp, the former NDP president, is a party strategist who has spent decades getting other people elected while never seeking office himself.
Family concerns kept him from running, he said, but now that his sons are 14 and 16, the 51 year old feels he can make the sacrifice.
The NDP's last two federal leaders, Jack Layton and Alexa McDonough would have been excluded by such a rule, he noted.
"We will be just fine," he said.
Topp, meanwhile, has suggested bilingualism is a requirement for the job —and he's criticized the language skills of some leadership hopefuls such as Ottawa MP Paul Dewar.
"When you are Canada's only truly national party, which is what we are right now — the party where French speaking Quebecers and English Canadians come together to do things in common — I don't know how you are leader of the party if you can't speak to French speaking Quebecers clearly," he said.
By that account, only the native speakers, Mulcair and Topp, who grew up in the province, might make the cut.
While he may be well known to some party members, and endorsements from party heavyweights Ed Broadbent and Roy Romanow have helped, Topp suggested all the contestants are in the same boat since they all have relatively low public profiles.
"The truth of the matter is we are all unknown, including Thomas Mulcair," Topp said.
Despite his focus on Mulcair, Topp said he's not attacking the NDP's former Quebec lieutenant personally.
"He was an important part of our team when Jack won, after Jack designed the campaign here in Quebec," Topp said.
"I'm not giving a broad condemnation of Tom, I just don't agree with the direction that he wants to go with the party," he said.
"I have issues with my other colleagues I don't agree with," Topp added. "I quite like Nathan Cullen, but I don't agree with his proposal to do electoral coalitions with Liberals," he said, adding that many Liberal supporters would vote for a Tory before voting NDP.
Topp said he wants the job of leader because after coming so close to forming government, he wants to seal the deal.
"Having come this far, I can't bear the idea that we don't finish the job," Topp said.
"I've seen what happens after our party makes bad decisions after strong leaderships, I was working in Ottawa when Ed Broadbent resigned and he was replaced by Audrey McLaughlin and God bless her soul, she did everything she could and she's a very decent person, but that didn't work out and we lost party status after that election. And that must never happen again," he said.
Like Huffington Post Canada's Ottawa Bureau Chief Althia Raj's reporter page on Facebook and follow her onTwitter for all the latest news from Parliament Hill.
althia.raj@huffingtonpost.com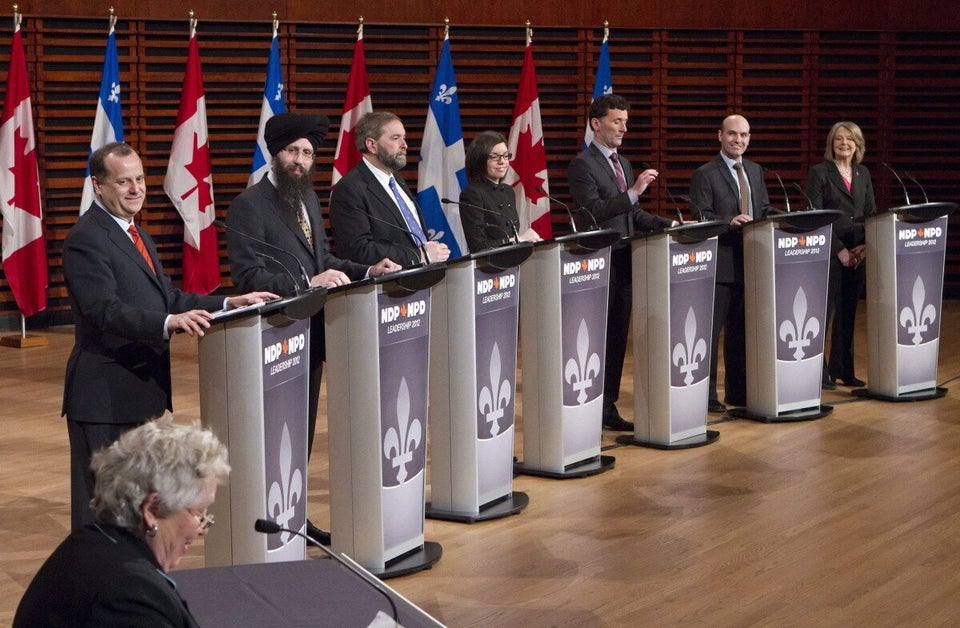 NDP GOES 1 ON 1 WITH HUFFPOST
Popular in the Community