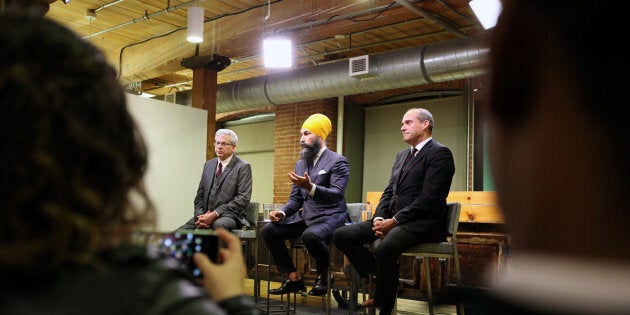 TORONTO — Federal NDP leadership hopefuls have made their final pitches for why young Canadians should look to them — and not Prime Minister Justin Trudeau — as their best bet for the future.
Three contenders — Ontario MP Charlie Angus, Ontario MPP Jagmeet Singh, and Quebec MP Guy Caron — joined the live debate hosted by HuffPost Canada Wednesday from Toronto, while Manitoba MP Niki Ashton participated from Ottawa via Skype.
The audience was comprised largely of millennials, a group that is set to form the largest voting bloc in the next election. Young Canadians have been credited with playing a huge role in Trudeau's Liberals capturing a majority government.
Natasha Comeau, who studies at the University of Toronto's Munk School of Global Affairs, pressed each candidate on what policy they had to win over young voters.
Angus, the longest-serving MP of the bunch whose campaign has a focus on grassroots re-engagement, said young people need to feel like they are part of a movement.
Angus scored applause when he said he would ask Trudeau in Parliament why he gives interest-free loans to CEOs, but not students.
"That can only happen if we have the grassroots organizing with students, pushing MPs across the country," he said. "The need to get young people's voices heard in Parliament can start this fall, and I intend to make it happen."
Ashton suggested she understands millennials because she is one. The MP spoke of inequality and the challenge of climate change that will hit young Canadians hard.
"What we need is a bold, progressive vision," Ashton said. "Things like free tuition, like making millionaires and billionaires pay their fair share of taxes, like putting forward public ownership, like standing up to Big Oil. Like calling out for gender justice and racial justice."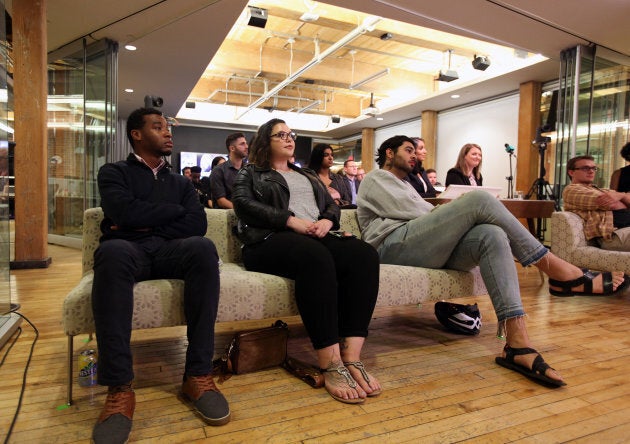 Singh said he agreed that young people are concerned about crushing debt and climate change but also scored applause when he highlighted electoral reform as a way to social and economic justice.
"That would fundamentally change the landscape of our democracy in Canada," Singh said. "It would be a powerful way to change our democracy so people can actually have a voice, so young people's voices (are) actually represented."
Liberals famously walked away from their pledge to ensure that the 2015 election was the last under Canada's first-past-the-post voting system.
Caron, who has promised that electoral reform would be his first piece of legislation as prime minister, playfully hinted that Singh stole his thunder.
"I have a plan for electoral reform so that's a good point," he said to Singh.
"Thank you very much," the MPP responded.
Caron said the campaign has taught him that millennials are no longer "very interested in teams" and sticking with one party.
"They want to attach themselves to issues, they want to attach themselves to personalities, people that they will feel will be driving their priorities," said Caron, who also plugged his call for national basic income program, a big idea that he said would address economic insecurity issues of the future.
Top video highlights
The candidates often found themselves in agreement but there were a few jabs.
Angus and Singh clashed over the latter's plan to means-test Old Age Security in order to give more money to poorer Canadians. It's a proposal that appears to break from NDP orthodoxy of championing the universality of social programs.
Activist Avi Lewis, co-author of the "Leap Manifesto" policy blueprint calling for a shift away from fossil fuels, pressed the contenders to commit to further debating the proposal.
"The boldest, most dramatic incident of the base speaking and launching a major policy initiative in recent memory, and yet it has been absolutely invisibilized in this entire leadership debate, because the party establishment doesn't want to talk about it," Lewis said.
The contenders were also asked about a different kind of issue affecting young people: the simmering debate over free speech on campus.
Conservative Leader Andrew Scheer pledged during his own leadership race to withhold federal funds from universities who, in his view, fail to protect free speech.
New Democrats have refused to condemn the so-called Boycott, Divestment and Sanctions (BDS) movement on campuses that singles out Israel. The leadership contenders were asked if groups that promote white nationalist ideology should be allowed to express their views on campus in the name of free speech.
Singh said hate speech has no place on campus but that people should be free to express opinions with which he doesn't agree.
"There's a very clear definition between hate speech, which is completely unacceptable, and people having opinions which are regressive, unacceptable, backwards," he said. "But they should have the freedom to express it."
That was much the same view shared by Caron and Ashton, who added she was concerned about Scheer's proposals and would oppose them.
Angus, meanwhile, noted how his uncles fought the Nazis in Europe.
"A Nazi is a Nazi is a Nazi," Angus said. "Why would we pretend that people who promote white supremacy and their racial solidarity have any right on any campus anywhere. Absolutely not."
The first round results of the NDP leadership vote will be revealed Oct. 1.