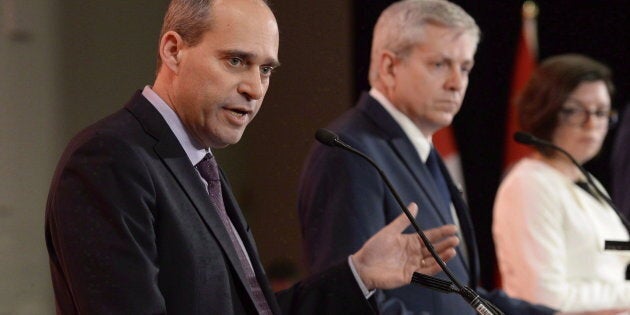 OTTAWA — The right of Quebec's National Assembly to ignore religious freedoms emerged Wednesday as an issue that threatens to dominate and polarize the NDP leadership race as the party heads towards a French debate on Sunday.
In the lead-up to the Montreal debate, the only Quebec candidate in the race, MP Guy Caron, released what he called his blueprint for success in the province in 2019.
In it, he calls on the party to to respect the right of Quebec's National Assembly to make laws that affect individual rights in the name of creating a secular state. The province's legislature is currently debating a provincial Liberal government bill, Bill 62, which prevents individuals wearing face coverings from offering or procuring government services. The law effectively targets Muslim women who wear niqabs or burqas.
Caron: Quebec has 'broad consensus' on secularism
But Caron argues that Quebec should be treated differently. The province's Quiet Revolution placed religious neutrality at the heart of the state, he says, and religion is viewed profoundly differently there than in other parts of the country.
"Quebec's different view of secularism from the rest of Canada is not a minority current, but a broad consensus among the province's political class," he states in a press release. "... I am making it clear that, above all, an NDP leader must respect Quebec's national character."
Quebec's opposition parties, the Parti Québécois, Coalition Avenir Québec and Québec Solidaire, all support barring individuals who perform functions that represent the authority of the state, such as police officers, prison guards, judges and prosecutors, from also wearing religious symbols.
In an interview with HuffPost Canada, the leadership candidate suggested it is more important to respect the rights of the National Assembly to make laws than to respect an individual's religious rights.
"My personal belief is that the state has no right to actually dictate to a man or a woman what to wear for example but the reality in Quebec is because of that history of secularism coming out of the Quiet Revolution ... there was always a distrust of the mix between religion and the state, which is still currently there," he said, in an interview that will air in an upcoming edition of Follow-Up, HuffPost Canada's political podcast.
"If secularism is actually used as a screen for racism or Islamophobia that will be condemned but ... right now, Bill 62 is something that comes out of Quebec's distinctive and historical path. If it is done in a respectful, if it is done especially respecting the consensus in Quebec society, then that is Quebec's decision....
"I mean if in the Sherbrooke declaration we are recognizing Quebec as a nation within Canada, those are not only words, so we need to actually implement that notion that it is a nation allowing it to make those decisions," he added.
The Sherbrooke Declaration is a 12-year-old NDP policy that recognizes not only Quebec's "national character" but also its "right to self-determination" with a simple majority vote.
Right now, Bill 62 is something that comes out of Quebec's distinctive and historical path.Guy Caron
Caron pushed back against the suggestion that the province's current proposal is Islamophobic and aimed at Muslim women.
"Well, it is not the only thing that is in Bill 62," he responded. "And once again this is coming out of a debate that is happening provincially. What I'm saying is that we recognize the right of the National Assembly to make decisions in this regard ... Let's trust Quebecers in the National Assembly to do what is right."
Caron's answer suggested he is willing to allow the National Assembly to tread over religious rights in the name of asymmetrical federalism and Quebec nationhood.
"I'm not making a judgement as to whether it is right or not. If we recognize the rights of Quebecers ..., it comes down to the principles of the Sherbrooke Declaration."
Asked if he would be fine with watching people's rights be infringed upon, Caron answered: "I'm not saying that. I'm just saying that that discussion, that debate that is happening in Quebec right now, is happening with the National Assembly having to debate and with the ... consensus of the four major parties in Quebec who have seats right now. What I am saying is if we are to recognize Quebec as a nation within Canada, if we are recognizing Quebec's rights for self-determination, this is a debate we have to let them have."
Ashton agrees with Caron
Fellow NDP contender Niki Ashton, a Manitoba MP, agrees with Caron.
In a statement forwarded by her campaign, Ashton said "there is no justification" for a government to tell anyone what they should and shouldn't wear and "it is unacceptable" for secularism to be used as a tool for race-baiting.
"That being said, there is a consensus in Quebec's political leaders emerging on secularism, and the Canadian government should respect the will of Quebecers on this matter. The place religion has held in Quebec since the Quiet Revolution has been perceived widely differently than in the rest of Canada, and this is something the federal government must respect."
On the other side of the debate, however, is veteran Ontario NDP MP Charlie Angus.
In a statement, he said that while he understands the struggle in Quebec during the Quiet Revolution to separate the influence of the church from politics, "I don't trust politicians to dictate the rights of minorities.
"This is the role for the courts, respecting the rules laid out in the Charter of Rights and Freedoms."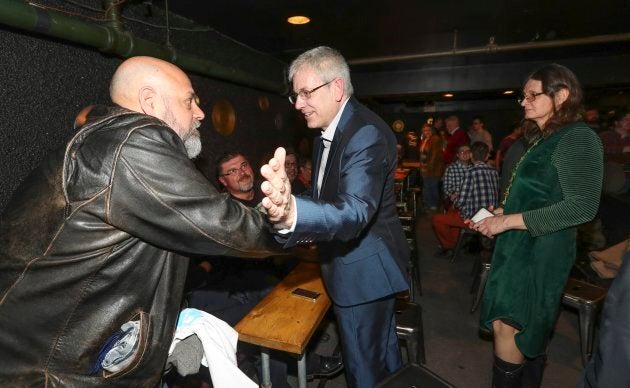 Angus, who was threatened with excommunication from his church after he supported same-sex marriage in the Commons, said he's found "real insecurity" from members of minority groups about the possibility politicians will attempt to limit their right to participate in society.
"As a member of the NDP I have always stood up for minority rights, whether was for same-sex marriage, Indigenous youth, or francophone language rights. These things shouldn't be left up to politicians but to the courts and Charter," he said.
The fourth candidate in the race, Ontario NDP MPP Jagmeet Singh, has not made himself available for an interview or responded through a statement since Tuesday.
Singh is a practicing Sikh who wears a turban and carries a kirpan. Caron told HuffPost that he doesn't believe that will prevent Singh from gaining traction in Quebec.
"This is a leadership race that is left to the members, and they will be deciding who they believe should be leading the NDP," he said.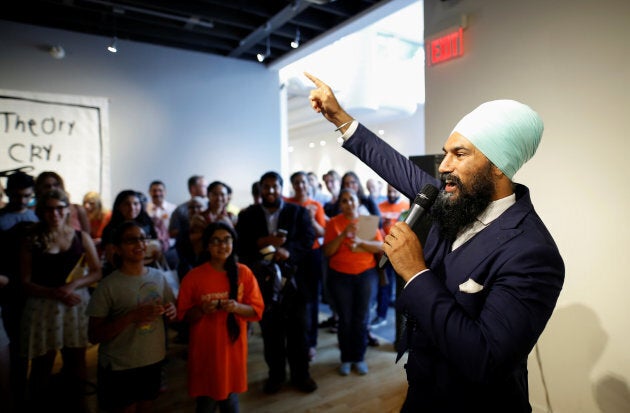 In 2011, the NDP was catapulted to official Opposition status after winning 59 seats in the province. But during the 2015 election, the party was able to hold onto only 16 Quebec ridings. Many New Democrats blamed the debate over the niqab and the party's response to it — allowing candidates to take personal positions during local debates but later having leader Thomas Mulcair pledge to fight for individual rights, specifically the ability of women to wear the niqab as they swear their oath during citizenship ceremonies — for the loss.
After the New Democrats began dropping in the polls in Quebec, the Liberals' strength coast to coast became more evident, and the party became the most popular option for change to replace Stephen Harper's decade-old government.