OTTAWA — NDP leadership contender Niki Ashton insists she's in this race to win, but tacitly acknowledges it's a long shot.
At 29, Ashton is the youngest candidate in the contest to replace late leader Jack Layton. Hailing from northern Manitoba, she first ran for federal office in 2006 but lost to Tina Keeper, the former TV actress and star Liberal candidate. The loss didn't dissuade Ashton, who ran successfully against the "North of 60" star again in 2008.
NDP members and pundits have suggested Ashton's leadership campaign is simply a means of positioning herself for future bid at the party's top job.
But Ashton denies this — even telling The Huffington Post Canada she might not run again.
"Yeah, I'm not sure ... This wasn't the master plan and I don't know how life is going to go," Ashton said, during an interview at Brixton's, an NDP hangout steps away from Parliament Hill.
Ashton, who arrived wearing matching bright orange jeans and a down-filled winter coat, dismissed suggestions hers was a vanity bid, one designed to ensure a potential cabinet post or a higher profile in the party.
"I've heard some people also say that I'm doing this for the experience. I mean if, in my mind, if I wanted an experience, I would go on a trip or something. I think, for me this is a lot more than that. For me, it's about seeing our country taken in the wrong direction," she said.
Ashton speaks four languages: English, French, Spanish and her mother tongue, Greek. A child of first-generation immigrants, she's currently pursuing a PhD in peace and conflict studies from the University of Manitoba. She turned her back on a career in international affairs and decided to get involved in politics because she disagreed with the way "my part of the country was being run" with regards to same-sex marriage and the treatment of Aboriginal peoples.
"For me, it's about putting forward a vision for the direction of the country and being the only rural member of Parliament from the Prairies that is not Conservative," Ashton said. "We are not getting represented by the Harper Government," mentioning the abolition of the Wheat Board as an example.
Ashton wants the NDP to focus on the West, where its traditional roots are and where she believes there is "incredible potential" for growth. She points to her home province of Manitoba and successive NDP governments — (her father, Steve Ashton, is a provincial cabinet minister there) — as a model to emulate on the federal stage.
She believes growing inequality is one of the biggest challenges facing Canada and said she wants to focus on addressing the income gap through increased investment in post-secondary education and green technology and by reducing our involvement in overseas conflicts.
Hearing her talk about her campaign is often, however, a frustrating repeat of vague slogans such as her constant focus on "new politics."
"The theme of our campaign is new politics and I believe that Canada needs new politics and I believe that we don't need the old way of doing things, which includes scandal and dividing Canadians, polarizing Canadians something that the Harper Conservatives have gotten very good at," Ashton offered up.
Some of her bold ideas include: establishing a new Crown corporation that would fabricate generic drugs for the provinces, setting up a ministry called Global Solidarity Canada to focus aid money on eradicating poverty worldwide and keeping Canada's troops out of any armed conflict — such as in Libya, Afghanistan or a future mission in Syria.
What would she do as Prime Minister if faced with a government slaughtering its own citizens? Ashton said she would work within the UN and with human rights organization, ensuring that "peace" is a guiding principle in all of Canada's actions.
But what if that meant the violence continued? Ashton said she doesn't believe "that we need to be involved in bombing or fighting people."
Needless to say, Ashton places herself on the left end of the NDP leadership race.
She said she's concerned some of the candidates, especially fellow contender Thomas Mulcair, want to modernize the party at the expense of holding on to the NDP's core principles.
"We recognize that the challenges of this day and age are different than they were 50 years ago, but that doesn't mean that we throw out who we are or how we approach these challenges," Ashton said. "We need to hold on to our principles and make sure that they guide us. After all, those principles took us to the great win that we saw on May 2."
Ashton acknowledged she's unlikely to win the NDP's leadership but insisted she still has a chance. "I think it is very fluid so there is an opportunity absolutely to win. And for me, that's definitely the goal," she said.
If she drops off the ballot, she told HuffPost she'll endorse another leadership candidate but wouldn't say whom.
Because she intends to stay in the race until the very end, it's unlikely Ashton will play the role of Queenmaker. That is, unless she instructs her supporters now who they should vote for
"In the chance that we do need to look at that next step (at the convention), for me it is very important to support, to give direction to where our party is going," she added, suggesting she'll back a candidate who can challenge Mulcair.
"I'm not sure how things will roll, but I am looking forward to the 23rd and 24th."
Like Huffington Post Canada's Ottawa Bureau Chief Althia Raj's reporter page on Facebook and follow her onTwitter for all the latest news from Parliament Hill.
althia.raj@huffingtonpost.com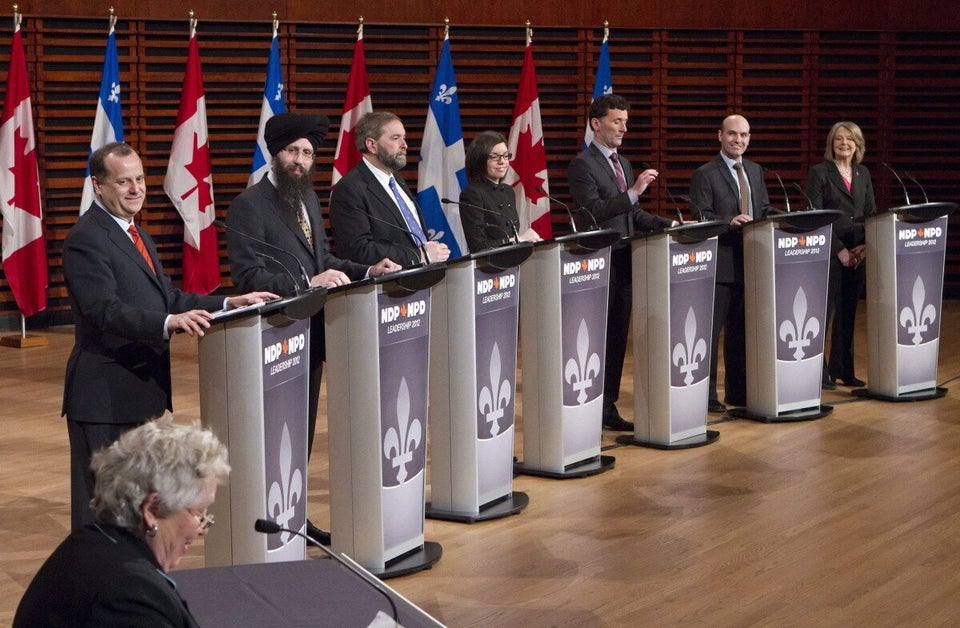 NDP GOES 1 ON 1 WITH HUFFPOST