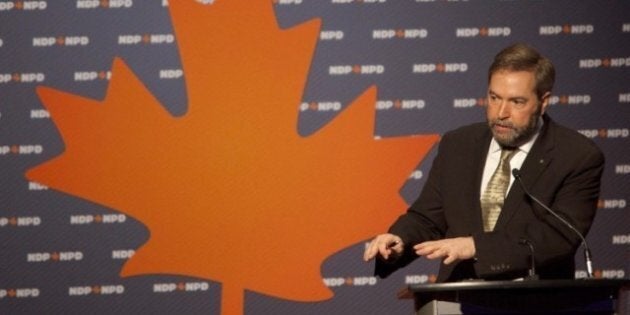 In a leadership vote that will use a preferential ballot (members will list their preferred choices in order), getting support on the second and subsequent ballots is key to coming out on top.
Most surprising is that Nathan Cullen and Brian Topp were both at 13 per cent support, with Cullen narrowly edging out Topp for fourth place.
Some of the most heated exchanges of the NDP leadership debates, going back to the one held in Ottawa in December, have been between Dewar and Topp. On Sunday, Dewar grilled the former backroom strategist on how he intended to get a seat in the House of Commons, while Topp harshly criticized the Ottawa MP for choosing another anglophone male from Ontario as his campaign manager. In this context, there is little doubt that the Dewar camp relishes the opportunity to release a poll putting Topp in fifth place. He has been widely seen as one of the top three frontrunners in the race so far, especially after early endorsements from Ed Broadbent and Roy Romanow.
But whereas Dewar sits in third in the poll, it is on the second choice question that he gets the best news. Dewar finished ahead with 21 per cent, followed by Nash at 19 per cent and Mulcair at 17 per cent. Here again, Nathan Cullen places fourth ahead of Brian Topp.
This indicates that both Dewar and Nash have the most growth potential among the frontrunners, but also that Mulcair is still one of the favourites to win. Extending these second choice numbers through the entire ballot process would seem to suggest that the final three would be Mulcair, Nash and Dewar, with Mulcair narrowly beating out either Nash or Dewar on the final ballot.
But extending these numbers so far is rife with problems. Nevertheless, there seems to be potential for a victory by any of these three.
The Dewar poll was also taken before Sunday's debate and the withdrawal of Roméo Saganash, who scored four per cent in the survey. And with Dewar and Martin Singh standing out as the only candidates of the seven that had great difficulty with their French in the non-scripted parts of the debate, the numbers may already be out of date.
But Sunday's debate and the reaction to this poll from the Topp campaign seem to suggest that the gloves are starting to come off in this leadership race – one that, by virtually all accounts, looks like it will go down to the wire.
Éric Grenier taps The Pulse of federal and regional politics for Huffington Post Canada readers on most Tuesdays and Fridays. Grenier is the author of ThreeHundredEight.com, covering Canadian politics, polls, and electoral projections.