The NDP's former Quebec lieutenant insists he'll let the membership decide, but it's clear from the twinkle in his eye that he believes he's on a trajectory to become the party's next leader.
"We have run a very positive campaign since the beginning and we've also planned a campaign for five months … When you look at the way certain other candidates have organized themselves, maybe their organization was a bit more fashioned for a general election campaign that lasts five weeks," Mulcair said, of his strategy.
"We planned something that would show gradual momentum, just as our financing increased, because it takes money to run all this and we've been successful in doing both."
The crowning feather in his cap is criticism coming from Conservative corners. Details of talks the Tories held with Mulcair before he joined the NDP in 2007, re-emerged last week just as NDP members were receiving their voting ballots.
"I am quite convinced that Stephen Harper and his advisers are very aware of the fight that I will bring to them," Mulcair told The Huffington Post Canada over dinner at James Street Café & Grill in Burnaby, B.C. "They have seen the result that we've obtained in Quebec and they are going to be very worried about us."
"They are definitely going to be up to their old tricks with me. They'll try, but I'm ready for them," he added.
Mulcair is in the Vancouver-area ahead of the last official NDP leadership debate on Sunday. Since the province is home to more NDP members than any other, he's planned back-to-back events trying to charm room after room of potential voters.
He's received significant support from the Sikh community in the area, he said. But it's support from a particular Sikh, fellow leadership contender Martin Singh, that is the subject of the most recent allegations against him.
Mulcair laughed at the suggestion Friday while his wife of 35 years, Catherine Pinhas, who has been travelling at his side, suggested people are saying "really, just about anything."
"I've never needed anyone for me to deliver the messages that I've chosen to deliver," Mulcair said. "We've run our own campaign, Martin is a full candidate in this race, highly respected. He has a lot of his community support with him and so if other people want to spin that sort of stuff, I'll let them spin that sort of stuff, our campaign has been upbeat and positive and we're going to stay that way."
There has been no co-operation, Mulcair insisted.
Over salad and spicy prawns, the former lawyer, bureaucrat, university professor and provincial cabinet minister in Jean Charest's Liberal government in Quebec, addressed the principle criticism against him, that he's betraying the NDP's principles by wanting to move the party toward the centre.
"It's not a question of us wanting to bring the party to the centre, it is a question of wanting to bring the centre to us," the 57-year-old grandfather said.
"People want to defeat Stephen Harper, my way of doing it is to broaden our support, to go beyond our traditional base to make the NDP banner as attractive as possible to as many progressive-minded Canadians as we can and form the next government," he said. "The NPD started on a great trajectory of modernization with Jack, moving forward. We've got to keep moving forward, we can't start moving backwards."
Like many other NDP leadership candidates, Mulcair has talked about reaching out to non-core voters and non-voters alike: to aboriginal people, young people and ethnic communities. But it's what he's willing to do to reach non-traditional supporters that has some NDP members worried.
"(It) is not a question of throwing aside any of our long-standing beliefs, (it) is simply a question of adapting, modernizing, our way of explaining ourselves, our way of approaching people," Mulcair said. "When you look at a place like Saskatchewan where we have failed for four general elections in a row to elect a single NDP MP, we realize that unless we change our approach, we are going to get the same result," he said.
Mulcair talked mostly about changing the NDP's language and reaching out to ordinary people in ways that make the party seem less insular while sidestepping questions about specific policies.
The NDP clings too much to "stilted" terminology that comes from "another era" Mulcair said. He argued the party must tell Canadians how it intends to create a more progressive and prosperous society.
Debate over the use of the term "socialist" nearly tore the NDP apart at the party's last convention in June.
One thing Mulcair is clear on is that he'll go after Liberal supporters, but won't work with the rival party.
"N.O.," he told HuffPost. The NDP tried to form a coalition with the Liberals in 2008 and then the Grits "lifted their noses up on it," Mulcair said.
The coalition experience taught Mulcair everything he needs to know about the Liberals. They're untrustworthy and he said he'll never work with them again, whether in a formal or informal coalition.
"The no is categorical, absolute, irrefutable and non-negotiable. It's no. End of story. Full stop," he said.
If he's bothered by attacks that paint him an NDP impostor, he doesn't show it.
"We take it as a compliment," the current front-runner said.
A website claiming to represent NDPers concerned about his ideas, Know Mulcair, has attacked him for not supporting worker's rights while in government and for his pro-Israel stance.
Mulcair retorted that, unlike the other candidates, he has actually been in government.
"I've had to make decisions in the real world," he said.
His position on the Middle East is the NDP's position, a two state solution.
But, unlike some of his other colleagues, Mulcair is not a pacifist and said he would want Canada to join military action in certain cases if sanctioned by the UN.
"I do think that we should have long ago been in Syria to stop the wholesale slaughter of the civilian population there…It is absolutely unthinkable that the world today would allow such an attack," he said.
Muclair has often butted heads with his colleagues who view him as too dictatorial. Some MPs told HuffPost they chose to support other candidates because they don't want Mulcair as their boss.
But if Mulcair does win, he suggested he'll reach out to competitors and their supporters in an effort to unite the party.
"(We'll) make sure that all the incredible men and women who are already members of Parliament are back in to the front row, with great jobs and great responsibilities," he said. "Second thing is we need to open up our arms and let back in, at the best level we can, everybody who worked as staff."
If he loses the race on March 24 at the NDP's Toronto convention, Mulcair said he'll stick around, work tirelessly for the party and run again in 2015.
Not that he intends for that to happen.
"I got into politics to win. And that's what I've been quite good at so far in my career, and that's what I intend to do here."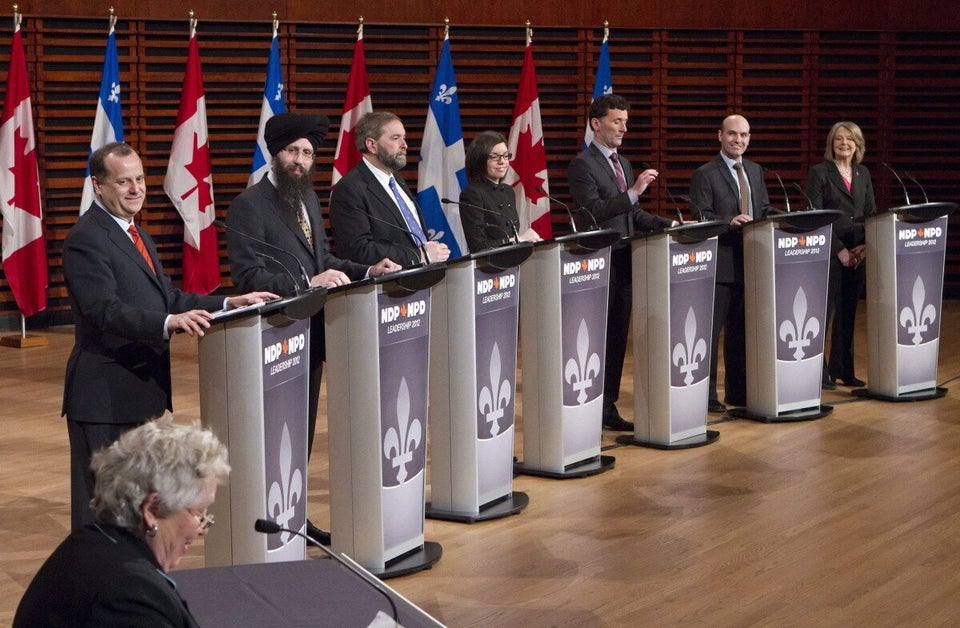 NDP GOES 1 ON 1 WITH HUFFPOST