OTTAWA — The NDP MP who approached Justin Trudeau says she never wanted to "destroy" the reputation of a Liberal MP, she just wanted the Liberal leader to know what kind of people he had in his caucus.
In an hour-long conversation with The Huffington Post Canada, the MP said she approached Trudeau while they were on the same bus after landing in Hamilton to attend Cpl. Nathan Cirillo's funeral. The allegations against former CBC host Jian Ghomeshi were weighing on her, and she was troubled by what was happening to one of her NDP colleagues. She saw the Liberal leader who, in a rare moment, had no one around him.
"I thought that this was unacceptable, and I asked him if he knew about it," she told HuffPost.
This MP said Trudeau didn't know anything about the allegations. "I said: personally, I would not like someone like that close to me."
Andrews vehemently denies any wrongdoing.
"Any allegation of misconduct on his part is untrue," his lawyer said in a statement.
A few days after the NDP MP approached him, Trudeau suspended two MPs — Andrews and Massimo Pacetti — pending a probe into two unrelated allegations of personal misconduct.
HuffPost agreed to identify neither the MP who approached Trudeau nor the second NDP MP involved. In a statement on Nov. 5, Andrews said he was "confident" that a third-party process "will find that no harassment has occurred."
The NDP MP who spoke to HuffPost said her decision to speak to Trudeau "happened very quickly."
"It wasn't thought out," she added.
On the bus, the MP said she didn't discuss her own experience. But in a subsequent meeting with the Liberal and NDP whips she alleged that Pacetti, a Montreal MP, forced himself on her in March.
"It was sex without explicit consent," she said.
Told of the allegations, Pacetti responded to HuffPost late Monday evening saying his "previous statement still stands." In his statement on Nov. 5, he said he was "confident" an independent investigation "will exonerate me."
This MP knew Pacetti from a sports league they were both members of. Both francophone Quebec MPs, she spoke more frequently with Pacetti than with the members who spoke only English. After games, team members would often go out for drinks. One night, Pacetti asked her if she'd like to come back to his hotel room for a drink. She agreed.
"We'd been playing [sports] for a year and a half. He was a friend who was on my team, he wasn't part of my political party but we took part in a social activity… . I was a member of the team. Yes, I'm a woman, but I'm sure that if he had asked a man to come have another drink after [a game], nobody would be accusing that man of lacking judgment," she said.
She stressed that hotel rooms for MPs in Ottawa don't have the same connotation that some might infer.
"These hotels, they are our apartments. Some people live in hotels, some have apartments, some have bought themselves homes. But largely the significance of 'Come to my hotel room' is a bit different," she said.
Once she was in his room, she said, it became clear that he wanted something more. She said she froze. She had been sexually assaulted as a teenager and felt paralyzed when faced with a similar situation.
"Three days after the incident, I had trouble sitting down without being in pain."
She grimaced every time she sat down, feeling pain in her abdomen.
She never confronted Pacetti after the fact. "It was in a box, and we pretended it didn't exist," she said.
She never told her own leader, Thomas Mulcair, or any other senior NDP staff about the incident, she said. "While I adore Tom and [whip] Nycole [Turmel] … it's not with them that I am the closest," she said.
She didn't want to lodge a criminal complaint, out of fear the defence would say anything to destroy her, she said, and "in the end, you come out of it worse off."
After she spoke to Trudeau, she said she agreed to speak with the Liberal whip, Judy Foote, because the Liberals wanted to know exactly what happened.
"I can maybe live with this, but could I live with myself if, for example, in 10 years we discovered that there were 10 or 15 other [victims] since then?"
What she really wants, she said, is for Pacetti to apologize to her and for him to get help.
"If I am able to believe that his excuses are truly sincere, and I see that he is taking actions to ensure he doesn't hurt other people, for example, if he is in therapy to correct his behaviour towards women, and I see that he is making sincere process, for me that would probably be enough," she said.
The MP said the Liberals asked her what she wanted them to do. She said they told her an investigation wasn't going to be easy.
"I told them that in the end what I want is that this doesn't happen to anyone else — and that I don't want this to become public," she said.
She doesn't want her name to get out in the media. "Every time I am forced to talk about it and to think about it, I relive the emotions, and they are vivid," she said.
"I don't want to speak at a school and have a 10-year-old lift his hand up and ask me about this because he read it on the Internet."
"We never wanted to hurt anybody. Except that we were in this situation where you don't know what to do, because there is no solution that makes any sense," she said.
"For a female MP who is harassed or assaulted by a parliamentary colleague, there is nothing to do while you are in active politics, because if you file a criminal complaint, they will destroy your reputation, they will dig all sorts of things out to cast doubt on your credibility and you'll immediately have no political career."
"There is no process within Parliament [either]. There is nothing to do without the consequences being almost larger or at least as large for the victim as for the aggressor," she added.
She believes the Liberals acted appropriately in meeting her and her colleague, but she doesn't think Trudeau should have kicked Pacetti and Andrews from caucus.
"I don't think it was necessary to suspend them immediately. There was no urgency to do this."
She just wanted the harassment to end, she said. She reached out to Trudeau "only to help protect a friend," she said.
She would have liked the Liberals to send a discreet letter to the Speaker asking for a third-party probe rather than make their actions public, she said. Perhaps Trudeau could have recommended behavioural therapy, she suggested.
Trudeau's spokeswoman Kate Purchase told HuffPost that "at no time were other remedies ever raised as potential options by the other [MPs]."
"Mr. Trudeau felt, given the seriousness of the allegations raised with him, he had a duty to act and had two options. One was to keep the two MPs in caucus, one was to remove them from caucus pending an investigation," Purchase said.
The NDP MP, however, said she felt Trudeau's "strong action" may have been too hasty.
"It may have caused more problems, which we could have avoided," she said. "Now that the story is out publicly, these two individuals are probably having family problems and couple issues and the chance that they go through an intelligent process is diminished," she said.
She said she is concerned the men receive due process. At the same time, she acknowledges that the residents in Pacetti's Montreal Saint-Léonard–Saint-Michel riding and Andrews' Avalon riding in Newfoundland might be interested in knowing the allegations against them. "But I don't think they need to know the details," she said.
"The problem is: No matter [what happens] at the political level you're screwed with this," she said. "I did not want to destroy his reputation. I did not want to destroy his life. It is not a desire for vengeance that I have, it is only a desire to be heard, a desire to have an apology, a desire, in the end, to heal. I need to move on to other things, I need to continue my life," she said, her voice cracking.
She told HuffPost she wants the public to know not only that she did not mean for this to become public but that there are many other male MPs who do act appropriately towards women. She said she has had dinner with other male MPs, had them over to her apartment, to her home.
"I never had any problems, it has always been friendly and it is not everybody who acts this way. There are plenty of people in all parties who are respectful towards women and with whom you can have a discussion equal to equal."
The NDP MP said she has spoken to Pacetti a few times since the incident. They've talked about the weather and banal things. "It is never I who wants to speak with him."
She said she hopes to return to work this week or maybe next.
"I am afraid that if I wait too long, I will develop panic attacks. I've already had a few, but I am going to go back and we'll see what happens."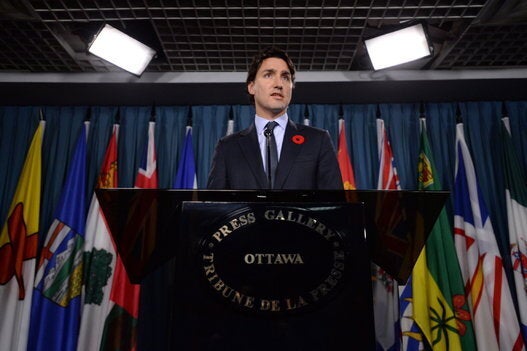 IN QUOTES: Hill Harassment Allegations
Popular in the Community