OTTAWA — An NDP MP's bid to force political parties to nominate more women to Parliament may be headed for defeat Wednesday after the Liberal government decided not to actively support it.
NDP MP Kennedy Stewart's private member's bill, C-237, the Candidate Gender Equity Act, would financially penalize parties that run a larger proportion of men than women in a general election.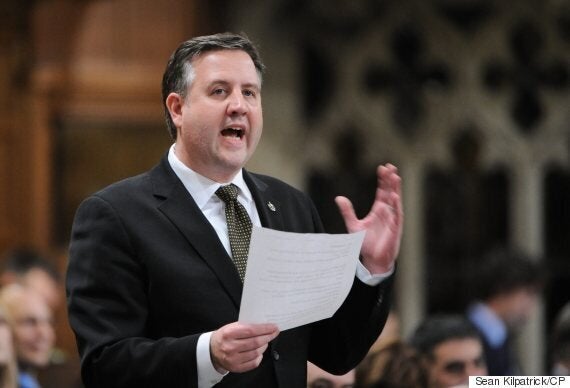 NDP MP Kennedy Stewart speaks in the House of Commons on Dec. 14, 2011. (Photo: Sean Kilpatrick/CP)
His bill would reduce the amount of money political parties receive from taxpayers to refund election expenses if there is more than a 10 per cent difference between the number of male and female candidates.
Reimbursements would be reduced by 0.25 per cent for every percentage point difference above the 10 per cent threshold.
In the Commons Tuesday, Stewart said the Liberals needed to do more than "just call themselves feminists; they need to take action here."
Eighty-seven years after the definition of "person" was expanded to include women, he said, gender equity remains elusive in the House of Commons.
"There is only 26 per cent women in this House. That places Canada 64th in the world, behind countries like Iraq and Afghanistan."

— NDP Kennedy Stewart
"There is only 26 per cent women in this House. That places Canada 64th in the world, behind countries like Iraq and Afghanistan," he told Democratic Institutions Minister Maryam Monsef. "If the Liberals are serious about getting more women into politics, will they support my bill on candidate gender equity, yes or no?"
Monsef responded that she could not support Stewart's bill. She said it was important to wait until the special committee on electoral reform has suggested a new system "and then we can address this conversation through a different means."
In a leaked briefing note, in May, the government explained its rationale for opposing Stewart's bill to Liberal backbench MPs by saying it raised Charter of Rights and Freedoms concerns.
Stewart has fought back against that claim, getting an opinion from the House's legislative counsel that suggests his bill doesn't breach the Charter.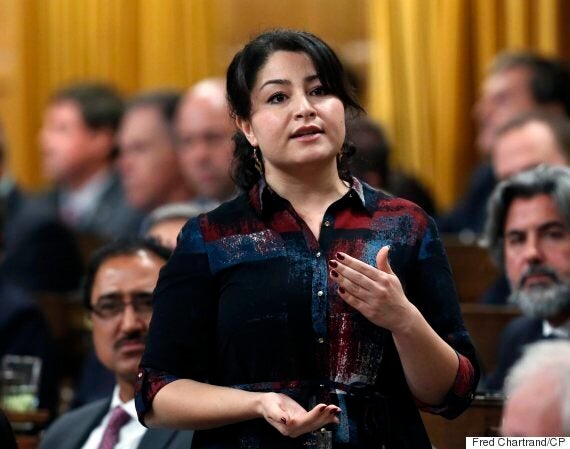 Democratic Institutions Minister Maryam Monsef speaks in the House of Commons on Oct. 18, 2016. (Photo: Fred Chartrand/CP)
But the Liberals also said his bill should not be supported because it would incentivize parties to "refuse the nomination of qualified candidates on the basis of the gender." The bill would limit the independence of parties to run, for example, a slate of all-women candidates, the government's briefing note said. It also discriminates against transgendered people by excluding them from the gendered definitions of male and female, the note added.
Calling it a "mathematically impossible target," the government also suggested small parties, which field only a handful of candidates, would be disproportionately penalized if they had no or very few women candidates.
Monday, however, Monsef told The Huffington Post Canada the Liberals will hold a "free vote" on the bill. Grit MPs will be free to vote as they choose but cabinet ministers are expected to be whipped.
Environment minister weighs in
Environment and Climate Change Minister Catherine McKenna told HuffPost she is "personally, a little bit done with having conversations" about whether there are there enough woman in politics and how many is enough. "I think the fact that the prime minister said our cabinet is 50 per cent women, hopefully, ended a discussion."
McKenna said she sometimes thinks boards are not a bad place to have gender quotas, but politics is more complicated. "You don't want to be in a situation where you get 50 per cent candidates and you do put them in seats where they are less likely to win."
Had she lost in her riding of Ottawa Centre against popular NDP incumbent Paul Dewar, McKenna said she suspects many people would have thought the Liberals had put a woman to fill a gender target in a seat that was seen as impossible to win.
Nancy Pickford of Equal Voice, a non-partisan group that champions more female representation in legislatures across the country, said she hopes Stewart's bill gets to committee where it can be further studied. For now, however, she's not totally sold on the idea of penalizing political parties for failing to nominate a certain percentage of women. Incentives might be better.
Tory MP unsure how she'll vote
"Equal Voice would like to see the implementation of a mechanism that is regarded as fair and reasonable for all (parties)," she told HuffPost.
"What we know is that mechanisms like this have proven to be somewhat effective on the international stage in boosting the numbers of women elected [and] using public funds as the lever is more constructive than a quota because it enables every party to determine their own approach to getting more women on the ballot."
Conservative MP Marilyn Gladu, the chair of the Commons' status of women committee, said she is still unsure how she will vote.
"Philosophically, I'm not a fan of quotas. I worked at Dow Chemical when they had affirmative action. And they didn't always put a competent woman in place and that wasn't a good thing, so I'm not really a fan of that.
"But that said, his bill is bringing an incentive — a financial incentive — for parties to encourage women to go into the field. And if they don't get enough competent woman, then they just have a financial loss. And I think that might not be a bad idea."
First feminist legislation?
Despite the Liberals being in power for nearly a year, Stewart say his bill would be the first piece of feminist legislation in the House. "We've had studies, we've had the gender-balanced cabinet… but we really haven't had anything put forward in the House that would advance the cause of women in this country."
With only 36 months left in the life of this Parliament, Stewart said, Liberals have "a limited window to move the feminist cause forward in Canada."
The NDP MP said he's open to suggestions on how his bill could be amended to garner broad political support. But for now, he just hopes MPs vote to keep it alive and send it off for further study.
Taxpayers currently reimburse political parties up to 50 per cent of allowable election expenses. Candidates also receive reimbursements from taxpayers worth 60 per cent of allowable election expenses.
Under Stewart's bill, the NDP, which fielded 43 per cent women candidates in the 2015 election, would not have been financially penalized. But the Greens who had 39 per cent female candidates, Liberals who had 31 per cent, the Bloc Québécois with 28 per cent and the Conservatives with 20 per cent, would all have taken a financial hit.
UPDATE - Oct. 20, 2016: The Candidate Gender Equity Act was defeated 209 to 68 when most Liberal and Conservative MPs opposed it. NDP MPs booed Status of Woman Minister Patty Hadju as she voted against.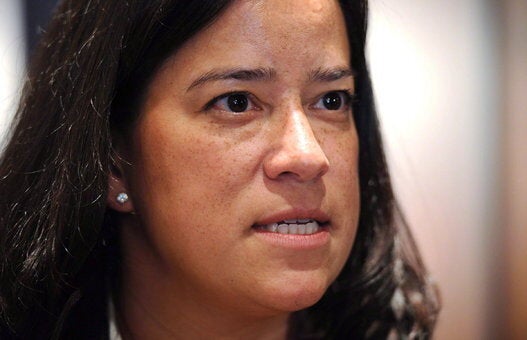 Liberal Women Appointed To Cabinet