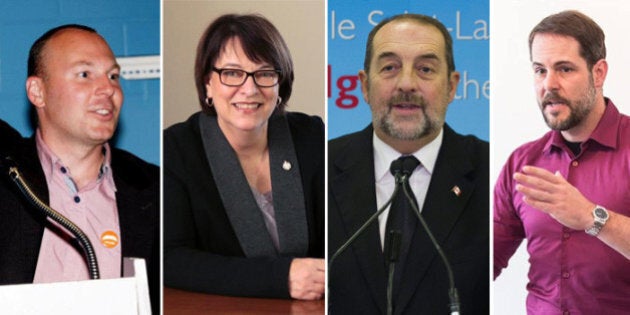 OTTAWA — When Prime Minister Stephen Harper's government throws stones at the NDP for having members who supported separatist parties, it is throwing them from inside a glass house. A review of Elections Québec records by The Huffington Post Canada shows at least three New Democrat MPs and two Conservative cabinet ministers have supported separatist parties in Quebec since 2000.
NDP MPs François Choquette, Anne-Marie Day and Alexandre Boulerice made financial contributions to Québec Solidaire, a left-wing sovereigntist party, as recently as 2012. Tory Infrastructure Minister Denis Lebel and Small Business and Tourism Minister Maxime Bernier both donated to the Parti Québécois before being elected to Parliament.
Choquette, elected the MP for Drummond in 2011, made 12 donations totalling $560 to Québec Solidaire in 2011 and 2012. Boulerice, the MP for Rosemont–La Petite-Patrie, gave a total of $2,520 in 32 separate donations to Québec Solidaire between 2006 and 2012. Neither returned calls for comments.
"I supported Élaine Hémond; I do not support Québec Solidaire," she told Huff Post, adding that she is not a sovereigntist.
Quebec NDP MPs canvassed this week said they were told by party leader Thomas Mulcair's office not to make any political contributions during the Quebec election, in order to avoid controversy.
"I'm pretty sure no one in my party will be making donations, because we're very strict on this," Isabelle Morin, MP for Notre-Dame-de-Grâce–Lachine, told HuffPost Thursday.
"My colleague, Alexandre Boulerice, was attacked in the House of Commons for the contributions he made, so they told us 'no more.'"
The Liberals and the Prime Minister's Office told HuffPost they had given no such instructions to their MPs.
Liberal MP Marc Garneau said in an interview that if NDP MPs need to be told not to give to a sovereigntist party, "it is probably because there was a concern that some of them may not be 100 per cent committed to federalism."
Garneau said Mulcair's position of remaining neutral during the Quebec race where sovereignty is a major issue is not the behaviour expected of someone who is hoping to become prime minister. Lots of Quebecers want to hear from a leader who is committed to federalism, the MP for Westmount–Ville-Marie said.
Bloc Québécois MP Jean-François Fortin said Mulcair speaks from both sides of his mouth.
"In Quebec, he is much softer on nationalism, but in the rest of Canada, he's Captain Canada, someone who will take a tough stance against separatists and will be better than [Liberal Leader Justin] Trudeau to crush the sovereignty movement," the MP for Haute-Gaspésie–La Mitis–Matane–Matapédia said.
NDP spokesman David Patry had no comment to make about the NDP MPs' political contributions or about Mulcair's instructions to his caucus.
"Mr. Mulcair has fought for Canada during the 1980 and 1995 referendum. It's pretty clear where he stands," Patry's one-line email said.
Fortin said he believes the NDP doesn't want its MPs involved in the provincial race because the unity question risks dividing the federal caucus.
"Several NDP MPs voted yes during the 1995 referendum, others have supported sovereigntist parties like Québec Solidaire," Fortin said.
"There is an uneasiness about the question of nationhood. … Perhaps, this [banning NDP MPs from any involvement in the provincial election] is a way to ensure that the NDP doesn't show its true colours publicly."
Several NDP MPs have already shown their interest on Facebook by liking PQ minister Jean-François Lisée or Québec Solidaire candidates and spokespeople such as Amir Khadir and Françoise David.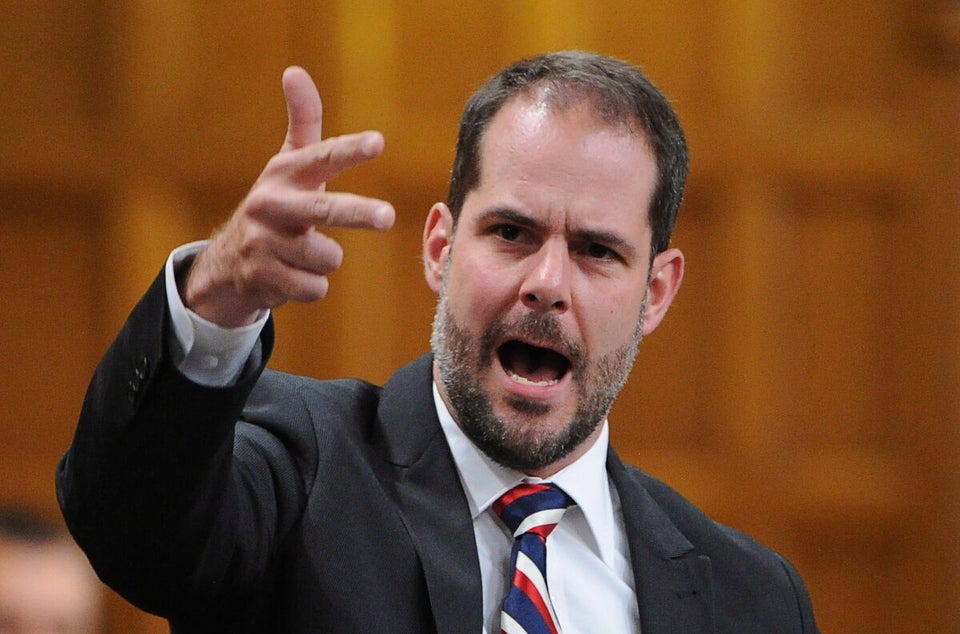 NDP MPs Who 'Like' Separatists Online
Last year, when Claude Patry, MP for Jonquière–Alma, defected from the NDP to join the Bloc Québécois, he told reporters he voted for sovereignty in 1980 and 1995 and still hoped Quebec would one day become a country.
Jean Rousseau, the NDP MP for Compton-Stanstead, told the newspaper La Nouvelle that he also flirted with sovereignty but now believes that Quebec can thrive in Canada.
Former interim leader Nycole Turmel also came under fire for her five-year membership with the Bloc Québécois before running for the NDP.
NDP MP Marie-Claude Morin, of Saint-Hyacinthe–Bagot, told QMI Agency after her election that if a referendum were held tomorrow, she is not sure what she would do. Dany Morin, the MP for Chicoutimi–Le Fjord, didn't know how he would vote either.
"I'm not sovereigntist, but if there as a referendum, I don't know what I would vote," he said.
Alain Giguère, the NDP MP from Marc-Aurèle-Fortin, told HuffPost he isn't disturbed by some of his caucus colleagues' giving money to parties that support sovereignty.
"I understand it. It's interpersonal relations most of the time – if your buddy runs, you support him," Giguère said, noting that he gave money to the Quebec Liberal Party to support particular candidates.
Without a provincial NDP wing in Quebec, federalists in the province can vote only Green or for centre-right parties such as the Coalition Avenir Québec and the provincial Liberals, Giguère added.
He defended Mulcair's position of sitting on the sidelines during the Quebec election saying it's inappropriate for federal MPs to declare their support for one team or another.
"It's an unfair influence," he said. "It doesn't show up on provincial campaign expenses, [because] you can't put a dollar figure on it," he said.
Fortin, the Bloc MP, disagreed, noting that NDP MPs have had no qualms about participating in other provincial races, such as the B.C. election or even former New Democrat MP Olivia Chow's mayoral bid in Toronto.
Conservative MP Jacques Gourde, who has donated to the Quebec Liberals and the Coalition Avenir Québec to support local candidates, said it is embarrassing for declared New Democrats to sit in the Commons after previously supporting parties such as Québec Solidaire.
"If you've give money to a party that supports the separation of Quebec and you are in the House of Commons or part of a federal party, and you get your salary from the House of Commons, well, maybe they changed their minds, but in those years, they were squarely affiliated with parties that supported Quebec's separation," he said.
Since 2011, the Conservative party has enjoyed pointing the finger at the NDP by suggesting there are closet separatists among its ranks. But that may have been hypocritical of the party.
TORY MINISTERS DONATED TO PQ
A survey of 14 years of records from Elections Québec shows that current federal Infrastructure Minister Denis Lebel donated $500 to the Parti Québécois in 2000. Junior minister Maxime Bernier gave a total of $900 in 2001 and 2002 to the PQ as well.
Bernier worked in the late 1990s with Bernard Landry, who was finance minister under PQ Premier Lucien Bouchard. Landry told the Canadian Press in 2010 that in order to work in his office, staff members had to be sovereigntists.
"That's what [Bernier] told me he was, and I believed it, and I still believe it," Landry said.
Bernier acknowledged that he flirted with the PQ but said he didn't not vote yes during the 1995 referendum. He has since spoken strongly in favour of a united Canada.
Lebel's director of parliamentary affairs, Benoît Fortin, told HuffPost in an email that as mayor of Roberval, Que., and as someone very involved in his community, Lebel occasionally took part in political activities.
"He was never an active supporter of the Parti Québécois, or the Bloc," Fortin said. "In 2007, Ministre Lebel made the choice to join the Conservative party … [and he is] working daily to build a strong Quebec in a united Canada."
Lebel also gave to the provincial Liberal party three times before his election to the House of Commons.
Garneau said he doesn't think Lebel's and Bernier's cases are as egregious as the NDP MPs and that both men appear to be staunch federalists now.
"Obviously, it says something about their previous leanings," the Liberal MP said. "But I don't think it's quite the same as someone who is giving to a separatist party last year."