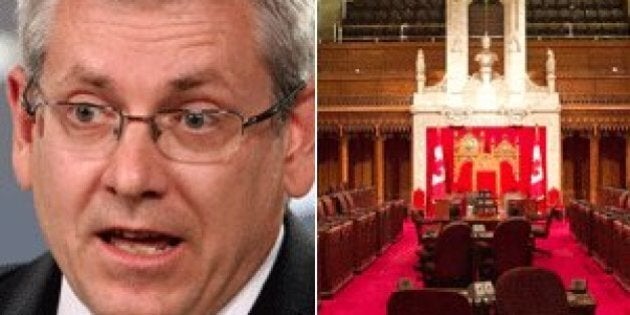 SASKATOON — It's Wednesday night, and about 50 people are gathered in a church basement near Saskatoon's trendy Broadway Avenue for a town hall on the future of the Senate.
The overwhelming majority of those who have come out to St. James Anglican Church are senior citizens and staunch NDP members. New arrivals are encouraged to sign a petition to abolish the Senate. There are cookies and cranberry juice. NDP MP Charlie Angus stands in front of the group. His arms in the air, notes rolled up in his left hand, he tells the crowd there is something rotten in Ottawa.
"We have a democratic crisis right now," Angus tells the group. "There are some people who are afraid of the democratic crisis and say, 'Oh my God, the last thing we want to do is get rid of a chamber of sober second thought.'"
But there is no reason to believe holding on to an unelected chamber will fix Ottawa's problems, the MP goes on to say.
Big corporations in Canada are forbidden from donating to political parties directly — but they are still able to appoint senators to their board of directors and buy influence, Angus says.
"Senator Michael Kirby sat on the boards of private health care organizations and chaired a report on the future of healthcare," Angus says, raising his voice. "And what was the recommendation of this august panel led by this august senator of sober second thought? 'Oh my God, isn't private health care (great). Wouldn't that help us out.'"
"And nobody knows," Angus adds, now almost whispering, "because he's thought of as a senator."
The Northern Ontario MP and award-winning musician is an engaging speaker. Angus is folksy. He is convincing. His outrage seems genuine. He's a good messenger to carry out a key part of the NDP's playbook on Senate abolition: mobilize public support.
The party has led a summer-long effort to capitalize on outrage over the Senate expenses scandal by having their lesser-known leader, Thomas Mulcair, out to target ridings pitching a popular position.
But tonight, Angus is carrying the ball.
"Senator Pamela Wallin from Palmerston Boulevard who visits her mom in Wadena," he continues, to laughter from the crowd.
Wallin, the former CTV broadcaster who recently reimbursed the Senate $138,969 for inadmissible travel expenses, once had a home on Toronto's Palmerston Boulevard but was appointed by Prime Minister Stephen Harper to represent Saskatchewan. News that she had sold a condo she owned in New York City made the front page in the local newspaper, the Star Phoenix, that morning.
Angus tells the party faithful that Wallin was on the board of directors of an oil sands company when she voted down a climate change bill that had been passed by the democratically elected House of Commons. "And you know what she described that bill as?," he asks, not waiting for an answer. "A nuisance." (Wallin's office says it has no recollection of the Senator ever saying this).
The crowd eats it up. Tonight, Angus is a prairie preacher speaking to the converted.
When the time comes for questions and answers, Kathleen Morrell stands up from her seat in the audience and asks Angus and Toronto MP Craig Scott — the party's critic for democratic and parliamentary reform — how the NDP will abolish the Senate without reopening the Constitution.
"I don't even know if we want to go there because past experience has shown, both with the Meech Lake Accord and Charlottetown, that it is not happy times to open up the Constitution," she says.
It's hard to do just one thing, Morrell tells HuffPost after the meeting.
"That's what happened the last time … other interests came forward and said, 'OK, well, what about this issue?' They wanted to open up the Constitution to address the issue of Quebec, then we also needed to deal with the aboriginal issue at the same time."
"I think that a lot of us are fearful of the process," Morrell says. "Not the policy…I think there is broad support for abolition across the political spectrum but I think people are afraid of the process."
Scott tells her there is nothing to be afraid of.
He says the Liberals — and Pierre Trudeau specifically — are to blame for scaring Canadians about reopening the Constitution. Justin Trudeau's father single-handedly ensured the Meech Lake Accord was defeated and confused people about what Meech and the Charlottetown Accord were really about, Scott says.
"Pierre Trudeau, in retirement, stood up and said they are bad because they allow Quebec a certain degree of vigilance in this jurisdiction."
"I think Canadians are adult enough to know that there comes a point in time where, whose Constitution is it? It's ours. It's the people's. If the people are constantly told they can't change their own Constitution, there is something wrong."
Scott tells the church basement crowd that the NDP is "obviously" hoping that the Supreme Court will decide that the consent of only seven provinces representing 50 per cent of the population is sufficient to abolish the upper house.
The country's top court will hear arguments in mid-November about what amendment formula is required to either reform or abolish the Senate.
The federal Conservatives and the governments of British Columbia, Alberta and Saskatchewan plan to argue that only seven provinces, with 50 per cent of the Canadian population, need to agree. But the other provinces, along with Nunavut and the Northwest Territories, disagree. They believe abolishing the Senate requires unanimity among all provinces.
"We are getting close to the necessary five or six (provinces), and then it will be quite key, frankly, that Ontario and Quebec eventually get pushed by what? Public opinion," he says.
Morrell has heard people suggest a national referendum. "If the people of one province vote in favour, it puts a lot of pressure on the province to fall in line," she says.
Scott tells her the NDP really needs to have this driven by the people. "These politicians will see the writing on the wall," he says.
In an interview earlier this month, NDP Leader Thomas Mulcair told HuffPost that he has no interest in reopening the Constitution to get Quebec's endorsement. His only interest, he said, is abolition of the Senate.
Reform would only lead to legislative gridlock, as it does in the United States, Mulcair said.
"We are talking about amending the Constitution, if need be, to get rid of the Senate. That is the only thing that we are putting in on the table. Categorically," he said.
While Mulcair said he won't make side deals with any provinces to gain their support, he seems willing to offer some assurances.
So far, the NDP leader said he is pleased with the support he has received from Saskatchewan, Nova Scotia, Manitoba and even Prince Edward Island, where Liberal Premier Robert Ghiz seems open to the idea, as long as the province retains its four seats in the House of Commons.
"He said you guarantee me that — and Canada is full of side deals like that — I have no reason to want to hold on to an unelected Senate," Mulcair recounted of his conversation with Ghiz.
Abolition of the Senate has been an NDP position since 1967. But this year, after the Senate's expense scandals, the party's position seems to be picking up steam.
"What we're seeing is that the vast majority of Canadians agree with us," Mulcair told reporters in Ottawa on Aug. 26, after kicking off his "Roll Up the Red Carpet" tour.
The NDP says its campaign has been a resounding success.
In Saskatoon, where the party held its summer caucus and where it hopes to pick up seats at the next federal election, resident Roberta Crowe says people on the street are talking about the Senate.
"It doesn't seem to matter where you go, if you happen to bring up one word about politics, (someone will say) 'Did you hear what's happening in the Senate? Those pensions that they are going to get? … I'm in the wrong line of work.'"
While it won't say specifically how much money the anti-Senate campaign has raised or how many new members it has signed up, NDP national director Nathan Rotman told HuffPost that "it has been one of our best campaigns for acquiring online donations and supporters."
It's less than the previous six months, when the NDP raised $3.938 million and the six-month period before that when the party raised $3.741 million.
The Senate expense scandal has given the NDP the opportunity to connect with more Canadians but it is unclear what impact it will eventually have on the red chamber.
As Mulcair's comments illustrate, scarring from the last round of constitutional talks — with Meech Lake and Charlottetown accords — seems to have tempered Canadian desires for reopening the Constitution.
NDP-turned-Liberal MP Lise St-Denis told the Huffington Post in a phone interview that one of the reasons she abruptly quit the NDP after Jack Layton's death, eight months after her election, was the party's position on the Senate.
Although an NDP volunteer for 10 years, St-Denis said Senate abolition was not something she paid particular attention to; nor was it something constituents talked about during the last federal election campaign.
After a few months in Ottawa, however, the MP for Saint-Maurice–Champlain said she came to see that the Senate plays a useful role. It represents regions and minorities, produces thoughtful, detailed reports on public policy issues and revises legislation passed by the House, she said.
Quebec needs to hang on to its representation in the upper chamber, where it is constitutionally guaranteed nearly a quarter of the seats, she said.
"Do you really think that the provinces who benefit — who have more senators than the others — would accept to abolish the Senate?" St-Denis asked. "I think it's a problem we talk a lot about, but it's not doable."
St-Denis said she would like to see Quebec endorse the Constitution one day. But "I think that if we were to open the Constitution, there would be other topics that would be included."
The Liberal party — which counts 33 senators among its caucus — is opposed to abolition and favours reforms that do not involve reopening the Constitution, she said. Liberals "don't want more interminable discussions like we saw in Meech," St-Denis said. "But are they right? Or are they wrong? It's hard to say for now."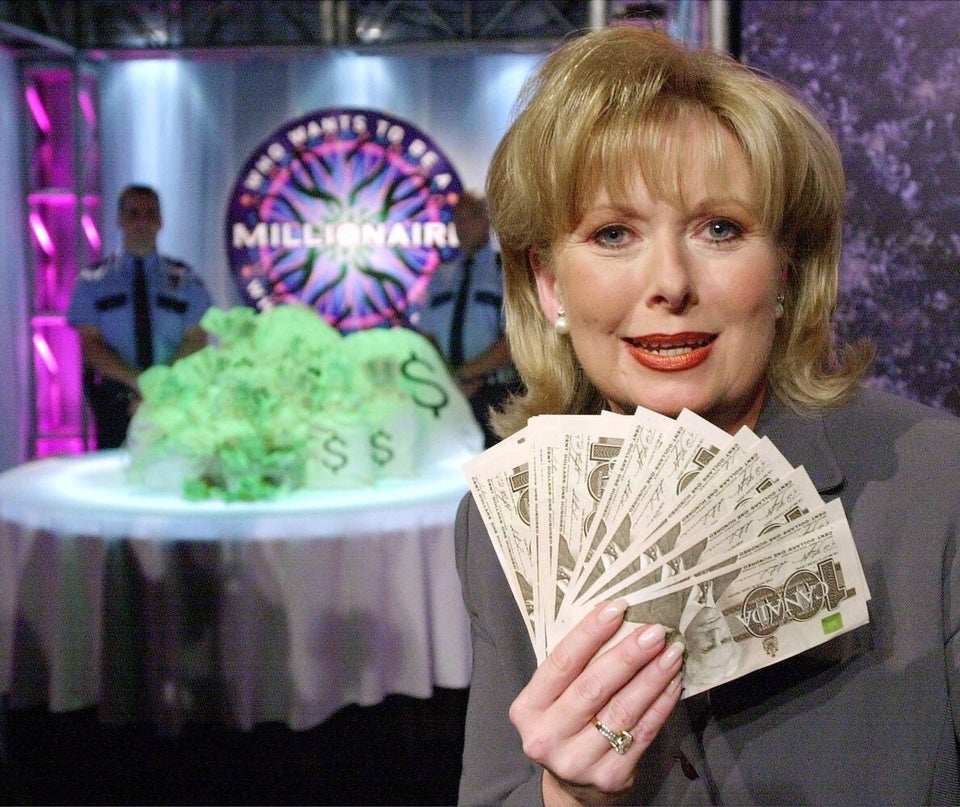 The Many Faces Of Pamela Wallin
Popular in the Community