Voter support for the federal NDP continues to outpace that of the Conservatives and Liberals in lead up to the next federal election, according to a new polling data.
And when given the choice of other political parties, 28 per cent said they would consider voting for the Green Party, and 40 per cent of Quebecers said they would mull voting for the Bloc Quebecois.
The numbers suggest support for Justin Trudeau's party has "hit a new low," according to Nanos.
When compared to numbers collected at the same time last year, Thomas Mulcair's NDP have seen an uptick of nine percentage points. Last July, just 43 per cent of respondents said they would consider voting NDP, compared to 55 per cent support for the Liberals. While the Liberals have tumbled 12 percentage points since then, the Tories have held steady year over year.
Despite the strong lead the NDP have over the other parties, no major party holds a noticeable advantage when it comes to comparing election platforms, according to results in a second poll released by Nanos and The Globe and Mail.
When asked which federal party will have the most appealing policy platform, respondents remained nearly equally split: 28 per cent said NDP; 27 per cent Conservative; and 25 per cent indicated Liberal.
The NDP and Liberals are both campaigning on change, while the Conservatives continue to push their record of economic stability and their stance on public safety.
On Saturday, Harper delivered a speech at a Calgary Stampede barbecue to party faithful, blasting his rivals as lacking experience. He painted Mulcair and Trudeau as leaders who don't have the ambition to rally Canadian troops to confront "jihadist terrorism" threats at home and abroad.
"Friends, these guys just don't get it. We're living in a dangerous world," he said.
Harper's criticism of Mulcair indicates Conservative campaign tactics have shifted, with renewed focus on the NDP leader. Past Conservative attack ads have largely ignored the NDP, zeroing in on Trudeau instead.
Both Nanos/Globe polls surveyed a random sampling of 1,000 Canadians. The party power poll contacted participants over a four-week period ending July 3. Polling data about party platforms was collected June 27-29.
Both polls have a margin of error of 3.1 percentage points, 19 times out of 20.
Voters are expected to head to the polls Oct. 19.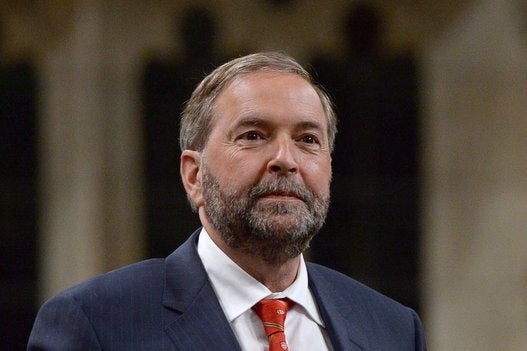 Politicians Who've Switched Allegiances