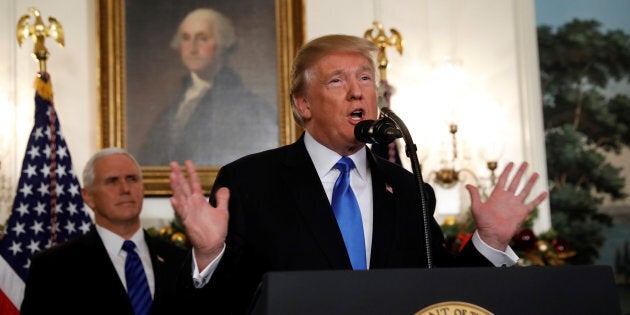 Federal New Democrats want Prime Minister Justin Trudeau to state publicly that the White House's new approach to the Middle East is counterproductive and "dangerous."
U.S. President Donald Trump announced Wednesday that his administration will recognize Jerusalem as Israel's capital and seeks to move the U.S. embassy there from Tel Aviv. The decision upends decades of American policy and threatens to inflame tensions in the region. Palestinians lay claim to east Jerusalem, captured by Israel in the 1967 war, as their capital.
Foreign Affairs Minister Chrystia Freeland confirmed Canada's embassy will stay in Tel Aviv and that the federal government's approach to the Mideast is unchanged. Freeland said Canada remains a friend and ally to both Israel and the Palestinian people.
"Canada's longstanding position is that the status of Jerusalem can be resolved only as part of a general settlement of the Palestinian-Israeli dispute," she said in a statement.
Speaking later in China, Trudeau also confirmed that Canada will not be following the U.S. lead. A reporter noted that British Prime Minister Theresa May expressed that Trump made the wrong call and wondered if Trudeau might raise his own objections directly with Trump.
"We need to work towards a two-state solution through direct negotiations," Trudeau said. "That is why we will continue to engage constructively and substantively in the region and with our partners and friends around the world."
Still, NDP Leader Jagmeet Singh told reporters in Ottawa Wednesday that the prime minister should be telling Trump that his decision will not move the needle towards peace.
"It's something that needs to be pointed out as being divisive," Singh said.
The NDP leader seemed to stop short, however, when asked if Trump's position ought to be denounced.
"Everyone who knows, everyone who's been working on this issue knows this is counterproductive," he said. "This is not going to advance justice. It's not going to advance unity. It's not going to advance peace. It is counterproductive and it should be called such."
'Devastating day' for peace: NDP critic
Hélène Laverdière, the NDP's foreign affairs critic, was perhaps more forceful on the issue. She took to Twitter to lament a "devastating day" for those who support peace in the Middle East and urged Canada to "condemn this decision in the strongest of terms."
Laverdière, a former diplomat, was also the only MP to raise the issue in question period. She called Trump's plan "dangerous and ill-advised," and said it runs counter to international law and United Nations resolutions.
"Where's Canada's voice to protest this decision?" she asked in French.
Matt DeCourcey, the parliamentary secretary to the foreign affairs minister, reiterated that the government is continuing the abiding position of past Liberal and Conservative governments on the issue.
"We are committed to sustainable peace in the region, including the creation of a Palestinian state living in security alongside Israel," DeCourcey said.
In 1979, then-prime minister Joe Clark backed down from a campaign pledge to move Canada's embassy to Jerusalem after it sparked opposition, including from then-Liberal leader Pierre Trudeau.
Prior to Trump's announcement, CPAC dug into the archives to share a clip of Clark announcing that he accepted the recommendation from his Middle East ambassador Robert Stanfield that moving the embassy from Tel Aviv would "work against progress toward a just and lasting peace settlement."
Conservative MP Kellie Leitch also pledged to move Canada's embassy to Jerusalem during the Tory leadership race. Her campaign spokesperson said last January that keeping the post in Tel Aviv "sends an incorrect signal about Canada's support for Israel."
Trump's announcement was immediately seen by Palestinian leader Mahmoud Abbas as a "withdrawal" of America's traditional role in the peace process.
And while Arab and Muslim leaders warned the decision could spur violence, Trump said Wednesday it was merely a "recognition of reality" that would actually move the peace process along.
"We cannot solve our problems by repeating the same failed strategies of the past," Trump said.
With files The Canadian Press
Popular in the Community