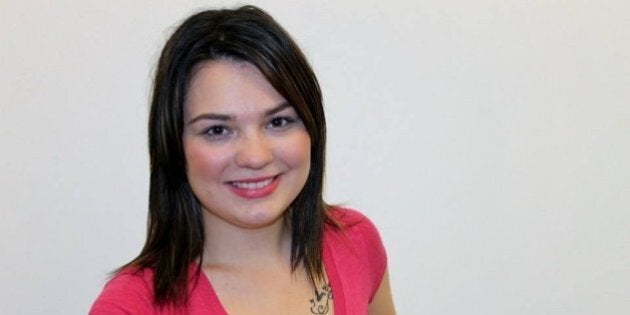 OTTAWA — Genevieve Ratelle was 19 years old last spring when she says she was sexually assaulted by an Ontario NDP provincial candidate for whom she was working. Wednesday, she took the issue to the police.
Ratelle said she's going public with her story to encourage other women who have had similar experiences to come forward. She also filed a complaint against the candidate with the Ontario NDP, and is concerned he will try to run in the next federal election.
An intern on Parliament Hill and a member of a federal riding executive, she met her alleged aggressor during an evening meeting in late April. The riding executive was discussing how they could help the provincial campaign and the candidate asked her if she would be his political attaché, a volunteer position that would place her at his side for several weeks. She had never met him before.
"Even though I was busy, I said 'sure,' because it would be my first real campaign," Ratelle, now 20, told The Huffington Post Canada. "I didn't want to miss that chance."
She spent evenings canvassing with him, was at his side at events and helped him network. "Most of the events he had to go to, I was there."
The first time he acted inappropriately towards her, she said, was a Thursday in May. The previous evening, they had watched a hockey game and mingled with federal colleagues at Brixton's, a pub where NDP members hang out near Parliament Hill.
"We had a lot of drinks, everyone actually was really drunk, and my car was at [the candidate's] place," she said.
A friend, a colleague who worked on the campaign, offered to pay the $35 to cover her taxi home – a 25-minute drive out of town. But she thought it would be too complicated to return to Ottawa the next day so she stayed in the city at his home.
The next morning, she said she contacted the candidate and spoke to his wife on Facebook asking if he could pick her up.
"When he came, the first thing he asked me when I got into his car was if I had slept with my friend.
"That friend is in his 50s and we both sit on the [riding] executive together, so when he asked me that, I didn't know what to say. I thought 'How could he even think of that?' … And the next thing he told me was to keep some energy for him – it was really awful."
Ratelle said the candidate ran his fingers down her thigh and tried to kiss her. She does not want him named publicly. She said she is afraid of getting sued and she doesn't want his wife to find out through the media.
HuffPost Canada contacted the candidate, who responded via email on Tuesday but did not address the specific allegations. He referred calls to his lawyer, who did not return repeated requests for comment from HuffPost.
Ratelle has heard her alleged aggressor is seeking to become an NDP candidate in the 2015 federal election.
She said she is frustrated the federal party has not publicly vetoed the candidate's bid to run again.
NDP spokesman George Soule told HuffPost Tuesday that the race in the riding has not been called and that no candidate had been approved.
"We have no declared candidates for the nomination," Soule said, while acknowledging that he cannot disclose whether any potential candidates have been vetoed. "We assure our candidates that the entire vetting process is confidential."
HuffPost also spoke with three other individuals whom Ratelle said she informed of the allegations during the campaign period. Ratelle provided text messages she said she received from the candidate during the campaign. In one message, he tells her to come get a big kiss and tells her suggestively that she'll get a big reward if she accomplishes a task.
Ratelle said the candidate, a significantly older married father, asked her about her sexual preferences and attacked her.
After he picked her up from her friend's home that morning in May, he drove her to his own house, she said.
"When we got to his place, he said he needed some help with stuff, and I said 'OK.' We got into his place and he told me his wife wasn't there … then he pushed me against the wall, touched me and forced himself on me."
"Even though I was pushing him, I was held back and then he put his hands in my pants."
She told him that all they had was a professional relationship, she said.
"I had to tell him that I had to go to work, because he wouldn't let me go. Even though I asked him to stop, he wouldn't."
"I didn't feel comfortable."
Eventually, he relented, she said. She picked up her car, drove home, showered and went to her retail job that paid the bills.
The next day, she said, they were scheduled to go out canvassing together.
"On the way back to the office, he asked me if I liked anal sex. I told him that I only wanted a professional relationship with him, and what he was asking me was beyond the scope of our professional boundaries."
She said he told her she was old enough to differentiate between her personal life and her professional life, and that after the election their relationship could change. "I made it clear that I didn't want that," she said.
Ratelle said she confided in her older friend, whose son she had started dating. He told her she should stop working with the candidate. She said he told the candidate not to contact her.
"I would still work on his campaign, just not with him anymore," she said.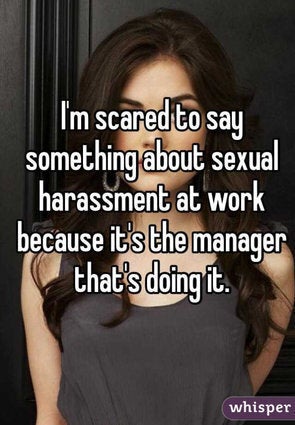 Tales Of Sexual Harassment At Work
Another senior person who worked on the campaign said he was told of the allegations indirectly but understood that Ratelle didn't want to do anything about it, so he took no action.
"We respected her wishes and followed her lead," he said.
He described her as a genuine young person.
"I have no reason to doubt her," he said."The fact is, I don't know what happened, but I have no reason or evidence one way or another to doubt her."
After she stopped working directly with the candidate, Ratelle said, he told her she was "letting him down."
"He didn't seem to understand why I wasn't there."
Days later during a group canvass, she said he asked her why he had been told not to contact her and why she was not working on the campaign anymore.
She said she lied and told him she was back interning on the Hill.
"Everything was good that day, so I thought nothing else would happen."
Then one night, after meeting a friend for drinks, she called the candidate and asked if he would come downtown, a ten-minute ride away, to pick her up. It was 1:30 a.m.
Her family was away at their cottage, and she didn't know anyone with a car who would be able to drive her home safely, she said.
"I knew I was making a really stupid decision, but I thought that it's been two weeks, everything is good, he now understands that I don't want to do anything with him."
She said when he picked her up, he joked about his sexual prowess. She remembered him telling her that in life you need to marry someone who will shore up your image but then you can sleep with whomever you want. He added that his wife wasn't a jealous person. Instead of driving her home, she said, he drove her to his home.
She said he told her this would be easier for him since they were both supposed to attend advance polls the next day and they could go together. At the outset of the campaign, Ratelle said the candidate had told his campaign team that long days might turn into long nights and that there was a bedroom in his basement for such occasions.
When they arrived at his house, she said he told her he needed her help with something on the computer. They went to the basement, where she said the computer was already turned on and porn was playing on the screen.
He started playing a video, Ratelle said, "and told me, 'this is what I like.'"
Ratelle said she told him she had had enough and needed to go to bed.
His wife and children were home.
"That night, he came down three times to the room. Lay in the bed beside me. Every time I would ask him what he was doing, and he said he enjoyed looking at my body."
She was wearing a shirt and underwear, she said. He was dressed.
"He would take off the sheets and stay there and look at me."
The second and third times, she said, he ran his fingers over her body. She said she told him she didn't want to see him and to wake her only when it was time to head to the advance polls.
She saw him only a few times after that, casual sightings at the campaign office.
Ratelle said one of her friends told her she was crazy to have stayed on the campaign.
"I told [my friend] it was my first political campaign and I really need the experience," she said.
She found a way not to talk to the candidate and not to be around him. Her friend recommended she complain to the Ontario NDP.
She wrote the party a long letter detailing the allegations in mid-August, two months after the campaign ended and the candidate had been defeated.
"When I talk about my first experience on a provincial election, those unfortunate events always come up to my head," she wrote in an email to Darlene Lawson, the provincial secretary at NDP headquarters in Toronto.
I "understand why it is hard for women to succeed in politics or in any other 'men' career," she wrote.
In the email, the 20-year-old asked that the candidate be barred from running again for the Ontario NDP or the federal party.
"I would also like the Ontario NDP to make a formal statement indicating that they won't tolerate sexual misconduct," she wrote.
Lawson thanked Ratelle for her email and assured her the matter would be addressed and asked to follow-up by phone. She subsequently told Ratelle the complaint would be shared with the federal NDP.
Lawson confirmed that the provincial and federal party share information on a number of files, especially if there is any overlap. The Ontario NDP takes any allegation of harassment seriously, she said in an interview.
"We follow our policy, but given people's rights to privacy and confidentiality I cannot comment on any concerns of this nature that may or may not be in a process in the party," Lawson said.
In November, Ratelle started a four-week non-renewable contract job at the NDP's federal headquarters. Days into her contract, she said the party offered her a permanent job as a fundraising accounting clerk. About two weeks later, however, when she inquired about the position, she said, she was told it had been offered to somebody else.
"Oh, we forgot to tell you that we offered the job to someone else and that that person took it," she said she was told.
"When they offered me the job, they didn't know about the complaint," Ratelle said. "They knew a week or so after, when the Ontario NDP got in touch with them... After it was shared, the federal NDP retracted their offer for me to be moved to a permanent job."
The NDP denies they retracted Ratelle's job offer. Soule, the party spokesperson, told HuffPost that Ratelle was asked to apply for the job but that no formal offer was made.
"As far as we know, we left on good terms," he said. "She did her job quite well."
"[But] she never received a job offer."
Ratelle said she doesn't want to embarrass the NDP.
"I'm not mad at all with the NDP. I'm still an NDP supporter, and that's why I continued to work during the provincial election. But I do not appreciate what [he] did and do not support him anymore," she said.
"I don't want to give a bad image to the party," she added, "but I do want to prevent [him] from running again."
Wednesday, she was scheduled to begin mediation with the candidate. She met with three Ontario NDP staff but the candidate abruptly cancelled, she said. He told the party he would only participate in an judicial process and referred all future communications to his lawyer, Ratelle said. After a three-hour meeting, she said she was told the party would keep everything she had alleged in his file and they recommended she call a rape crisis centre and were supportive of her desire to file a police report.
She then drove to the Ottawa Police Service to file a report.
After a four-hour meeting with police, Ratelle said she felt "relieved actually."
The fourth-year university student said she believes more women need to speak out against sexual assault.
"It's just another thing that comes up in the media or on the TV, and people all say 'Oh the women are really stupid, because they did this or that.'
"And I've been told, well, why were you drunk and went to his place? And the reason was he hadn't assaulted me or talked to me in a little while, and I thought this was over. In life, and especially in law, you're taught to do things in good faith," she explained.
"I've thought about [going public] and even though others might advise me against it, I can only [do] what I think is best for me," she said. "I am ready for this."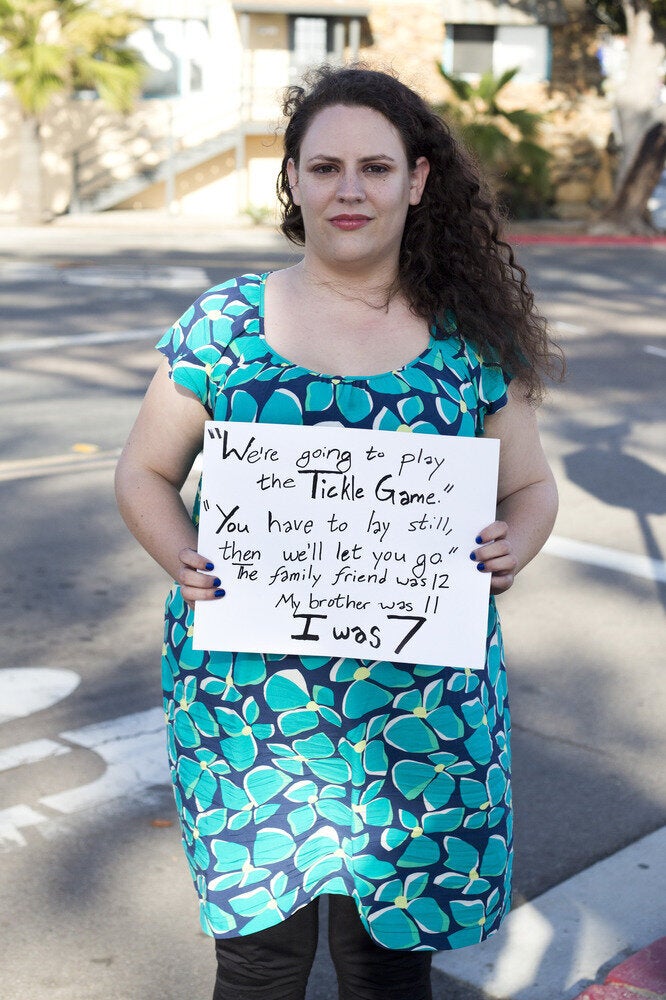 40 Powerful Images Of Surviving Sexual Assault