New Democrats have wasted little time poking fun at a new Liberal ad that shows Justin Trudeau walking the wrong way on an escalator.
And ripping a page from the Conservative playbook, the party took to social media Wednesday to allude to Trudeau's quip last year that the "budget will balance itself."
Though the ad focused mostly on Harper, the Liberal leader did throw a jab at NDP Leader Thomas Mulcair.
"Mulcair promises more cuts," Trudeau says in the clip. "Now is not the time for cuts."
Liberals have argued that Mulcair's pledge to balance the budget right away will mean spending cuts, broken campaign promises, and an agenda of "austerity." Mulcair has called that line of attack "desperate" and said New Democrats aren't even "entertaining" the thought of running a deficit.
On Wednesday, Trudeau told reporters in Quebec that Mulcair was "promising the same approach as Mr. Harper on the economy."
NDP candidate Andrew Thomson, a former Saskatchewan finance minister now running in the Toronto riding of Eglinton-Lawrence, released a statement last week accusing Trudeau of being inconsistent on the economy.
Thomson pointed out that Trudeau went from saying "the budget will balance itself" in February 2014, to saying in April that the budget will be balanced next year, to now giving up on balancing the budget at all.
"Justin Trudeau can't make up his mind," Thomson said in the release. "That's not the kind of change that Canadians are looking for in Ottawa."
Thomson complicated things for his party, however, by telling Power & Politics' Rosemary Barton that some spending cuts would be "inevitable" if New Democrats are to balance the books.
Plenty of Conservatives — including Harper — have had a veritable field day with Trudeau's remark about budgets balancing themselves.
The quote comes from an interview the Liberal leader gave to CPAC shortly after the release of the 2014 budget.
Journalist Peter Van Dusen asked the Liberal leader at the time if it would worry him to go into deficit.
"The commitment needs to be a commitment to grow the economy and the budget will balance itself," he replied.
The line has since been featured prominently in Tory attack ads and often surfaces in Harper's stump speech on the campaign trail.
But New Democrats have also used the line against Trudeau.
In June, Scarborough Southwest NDP candidate Dan Harris told the House of Commons that a Tory rival's claim that the Harper government "consistently balanced budgets" before the great recession was "almost as dumb as saying that budgets balance themselves."
"I don't believe budgets balance themselves, nor do I believe they become balanced just because you pass a law — zap you're balanced," he said.
"But I do believe that it is fundamentally important that the federal government live within its means."
With files from The Canadian Press, Mohamed Omar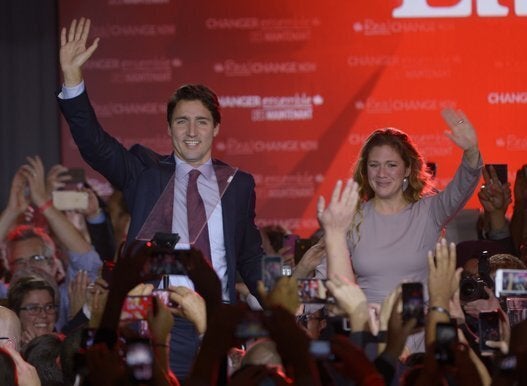 In Photos: Canada Election 2015