TORONTO — The NDP is denying accusations that its pledge of a $15 an hour minimum wage is misleading.
In campaign literature around the country and online, NDP candidates are promoting a promise by their leader Thomas Mulcair to impose a new federal minimum wage of $15 an hour.
The measure, described as "$15/hour: National minimum wage under NDP government," is sowing confusion among some Canadians and drawing condemnation from the opposing Liberals, because it applies only to workers in federally regulated sectors such as air, maritime and rail transport, as well as banking and telecom industries.
"No," NDP spokesman Brad Lavigne told The Huffington Post Canada when asked whether he thought the ads were misleading. The ad describes the initiative, a national federal minimum wage, that was scrapped in 1996 by the Liberals, he said. The NDP actually supported the Liberal initiative at the time because it gave an immediate wage increase to workers who would now receive more generous provincial minimum wages.
"The government of Canada does not have the authority to impose laws outside of its jurisdiction," Lavigne said. "Only the federal government can regulate labour laws that cover federally regulated industries."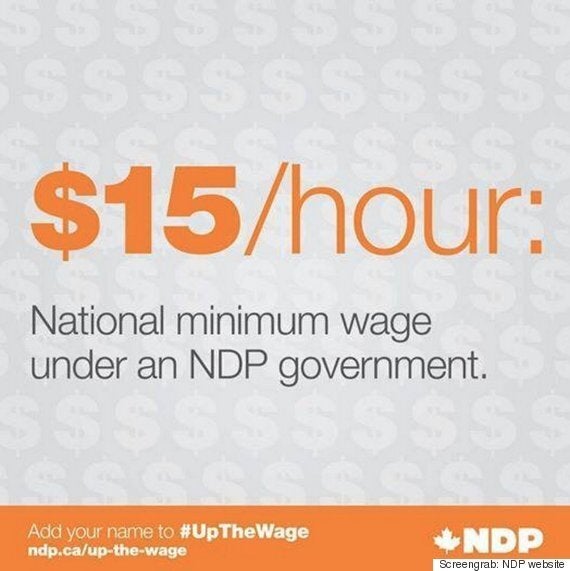 The Liberals have latched onto the promise, saying Mulcair is being disingenuous with voters.
"The NDP will talk about its plan to increase the minimum wage, and yet they won't tell you their plan won't help 99 per cent of people who earn the minimum wage in this country," Liberal Leader Justin Trudeau said at his campaign launch on Sunday. It won't help servers, hotel receptionists, garage attendants or cashiers, he said.
"Tom Mulcair's plan will not give them an extra cent, because it only applies to people under federal regulations who meet minimum wage. And NDP candidates won't tell you. They'll give false hope to people who work hard. They claim to help them, and yet that is not what they are going to be doing. And Mr. Mulcair knows that full well," he said.
On the streets of Toronto, Canadians of all ages were surprised to discover the NDP's campaign promise was missing some important details.
Food truck worker Patrick McCormack said he thought the NDP's $15/hr proposal meant that "that if you are working a job, regardless of what it is, you would be getting paid $15 an hour for that job."
The NDP plan applies only to federally regulated industries not to service workers like himself.
"I would say it [the NDP ad] is probably a little bit unfair. I don't think it is the coolest thing ever," he said.
Gary Wright thought the NDP's ad meant the party would be bumping up the minimum wage to $15 an hour across the country.
"It is definitely misleading. They should add the bit about federal employees," he said after learning that his initial impression was wrong.
Waitress Katie Evans also described the NDP ad as misleading. She thought it meant people like her would be getting a salary boost.
"I'm an NDP supporter, [but] they need to make it clear what they are advocating," said Naomi Garber. "I would have thought it was a minimum wage, which meant that anybody who gives a wage has to pay a minimum of $15 an hour.
"I would have been wrong."
A young man soliciting funds at the corner of the street for a charitable group said he was "pretty pissed" that his impression of the ad wasn't accurate.
Lavigne defended the measure, saying a number of Canadians coast to coast would benefit. "If you make $12 an hour working at a call centre, or if you are working at a bank in Newfoundland, both of those workers, on a national scale, will benefit from this national initiative," he said.
He also suggested a minimum wage at the federal level could set a new standard that provincial governments could strive to match, and therefore help workers under provincial jurisdiction, such as fast-food or café workers.
According to available Statistics Canada data from the 2014 Labour Force Survey, about 135,000 people earn less than $15 an hour in industries typically regulated by federal labour laws.
That number, however, likely overcounts or undercounts individuals who, like truckers and credit union employees, are lumped in sectors that are typically federally regulated but are actually regulated by the provinces.
Approximately 12 per cent of workers in federally regulated industries earn less than $15 an hour, Statistics Canada says. Approximately 24 per cent of all employed Canadians — 4,217,879 in 2014 — earned $15 an hour or less.
The NDP, using figures from the 2008 Federal Jurisdiction Workplace Survey, says its plan would help 100,000 Canadians. The party, however, is inventing its number by guessing how many federal employees make between $12.51 and $14.99 an hour. It has no data upon which to make its assumptions.
The survey it quotes suggests that only 416 employees within federally regulated sectors earned less than $10 an hour. Sixty-six per cent earned $20 or more an hour.
The Liberals say there aren't specific data to estimate how many people will be affected by the change but that even if 152,000 people out of a workforce of 15.2 million employees earned less than $15 an hour, that would be only one per cent of all employees.
Wednesday evening, Mulcair's Twitter accounted promoted the pledge as a "federal minimum wage" rather than a national wage.