You zip through space, smashing debris and hurling asteroids. That is, until you confront the man who ruined your life: Neil deGrasse Tyson.
This is Pluto's Revenge, a side-scrolling shooter video game made by members of Angry Squids Games, four friends out of 100 developers at the third annual and final ROM Game Jam held recently in Toronto. This year's edition was a three-day whirlwind at the Royal Ontario Museum (ROM), where developers devoted themselves to creating games based on this year's theme: space rocks.
Instead of the usual game-making process that takes months or even years, game jams challenge developers to conceptualize and finish a video game within a few days, all while staying in a single building. What's made in these sessions are often experimental trial runs or work that will be polished and finished later. There's no winning or losing in most game jams. In the ROM's case, developers also had the added perks of using the museum's exhibits to inspire and inform their work.
"You learn almost haphazardly while playing a game," said Kim Tait, curator of mineralogy."Children playing video games may be exposed to some scientific facts, even though they don't realize they're doing that."
The opportunity to program in the high-class setting of the Roloff Beny Gallery was a first for many developers, including Pluto's Revenge developer, Britney Coates.
With teammates Bryce Hallett, Leisha Riddel, and Craig Thomas, the group came up with Pluto's Revenge while spit-balling at a pub.
"I tried to make Neil deGrasse as true to life as possible," Riddel said."We used his tweets and quotes."
Coates asked ROM experts about asteroids' speed while travelling through space, which helped her while modelling for the game.
The studio's hoping their portrayal of deGrasse Tyson gets his attention.
"If we get any reaction, I can basically die happy," Coates said.
Tyson hasn't posted any response to Pluto's Revenge yet, but he has tweeted about making peace with Pluto. In fact, players will notice this tweet somewhere in the game's ending (spoiler alert: Pluto and Tyson end up hugging it out).
Other games created at the jam include Rogue Rovers by AXS Studio, in which Martian rovers find life on Mars. Using advice gleaned from ROM's meteorite collection, rovers mine for rock types, like sedimentary and basalt, found on Mars in real life.
By trade, the studio makes medical illustrations, so they're used to creating art to educate, with a rigorous, comprehensive research process that can take an average of six months. They had no such luxury at the game jam, working almost non-stop over the 72-hour event and sleeping collectively 12 hours overnight at the museum.
At least their team didn't go through what the makers of Honeymooners did, where a member drove through a hurricane and coded in a hotel bedroom just to make it to the game jam. Honeymooners is a two-player game, in which a Canadian husband and wife team excavate minerals to pay back the insurance they owe a space shuttle rental company after trashing the spaceship on their honeymoon.

"Anyone who looks at the meteorites [at the ROM] and wants to play our game would go 'Oh, I didn't know that there was an asteroid that could be made of all diamond or iron or all cobalt'," developer Antonio Miceli said. "It allows them to compare back and forth."
Getting players to learn is exactly what developer Brendan Polley wanted for Rogue Rovers.
"You don't take Candy Crush and replace all the candy with meteorites," Polley said, on making a game with learning goals. "The game is still 'smash stuff and find things,' but you get more points for finding things of value to scientific communities. It's still a fun experience."
The games might yet inspire a generation of Canadian astronauts. Some of these cosmic games will be featured in ROM exhibits, school visits, and programs at the museum from November 2015 to March 2016. Many will be playable online for free.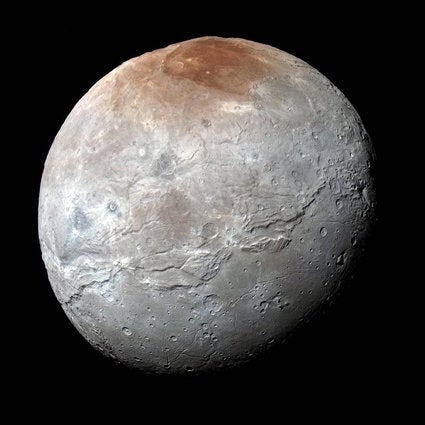 PLUTO AND CHARON