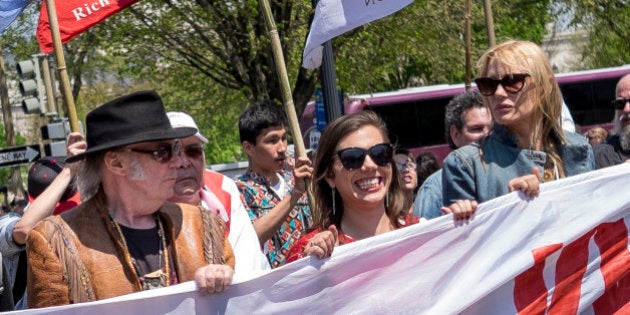 News of Neil Young and his longtime wife Pegi Young divorcing shocked many recently. Now it appears that part of the explanation behind the dissolution is apparent.
According to reports from People Magazine and the Globe and Mail, Young was seen together with actor and environmental activist Daryl Hannah at a California cutlery store during the second week of September.
"(Hannah and Young were) holding hands and being really friendly, but they were not kissing or anything like that inside of the store," a source told People. "They were both very friendly to the employees, too." The source added both had frequented the store named "Sur La Table" previously but never together. Photographers spotted the two Wednesday at the locale.
"They've been dating for months," the source told People, adding Young's marriage was having problems. "They've taken no effort to even hide it. He recorded a new album a few weeks ago, and she was on Skype the entire time, giving him feedback on every take. He even told people in the studio she was his 'girlfriend.'"
As previously reported, Young was in a studio working on new material with a choir although it's unknown if or when a new studio album would be released. The musician also worked with Hannah on an environmental documentary for Greenpeace called "Petropolis: Aerial Perspectives of the Alberta Tar Sands." Neither Hannah nor Neil Young have commented on a possible relationship between them.
Meanwhile David Crosby, a longtime collaborator with Young in Crosby, Stills, Nash and Young, told the Idaho Statesman on Sept. 7 that his own marriage wasn't on the rocks compared to Young's. "Not gonna happen, man," Crosby told the newspaper before referring to Young and Hannah. "I've been with my wife 37 years, and I'm in love with her. I ain't goin' nowhere.
"Thirty-seven years! That's a freakin' miracle," he adds. "And I just don't feel the urge to go try something new. And I happen to know that he's hanging out with somebody that's a purely poisonous predator now. And that's karma. He's gonna get hurt. But I understand why it happened. I'm just sad about it. I'm always sad when I see love get tossed in the gutter."
Earlier today the Bridge School announced its lineup for this year's benefit concert with fortunately both parties appearing and performing. According to a YouTube clip posted on the concert's Facebook page, Neil Young, Pegi Young and The Survivors, Pearl Jam, Florence and The Machine, Tom Jones, Soundgarden, Norah Jones and Puss n Boots and Band of Horses have been confirmed. Special guests are to be announced for the concerts with tickets going on sale Friday, Sept. 19.
Popular in the Community