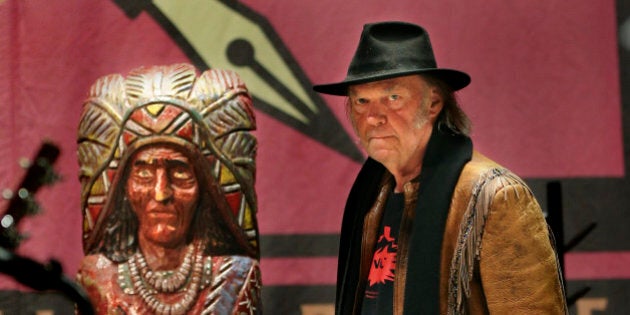 On his Honour The Treaties tour bus "rolling west," Neil Young has continued to fire off tweets and Facebook posts in defence of his anti-oilsands stance and benefit tour.
Breaking Ancient Canadian Treaties with First Nations and defying scientific reason, in an odd twist that could have come out of a science fiction book. Prime Minister Stephen Harper's Canada, while harvesting the dirtiest oil on the planet and acting without due consultation on First Nation lands, has closed several scientific research facilites and destroyed the scientific writings done at those facilities in an effort to save $431,000 in wasted money annually. Coincidentally some of the thousands of papers and books being destroyed and burned may contradict the path forward that the government has taken with tar sands oil extraction and development. http://au.ibtimes.com/articles/534063/20140113/canada-libraries-books.htm

#honourthetreaties.

Reclamation: the way forward for peace in the Alberta Tar Sands region.

ny
Stew

15/01/14

The Chief's making stew in the crock pot on the bus. Smells fantastic. We're rolling west after a night of cold clean air and good sleep in Thunder Bay. Nobody's tired, nobody's complaining, no downers on this ride – there is a lot of love in the camp. That's what happens when music and cause come together.

It confuses me to hear people shouting at us that musicians should just shut up and entertain. Where the hell did that lame-ass idea come from? Music was, is and always will be about social condition and cause and change. Music speaks for the oppressed and downtrodden. Music launches revolution. Woody Guthrie and Hank Williams and Bob Dylan and Joan Baez and Johnny Cash and Joni Mitchell and Willie Nelson and John Lennon and Eddie Vedder and Neil Young and all the giants of the art know this. What the fuck kind of music and musicians are these boneheads actually listening to?

Just wonderin'.

Onward

The Passenger
Young also posted an article called "The Indians Are Here" that his father, late sportswriter Scott Young, wrote in the Globe & Mail back in 1965! The article concludes: "What they want, they say, is a return to the Indian of the dignity and the independence, financial and legal, that Canadians owe them. What they will get is your guess or mine."
Not content to stick to Facebook, Young has also been firing off missives from his Twitter account today and yesterday, to drive the point home again about his current Honour The Treaties tour and his opposition to oilsands development in Alberta.
Then today, the 60s icon tweeted to Prime Minister Harper directly:
These posts follow a series of strong statements Young made regarding the oilsands as his "Honour The Treaties" benefit trek commenced at Toronto's Massey Hall Sunday evening. The Prime Minister's Office replied on Monday to Young's remarks which said Canada was trading "integrity for money."
"Even the lifestyle of a rock star relies, to some degree, on the resources developed by thousands of hard-working Canadians every day," a PMO spokesman, Jason MacDonald, said in a statement. "Our government recognizes the importance of developing resources responsibly and sustainably and we will continue to ensure that Canada's environmental laws and regulations are rigorous."
Young replied with a statement of his own: "If rock stars need oil is an official response, how does that affect the treaties Mr. Harper's government of Canada is breaking."
Needless to say, there are an equal number of supporters and opponents towards Young and his comments. Here is a sampling of those: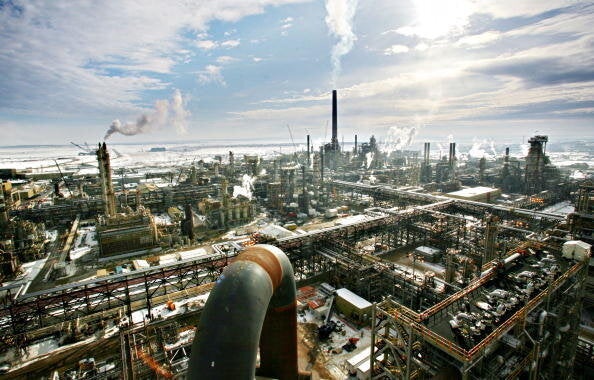 The Craziest Photos Of The Oilsands
Popular in the Community