Anyone who knows a little bit about rocker Neil Young knows that a) he's legendary b) he's Canadian and c) he lives in the U.S. So this was a busy weekend for him, what with Canada 150 on Saturday and U.S Independence Day fast approaching on July 4.
And lucky for us, Papa Neil remembered all his children.
On Friday, the eve of Canada's 150th anniversary of Confederation, Young changed his Facebook profile photo to a homey illustration of a red maple leaf:
In the comments, he wrote: "I traveled south to LA 50 yrs back to follow my dream. In my heart, I will always be a proud Canadian! Happy 150."
Young was born in Toronto in 1945, and made the move to Los Angeles in the late '60s to pursue his music career. He currently lives in L.A. with his partner, actor Daryl Hannah of "Splash" and "Kill Bill" fame.
Never one to shy away from the political, Young also announced he'd created and recorded a song just in time for the fourth of July.
"We made a record we want to share with you," he says in a Facebook Live video, and goes on to say he collaborated with "total strangers, in the same room, on a full moon" two weeks prior. And then, perhaps with a nod to U.S. President Donald Trump, he says, "It was very great. We had a great time."
The song, as his companion describes in the Facebook Live video, is a pretty "epic" track. Then they proceed to toss some colourful "convfefe." But don't worry, they clean it up.
The new song, "Children of Destiny," is a call to arms for Americans to stand up for their values and their country.
"Stand up for what you believe. Resist the powers that be," Young sings against a soaring arrangement with brass and strings performed by 62 musicians - a 56-piece orchestra, Young, and backing band Promise of the Real.
"When money matters most, and war is good for gain, the capital is yours, the people feel the pain," he continues.
And with that, happy Canada 150/Independence Day, everyone.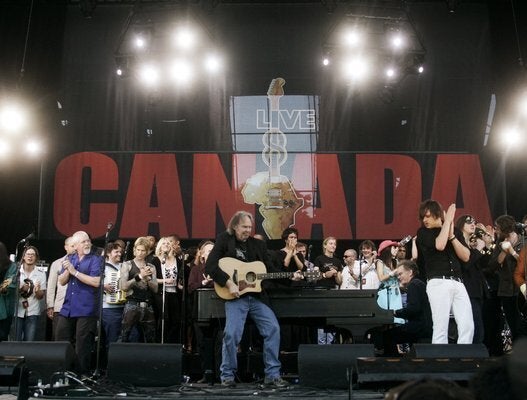 25 Neil Young Facts