My community is largely based in Fort Chipewyan, Alberta, 200 km downstream from current tar sands development. It's a place of great beauty and history, but we are now at risk from irreversible impacts that will permanently change our lands and our lives forever.
In July of 2010, the Athabasca Chipewyan First Nation (ACFN) Elders Council issued a declaration on our rights under agreements made over a century ago. These are not just pieces of paper but a last line of defense against encroaching reckless tar sands development that my people don't want and that we are already suffering from.
The immediacy of the crisis demands attention, which is why I am so honoured to be on tour with Neil Young and Diana Krall as we travel across Canada to raise awareness and resources to defend ourselves from wanton development and interests that don't seem to care about our rights or our community.
Our people are already suffering from higher cancer rates, poisoned water, and the erosion of our rights under agreements made decades ago. Now is the time to reflect on what has already occurred and to prepare for what will come next.
Neil said it best on the first day of the tour in Toronto:
"I hope that we can make a difference for our grandchildren. That's why we're here. That's why I'm here. I want my grandchildren to grow up and look up and see a blue sky and have dreams that their grandchildren are going to do great things. And I don't see that today in Canada."
The impacts of tar sands contribute to the degradation of land, water, air, climate and people across North America. The ACFN has taken the position that the current industrialization occurring in Northeastern Alberta is putting ecosystems, the watersheds that sustain them, and the First Nations who depend upon them, at risk. We are utilizing their rights they have drawn a line in the sand to protect lands and rights for future generations.
Here are the key issues. First Nation's Constitutional rights are being violated to allow continued expansion of Canada's tar sands. Along with loss of ability to access lands, rights and culture tar sands production is contributing to the contamination of waterways and food systems communities rely. This has resulted in disproportionate rates of cancer and auto-immune diseases in the region; and growing greenhouse gas emissions that are exacerbating climate change and water availability.
First Nations are utilizing multiple legal fronts including regulatory, court, land use planning and consultation processes to defend the line. The ACFN's current legal challenges include:
The ACFN have been actively challenging the approval of Shell Oil Canada Ltd's Jackpine Mine Expansion project (300,000 bpd mine) and have recently filed for a Judicial review of the federal decision to approve the project.
The ACFN is one of the leading participants in the regulatory hearing process opposing Shell Oil Canada Ltd's proposed Pierre River Mine (200,000 bpd mine) and Teck Resources Frontier Mine (277,000 bpd. Both project share boundaries and licenses and would significantly impact lands, water, wildlife and the First Nation's ability to utilize their traditional territory.
The ACFN have filed a statutory review of the Lower Athabasca Regional Plan, an Alberta land use plan that prioritizes 'bitumen recovery' allowing to industry to continue business and does nothing to include nor protect Treaty Rights and traditional land uses.
Neil Young, Diana Krall, youth leaders, scientists, and I will be travelling to three more cities on this tour. Up next is Winnipeg, Regina, then Calgary. At each stop we'll be talking to the media to share our stories. With Neil around, it's not hard to attract reporters, but that will end at the conclusion of the tour. Our dire situation will continue, long after the hot lights of the cameras goes away. It's then that we will need the support of everyday people even more. You can follow our story here. Please share your stories, thoughts and idea with us on social media and we will carry them with us on this adventure through Canada.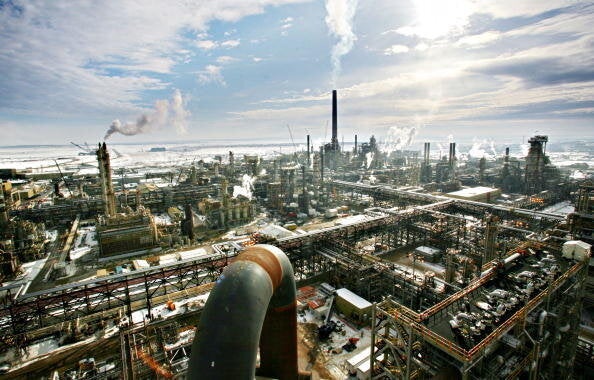 Wildest Pictures Of The Oil Sands
Popular in the Community