Neil Young says Canadians should be embarrassed by oilsands development and the government's treatment towards both the environment and First Nations people.
"All I can say is, to me, it's a basic matter of integrity on the part of Canada," Young said during a Sunday afternoon press conference at Toronto's Massey Hall, hours before he was to perform the first of four benefit concerts as part of his Honor The Treaties tour.
"Canada is trading integrity for money. That's what happening under the current leadership in Canada, which is a very poor imitation of the George Bush administration in the United States, and it's lagging behind on the world stage.
"It's an embarrassment to any Canadians. So as a Canadian, I felt like I had the chance to do something by bringing this together."
Young, along with moderator David Suzuki and others, addressed the issues facing the Athabasca Chipewyan First Nations (ACFN) legal defense, which will benefit from the four-city tour. But Young – who announced a 12-minute film titled "Petropolis" showing an aerial view of the oilsands will be shown at each gig -- was adamant there's a disconnect between the federal government's actions and the environmental impact the oilsands project is having.
"I read in The Globe and Mail this morning that Canada has a problem with mathematics and that the children here are not learning very well," Young said. "But Canada has an even bigger problem with science, it's a huge problem. Right at the top of the chain in Ottawa we have a huge problem with science and the understanding of it. Our future depends on science, science is the road map, science cannot be ignored as inconvenient and that's what today's leaders are doing.
"We are here, we made a deal with these people, we are breaking our promise, we are killing these people. The blood of these people will be on modern Canada's hands. And it will be as a result of not just a slow thing, but a fast and horrific thing if this continues. There are many ways this could happen, and believe me these people are not going to sit back and let Canada, the modern Canada, roll over them. They're not saying it, but they're feeling it."
Young also elaborated on his visit to the Alberta tar sands and Fort McMurray last year, driving to the area in his LincVolt, his car which runs on electric power. After meeting Chief Allan Adam of the Athabasca Chipewyan First Nation (who was also at the press conference), Young said he could smell the toxicity about "25 miles from the tar sands," while his son Ben wore a mask to protect his lungs.
"The one we saw was the cleanest one, it's the best looking one, it's the poster child," Young said of the site. "And it's one of the ugliest things I've ever seen."
As previously reported last September, Young compared the area to Hiroshima.
"It's hypocritical some of the things that are being said by the leaders of this country, it's pure hypocrisy," Young continued. "It's embarrassing as a Canadian to have to listen to some of this stuff. It's all marketing. It's all big money. This money is all going to China, it's not for Canada, it's not for the United States, it belongs to the oil companies. And Canada's government is behind making this happen."
Allan said after being elected chief he was informed of various reports revealing higher than usual rates of cancer in the area, many believed to be linked to the environmental impact the oilsands expansion is having.
"We have a runaway train without a conductor that's controlling it," Allan said. "It's going to be catastrophic I guess when it comes to wherever it's going to end. So we have to get a grip on it."
Young's tour – with Diana Krall as support – begins this evening in Toronto, and will make stops in Winnipeg, Regina and Calgary.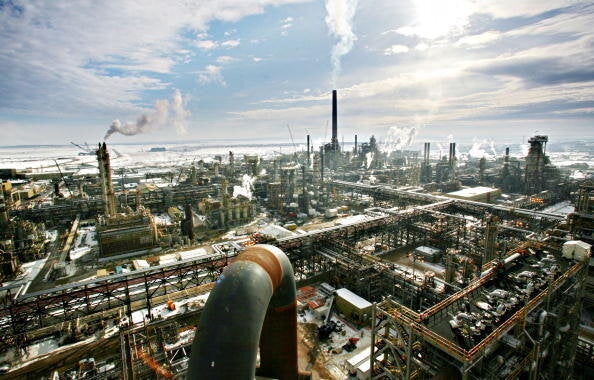 The Oil Sands and Canada's Environment